A lot of Longhorns and Aggies probably looked at Leicester City F.C. this week and said, "oh yeah, we've been there."
OK, in actuality, they probably didn't. In their defense, the Leicester folks likely didn't spend much time considering the Texas A&M and University of Texas athletic experiences in their calculations, either.
Here's what happened. Last week, English soccer club Leicester City fired its manager, Claudio Ranieri. The team has not played well this season in the Premier League and currently sits just two points clear of relegation. A bottom-three place in the standings means they would drop a level next year and have to earn their way back to the major leagues.
Relegation can devastate a club, and It's not terribly unusual for a team performing poorly in any sport to jettison its manager during the season. In the Prem, bottom-half performers Hull City, Swansea City, and Crystal Palace had already done so. But here's the thing : none of those clubs won the league last year. Leicester City did, taking home a top-fight crown for the first time in its history.
Of course, they had finished second once before – in 1929. For most of their existence, the Foxes would have been happy to just to take up a standings place in the best competition, and they haven't done so consistently. As recently as 2009, they played a season two rungs below the top level. So it was generally acknowledged that what they did last year was amazing. And unprecedented. And a Red-Sea-parting-grade miracle.
The veteran Italian manager took that team to those heights and was generally given a decent amount of credit for playing a significant role in the process. This season he's faced criticism for his offseason moves and his coaching. None of us really know what has gone on behind-the-scenes at Leicester, but one wonders if it had truly reached a point where Ranieri was not good enough to coach the team any more, less than a year after leading them to the best moment in team history.
The situation reminded me of the big state schools in Texas. I specifically thought of three coaches : R.C. Slocum, Rick Barnes, and Mack Brown. All had virtually unprecedented success and all effectively lost their jobs due in part to outsized expectations.
Slocum, a College Football Hall of Fame inductee, coached the Aggies from 1989 to 2002. He never had a losing season and won in double digits five times. The program had a total of six 10-plus-win seasons in the 86 years prior to Slocum's arrival and has had one since his departure.
Barnes coached seventeen seasons of men's basketball at the University of Texas before being fired two years ago. The Longhorns made the NCAA Tournament in all but one of those. He took them to their first Final Four since the 1940s. Other than his immediate predecessor, Tom Penders, no Texas coach, not even the legendary Abe Lemons, had gotten the school to more than one NCAA Tourney (though the criteria were admittedly more stringent before the field expanded). He owns the top winning percentage of any UT coach since the 1930s.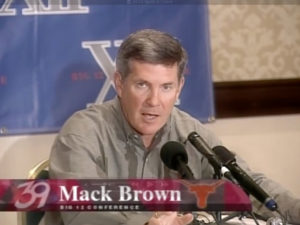 As Texas' football coach from 1998-2013, Brown put up nine years of 10 or more wins against a single losing season. He won a national title and got his team to a second championship game (they kept that one close against Alabama despite losing starting quarterback and future NFL-er Colt McCoy to an injury in the first quarter). Brown measured up against the legacy of Darrell Royal better than any of the legend's other successors had. The program has not had a winning record since Brown moved into a special assistant role.
So why might these three have been good for Leicester to know about prior to making their decision to terminate Ranieri? Because sometimes you have to appreciate what you have. A&M football before Slocum was not a consistent winner. They won three conference titles between 1942 and 1984. While Penders started to put Texas basketball on the map, Barnes established it there, something no coach had done before. And though Texas had a strong football tradition before Brown, he took it to a level seen only once before in the program's history, and in a different sort of era.
Past performance is certainly no guarantee of future results. Any of these coaches might well have failed to maintain the program at the level to which he had gotten it. Sometimes, however, one has to understand how hard it is to win all the time against high-level competition – and it is really hard. Maybe those in charge saw some sort of slippage in approach or work ethic from Ranieri, Slocum, Brown, and Barnes. Maybe declines in those programs would have accelerated with them in charge. But it has always seemed to me that when someone has had success, especially where none was to be found before, one should take a long hard look at the possibility of taking a step back when making a change. Scores of schools will never win a national championship, and sometimes if you try too hard to take that next step, you end up taking two leaps in the other direction instead.
Will it happen in Leicester? Will time prove their decision a correct one? What are the expectations? If they expect hardware every year, history might indicate they will have miscalculated. Of course, they do still have hopes of a trophy this season. A 1-0 win March 14 against Sevilla would propel the Foxes into the final eight of the Champions League, the most prestigious competition in club soccer. That's where Ranieri had gotten them this year. It wasn't good enough.