I've never seen a server act so hurried and frantic as I did on a recent lunch visit to Cantina Laredo Gourmet Mexican Food (530 Throckmorton St, 817-810-0773). The poor guy struck me as either having too many tables or trying to win some Fitbit steps challenge – on crystal meth. To be fair, when you work downtown, there's extra pressure on a restaurant staff to get guests in, out, and back to work. And this guy was taking that responsibility extra-super seriously.
Sure, he could have been a little more polite, and maybe my guest and I felt a little like we were inconveniencing the blur of a man. But if I had to pick a fault in a restaurant, I'd probably err on the side of getting me fed quickly, even if that means the server gets to practically throw my plate on the table after sprinting out of the kitchen.
That afternoon was my first ever visit to the venerable chain, owned by Dallas-based Consolidated Restaurant Operations (El Chico, Silver Fox, Good Eats), and the place was full of smartly dressed business-types presumably talking businessy business things before returning to their respective places of business.
That area of north downtown near the Worthington Renaissance Hotel has suddenly turned into mini Dallas. Besides Cantina Laredo, there's an outpost of Wild Salsa, Daddy Jack's, and Chop House Burger (not to be confused with Arlington's Chop House Burgers), among others. The area is a few Starbucks and a plastic surgery center away from being annexed by Big D.
You won't worry about the restaurant's origin story once you take a bite of the pollo chipotle ($12.99), a perfectly succulent grilled chicken breast drenched in a rich, bright chipotle wine sauce oozing umami. The accompanying zucchini coins were beautifully caramelized and well seasoned. The relleno de hongos ($11.29), an open-faced roasted poblano pepper teeming with Jalisco mushrooms, roasted red bell peppers, micro cilantro, queso fresco, and corn was so overpowered by the poblano cream sauce, it was practically soup.
If you're not into watching your server run like he's being chased by a Velociraptor in clown makeup but still want the Dallas chain experience, Chop House Burger (300 Throckmorton St, Ste 180, 682-312-8477) is waaay more languid.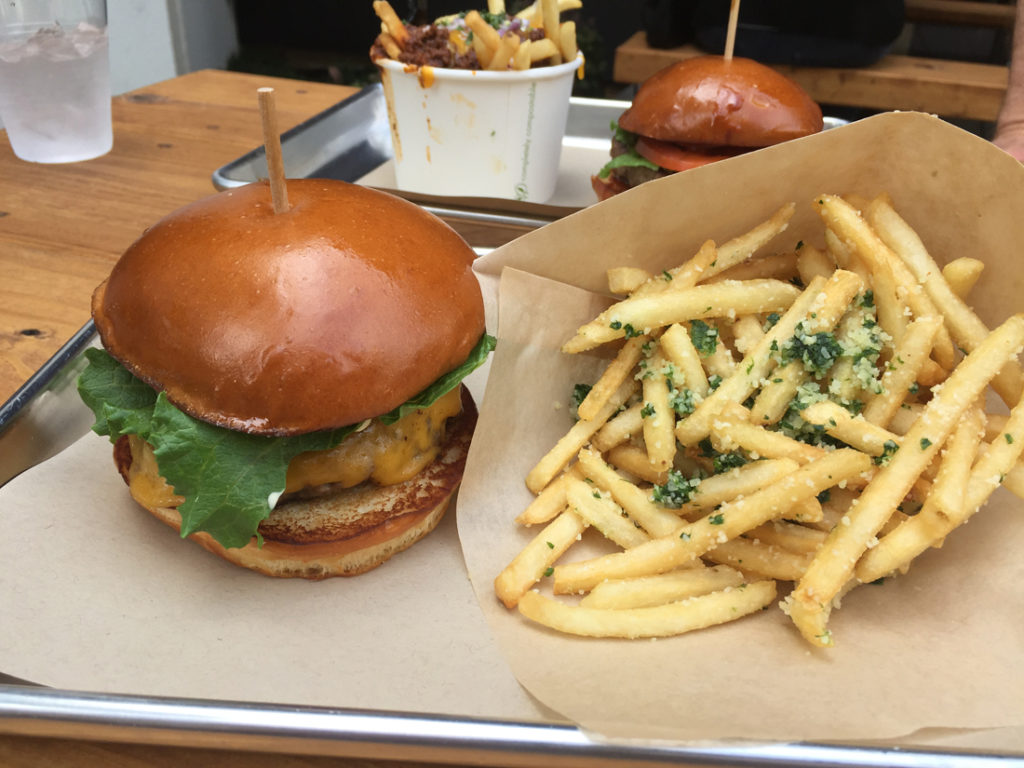 Everything about the place screams "laid back," although I guess it's so laid back that nothing would actually scream at all. The operation is fairly simple: You walk up to the counter, order, grab some useless, pliable plastic utensils, post your order number on a hook that sits on the table, and wait for your burger to be delivered on a metal tray. The vibe is so relaxed it borders on kitsch, though the operation is smooth and you get through the line quickly. Also, the prices are remarkably low for a downtown eatery (not to mention a Dallas import).
The beef on the place's namesake burger ($5.95) was juicy with a nice char. Joining it inside the glistening brioche bun were tomatoes bursting with fresh flavor, an aromatic black summer truffle sauce, and crisp lettuce. Better still was the Buffalo burger ($6.95), with a piquant, tangy barbecue sauce, a velvety blue cheese sauce, and shaved red onion. And the single most addictive item on the menu – thin, crunchy, salty fries tossed with truffle oil, Parmesan cheese, and parsley – might as well be served with a pamphlet on liposuction.
Maybe that server from Cantina Laredo should go check out Chop House and relax a little.