Which audience, exactly, are faux meat products targeting? The thought crossed my mind as I waited in line to try Hopdoddy's Impossible Burger and its vegetable-based patty that aims to wean carnivores off their environmentally impactful food choices.
Full disclosure: I'm an unapologetic meateater. Part of what drew me to the North Dallas burger joint was curiosity. Could a potato- and wheat-based product really taste as good as meat? As it turns out, it comes surprisingly close.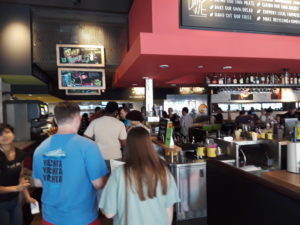 The Impossible Burger looked promising when it arrived at my high top table. The patty was slightly charred on the outside, and its brownish red hue looked beefy enough. As promised, the plant-based centerpiece "bled" a red liquid when cut. From what I've read, an iron-rich compound provides that bit of culinary trickery. The first bite impressed me. The slightly stringy texture was spot on (crispy on the outside, juicy within), and there a mild, beef-like flavor to the patty that reminded me of corned beef hash. The burger as a whole (cheddar, white onion, tomato, lettuce, and a tangy Thousand Island-like sauce) was a delicious winner. The middle of the patty was a bit mushy, though. When I go back, I'll opt for well done.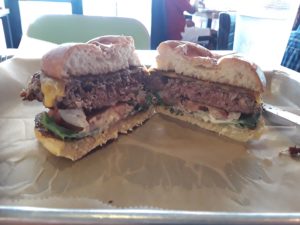 A Hopdoddy staffer excitedly told me about the newcomer's popularity with patrons. The restaurant is on track to sell out of the meatless patties within a few days, he said.
I might be part of that target audience the Impossible Burger is looking for. The meatless entree is probably more environmentally sustainable than traditional beef, but at $14 a pop (no sides included), it may not be economically sustainable. At least not with my budget.