Gavin Secchi, 3 Nations Brewing's founder/brewmaster, is a man of singular focus and discipline. That became apparent early on during our chat at his brewery office in Farmers Branch. Outside, the occasional dog bark was a reminder of the bustling taproom tour that Saturday afternoon.
"I knew I wanted to open a brewery when I was 16," he said matter-of-factly. "The game plan was to go to college and brewing school."
Secchi chose Chicago-based Siebel Institute of Technology for brewing school in late 2004 and St. Edward's University for college. After Siebel, the young brewer was hired at Rahr & Sons, Franconia Brewing Company (2008-2010), Goose Island Brewery (2011-2012), and Karbach Brewing Co. (2012-2013). In 2013, he refocused on his childhood plan.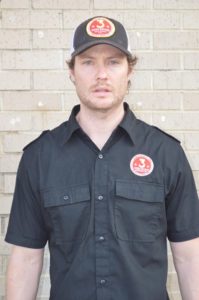 The "3 nations" refers to England, Belgium, and Germany. The worldly approach to brewing stems from his dad's advice to "take a little bit of good from wherever you travel and make it your life's work."
Each traditional style get an American twist.
"It's kinda funny," Secchi said when describing the brewery's popular GPA. "I get asked what the main difference is between a German pale ale and an IPA. We put the branding in before the recipe was finalized. The initial plan was for a Kölsch and alt-beer using German ingredients. By test batch 12, it was 90 percent American hops."
The ale, with it's motto of "The Above Average Beer A+," has proven popular, especially with college students.
The Farmers Branch brewery now reaches Dallas, Austin, San Antonio, and Houston. Secchi said the plan is to ensure his team can supply distributors with 3 Nations' core brands while keeping locals excited with seasonal releases like Texas X-Mas Ale.
Dallas Brew Scene founder Matt Dixon pulled up with the Dallas Brew Bus during the interview. While hoisting a Blood Orange American Wit, I got his take on the new venture.
"I've been a huge fan of this place since they opened," Dixon said. "On a personal note, I'm a big fan of hop-forward beers. The Mango Smash is one of my favorite, and there's always a collaboration beer going on here. I love the comradery, and I think it's cool that they push the envelope with their beers."
Secchi doesn't see the beer business with rose-colored glasses, and he has a game plan.
"You're in a world where you are fighting with 45 breweries and a ton of distributors," he said. "You have to win with relationships and make good beer. You have to do the things you say you're going to do. It's been fun so far. It's always a good challenge."
3 Nations Brewing celebrates its 2 Year Anniversary this Saturday.
3 Nations Brewing, 2405 Squire Pl, Farmers Branch, TX 75234
Tours & Tastings are 5-9pm Thursdays, 5-10pm Fridays, and 5-8pm Saturdays.
Don't forget to follow On Tap in Fort Worth's Facebook page.
On Tap this Week:
Dallas Brew Scene Brew Bus
From Dallas Brew Scene: You're invited to a very special Dallas Brew Bus tour! Well, they're all special, but this is the first time we've ever started from Fort Worth and headed east. We'll be visiting three breweries: Peticolas, Community Beer Co, and HopFusion Ale Works.

You'll get to sample several brews at each place and learn how they are made. Between stops, our guides will educate you on the growing craft brew scene in North Texas and answer any questions you have. You'll also have the opportunity to enjoy grub from some of the area's best food trucks parked at some of the breweries (not included in ticket price). Arrive at HopFusion Ale Works (200 E Broadway Ave, Fort Worth) no later than 12:15pm. $55 gets you a seat on the bus, complimentary samples at each brewery, a snack from the culinary wizards at LUCK, and a commemorative snifter style glass.

Email: Info@DallasBrewBus.com with any questions.

Rahr & Sons donates $5,594 for the USS Fort Worth Support Committee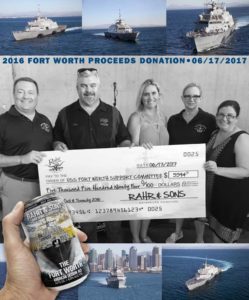 From Rhar: The USS Fort Worth Support Committee provides the men and women who serve aboard the ship with opportunities and support that shows the spirit of Fort Worth while recognizing outstanding service. One dollar from each case of the Fort Worth American Session Ales is donated to the USS Fort Worth Support Committee. Thanks to you, we are able to serve our city and community! Prost Y'all #grit&tenacity