The last time I encountered the giant red-and-white roadside clown welcoming motorists to Clown Burger (5020 Stanley Keller Rd, Haltom City, 817-298-1477), I was 21 years old and on what the late Bill Hicks would have described as a "heroic" dose of LSD.
For those who have never dropped acid (as we used to say), it's not exactly an appetite-building experience. It's an intensely visual drug, and my friends who lived in the middle-class neighborhood of '60s-era bungalows and spartan strip malls persuaded me that it would be, in their words, trippy. They were correct, I guess. But I also think I could have stared at my thumbs for four hours, and it would have had the same mind-blowing effect.
I remembered the interior of the now almost 60-year-old strip mall eatery looking more like a cluttered shrine to Elvis than having anything to do with clowns. There was a tiny room of just two or three wooden booths, and people would sign their names or graffiti the walls. A third room was covered in an aqua-colored carpet, and my drug-addled brain couldn't convince my eyes to focus. I had a mild panic attack before my food was ready, and we all had to abruptly leave.
Back when Clown Burger opened in 1959, people still liked clowns. Parents hired them for children's birthdays to make balloon animals and pull endless hankies out of their pockets. Now it seems like evil clowns are all the rage. The new movie adaptation of Stephen King's clown monster novel It is sparking a new generation's fear of the makeup-clad villains. The juggalos, face-painting disciples of noted bizarre-o gore rappers the Insane Clown Posse, are about to march on Washington, D.C., because the FBI labeled them a gang. Or something. Even circus clowns are now synonymous with animal cruelty and serial killers.
The public's attitude toward clowns might have shifted, but Clown Burger didn't change, like, at all. The tiny burger joint is a time capsule from simpler days before the Insane Clown Posse – hell, before rap. There's even a sign hanging over the register explaining that the kitchen uses the exact same grill since the doors first opened – and the same grill cook who started in 1963 is still churning out burgers.
The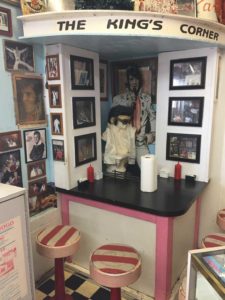 décor looks exactly the same, too. Even sober, the cluttered, ramshackle charm of the Elvis memorabilia, sports pennants, photos, and other vintage bric-a-brac feels homey and authentic. In the aqua carpeted room, my guest and I sat in one of those old diner/fast-food-style plastic chair-table hybrids that look like a cross between a school desk and a diner booth.
The menu of mostly burgers with a few extravagances like hot dogs and Frito pie isn't fancy, but the way the thin patties melded with the gooey cheese tasted just as essentially, purely Americana as baseball and mom's apple pie. The veggies are fresh-tasting and chopped/sliced per order. My triple-stacker burger ($5.39) was as honest and delicious a burger as I've had in a long while. The fries ($2.29) were thinly cut, crispy, and hot out of the fryer. It's easy to tell that every morsel coming out of that open kitchen was made with pride.
So, 20 years later, I finally got to eat at Clown Burger. The place is a real throwback or, in my case, a flashback.