My guest and I must have looked a little bewildered as we perused the bill of fare at Doña Carmen Pupuseria (1712 N Sylvania Av, 682-647-0051). The menu of the new-ish El Salvadorian eatery set in a blue-hued bunker-esque box in the heart of Sylvania Avenue is written in Spanish, so most of the kitchen's offerings were a mystery to us hapless gringos – aside from "pollo, asada, camarones," and a few other familiar-looking items we'd ordered 1,000 times at arguably less authentic places.
Luckily, several of our fellow diners seated next us at one of the long communal tables in the tiny, yellow-painted dining room were excited to offer suggestions. We practically got a power-point lecture on the menu and culture.
Our friendly, eager neighbors weren't the first sign that this was going to be a different kind of dining experience. As we walked up to the converted gas station, we were welcomed by the raucous laughter of what we thought was a family sitting on one of the two picnic tables on the concrete patio. Everyone out there seemed to know one another.
Once inside, I felt as though I had just walked through a portal into an El Salvadorian bazaar. The single room was packed with people, tables, gumball machines, and baked goods. There wasn't a lot of room to maneuver, but my lunch date and I made our way to two open seats in the middle of the table, which was bedecked in an almost hilariously loud plastic tablecloth depicting fruit. On the table between us was what looked like a giant plastic tub of cheese puffs that was filled with orange-colored cabbage marinating in vinegar and peppers. Our table neighbors had ordered caldo de rez (beef soup), which was served in a caldron-sized bowl and looked like enough food to feed all of San Salvador. Two televisions blaring Mexican telenovellas added to the foreignness of the place.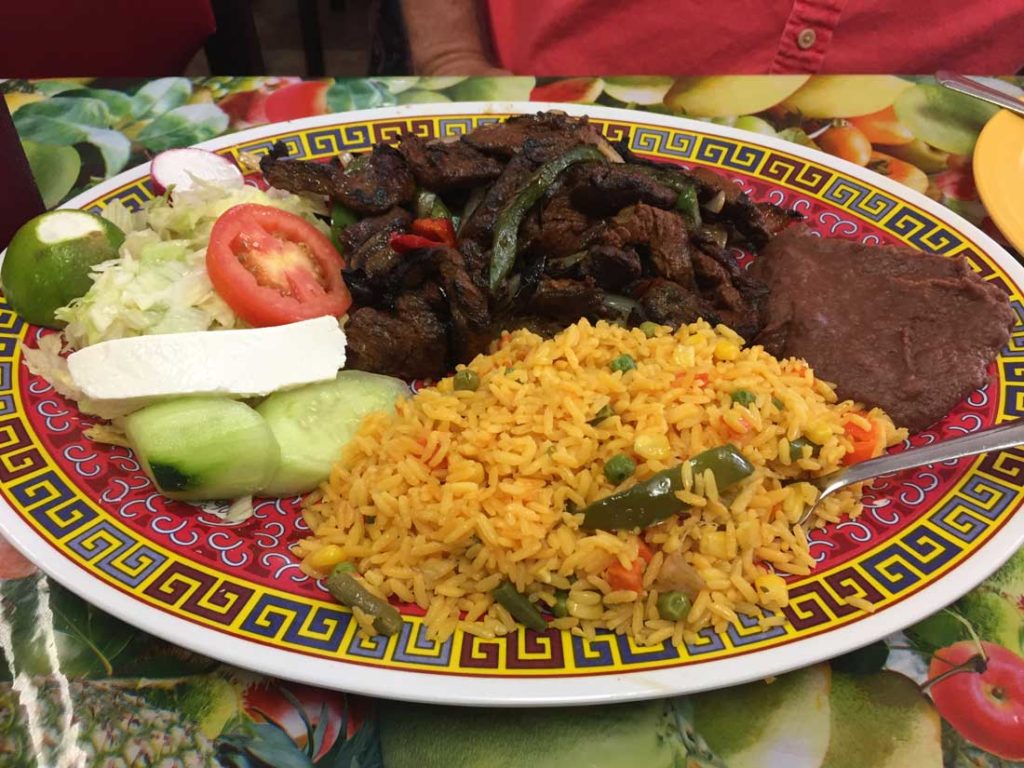 After some coaching, ironically (sadly), my pal and I ordered beef and chicken. At least our new support group convinced us to try the place's namesake dish, the pupusas – corn pancakes that are to El Salvador what tortillas are to Mexico. The pupusa, like its cousins, serves primarily as a vehicle for conveying the satisfying flavors of small amounts of meats and vegetables, which are stuffed into the center of the pancake. Doña Carmen's pupusas ($1 each) are flattened on a griddle to a size slightly larger than a teacup saucer. Both the queso con rajas de jalapeño and frijoli con queso versions were gooey, flavorful, and piquant. On their own, pupusas can be a bit dry, but a generous topping of the house cabbage took care of that.
Our two entrées ($10 each) were both accompanied by a bale of vegetable-rich red-hued rice, deliciously fat-laden refried beans, and a large salad of iceberg lettuce, thick wedges of cucumber, a fresh-looking tomato slice, a healthy chunk of queso blanco, and half a lime for the dressing. Like everything else at Doña Carmen, the dishes could have fed a small family of mountain lions. Lunch entrées are served with complimentary glasses of delicious, sweet, fresh-tasting serve-yourself agua fresca.
The elegantly silken asada, tasty slivers of marinated grilled steak, was served with bell peppers and onions. My chicken, all thigh and leg meat, was lightly fried, crispy, and fall-off-the-bone tender. We managed to eat only about two-thirds of our lunches, and we ambled out at the pace of a giant balloon at the Macy's Thanksgiving Day Parade. But it's OK that we took it slow – we had a lot of people to thank.