Andy Pickett is ready to have a career in music. He just doesn't seem sure how. The burly, bushy-headed, soft-spoken, self-taught pianist is on the verge of releasing his second full-length album, an eponymous follow-up to 2015's critically lauded It Happens Every Night. He's already put out the first single, "Floral," and one listen to the lush production that layers the track's smooth '70s pop vibe with sumptuous bass, subtle synth accompaniment, and dubbed-out trumpets lends credence to the idea that writing songs and making records is what he's supposed to do. "It's all right / It's OK / Make my millions / Someday," goes the song's refrain. And you kind of get the idea that for Pickett, maybe that's finally possible.
At 41, Pickett got a late start making music. He's really been writing songs for only five or six years. Yet the road to Andy Pickett the album started a long time ago with Andy Pickett the child, who translated the ambient music cues from the radio and '70s and '80s TV themes into autodidactic musical dabbling.
"We always had a piano in the house," he said. "I didn't have a lot of friends growing up, so I just kept to myself, and I would play piano. A lot of TV intros brought me to my style. There's a riff in a new song called 'Jujitsu' that I lifted directly from the theme to Night Court."
For him, playing the piano was less about writing songs and more about dealing with life by channeling the music that was rattling around in his head.
"There was no 'I'm gonna be a songwriter' drive," he said. "I was just trying to make it through my fuckin' childhood, man."
Pickett was born and raised in Arlington. While working at Coffee Haus on Lincoln Square, he befriended James Petralli, who would go on to front major-label Austin rockers White Denim –– the beginning of a long-lasting friendship that culminated in Petralli's producing and recording Pickett's new record.
"James just came up to me one day," he said. "I was playing piano, and he's like, 'I play guitar.' So I said, 'Go home and get it.'
"I really look up to James," Pickett continued. "I went a different way, and he went and did White Denim, but we'd come back together –– I'd go see his shows, and we'd hang out. But this is the first time we've sat down and recorded together."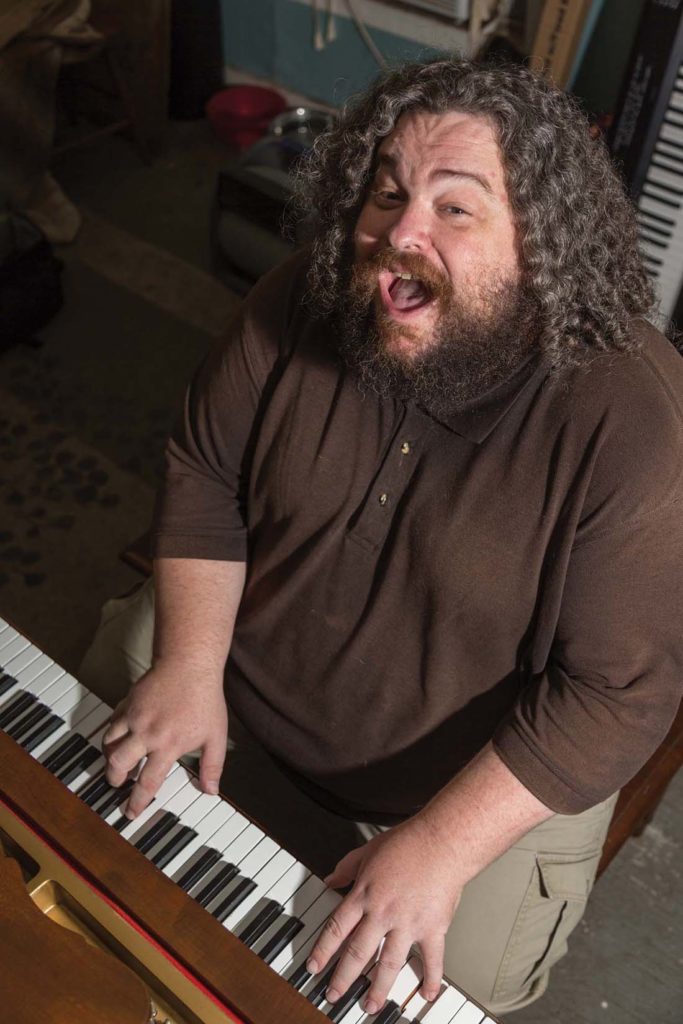 Pickett made his first album with Jerry Hudson and Jeff Ward at Eagle Audio Recording Studios on Main Street. While it was locally well received, It Happens Every Night didn't turn out quite how he wanted.
"It took two years, and when I got done with it, I just had an empty feeling, like it just missed something," he said. "So I called James, and he said, 'Well, come to Austin and record. I'll get a little band together for us, and we'll have some sessions.' "
Petralli, along with White Denim bassist Steve Terebecky, played on and produced Pickett's record over three sessions with four different drummers, including local producer Jordan Richardson (Son of Stan, Oil Boom), who was playing in White Denim at the time. And while Pickett is deliberately closed-lipped on the details, Pickett sounds confident in his friend's music business experience as it relates to helping him get his album into people's hands. Because in the end, all Pickett really wants to do is make music. "What else is there, man?" he said.
To that point, he told me about a song on the album called "I Love My Piano." He's been playing it live over the past year or so with War Party as his backing band. He said the instrument "is basically the only thing that's never called me a fat fuck or hurt me in any way. I've never felt religious. I've never felt spiritual. But when I play, when I close my eyes, when the music's happening, it's a transcendental thing. It's ineffable. There are not words for it, and I fuckin' wanna go there and be there all day long. So I love my piano because it takes me away."
For Pickett, making music is an escape, but if he's lucky, that piano will take him away in a literal sense, getting him on the road and his music into people's ears, giving him the career he was born to inhabit, the life he was born to live.