Cowtown Brewing Company is in the final months of construction with an estimated opening date of late spring to early summer. The brewpub will serve 'cue and other dishes from Mansfield-based Big D Barbecue. On a recent visit, Cowtown Brewing co-founder and head brewer Shawn Kidwell took me out back to see his newly arrived brewing equipment. Cowtown Brewing will open with a 15-barrel brewhouse, three 30-barrel fermentors, and a 30-barrel brite tank. The indoor space can one day hold up to 12 tanks, he added.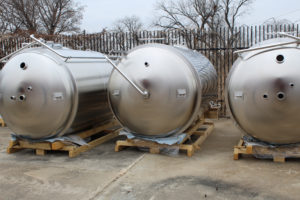 Kidwell is awaiting final approval of city permits, after which final renovations will begin. The north end of the former transmission repair shop will house the brewing equipment with a bar area filling out the middle. The south end of the building will be the dining area while an outdoor patio will offer patrons space to stretch their legs and hear live music. Cowtown Brewing will be open Fridays, Saturdays, and Sundays with the possibility of weekday hours.
As for the beers, Kidwell hasn't finalized a core lineup, but the brewer is adept at making traditional European styles as well as amped-up American brews. I sampled a delicious milk stout with raspberries that afternoon. The rich and frothy ale reminded me of a liquified dark chocolate bar with the aforementioned berries. In true brewpub tradition, Cowtown Brewing will be a testing laboratory of sorts. Kidwell isn't looking into a crystal ball to decide what'll be on tap. That'll largely be up to the customers.
"If it's good and people like it, we'll keep making it," he said.
New Happenings at Revolver Brewing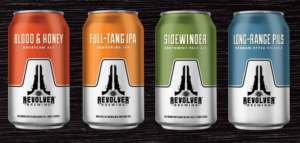 Grant Wood, master brewer at Revolver Brewing, said the Granbury business will be rolling out Blood and Honey, Full-Tang IPA, Sidewinder, and Long-Range Pils in 12 ounce cans beginning in February.
"This makes it so much easier to bring your favorite Revolver beers to the river, the poolside, the golf course: all those places where bottles are not welcome," he said in an email.

Wood said he is excited to brew lagers. Long-Range Pils, he said, "is a German-style Pilsner with a little touch of America. We're brewing it with US Mosaic, Czech Saaz, and German Saphir hops. To give the beer some depth, we are including Bohemian Pilsner malt made by Weyermann Malting in Germany. Bavarian lager yeast brings all the ingredients together. We will be releasing Long-Range Pils on draft January 29 ahead of the can release to give folks a preview of the deliciousness that's coming soon to cans. Long-Range Pils will go the distance with you."

Don't forget to follow On Tap in Fort Worth's Facebook page.
On Tap this Week:
Hibiscus Saison and Trivia with Martin House
Here's a trivia question for ya: Who is Fort Worth's most entertaining live trivia host? Ice Cole, of course. Join Martin House February 1 from 6 to 8pm for the 2018 launch of Hibiscus Saison.
From Martin House: Not only are we tapping a fresh batch of Hibiscus, we'll have trivia with Ice Cole's Craft Trivia. Your $10 entry will get you three beers and a pint glass. Entry is at 6pm with trivia around 6:30pm and last call at 7:45pm. Islanders Food Truck & Catering will have food available for purchase.