Last week the Dallas Stars made their first visit to Detroit's new hockey facility, Little Caesars Arena. I went on the trip and you're probably wondering, "What did you see? And did you freeze your gungagalunga off?" Here are some observations, and my gungagalunga is fine, thank you very much.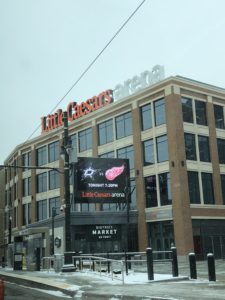 When they spend millions on a new hockey stadium in a place that styles itself "Hockeytown," you can bet it'll be pretty full-throttle, and the place has a lot of features and a lot of style. Besides a superb sound system and wide concourses, it features top-level "gondola" seating that provides a look from right over the ice, albeit from a mountainous elevation (it still works).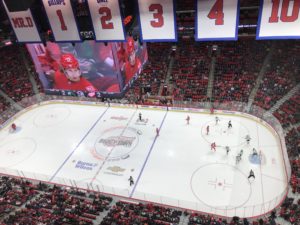 Inside, banners commemorating the Original Six franchise's retired numbers and Stanley Cup wins hang from the ceiling girders. They created these banners specially for the new space, with the ones that hung in the team's previous home, Joe Louis Arena, now adorning the team's downstairs practice rink.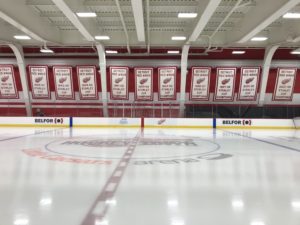 The facility also serves as home to various youth hockey programs, with youngsters traipsing through the downstairs hallways even on game day. Those teams have long been sponsored by the arena's namesake pizza company, founded by the late Red Wings and Tigers owner Mike Ilitch and his wife, Marian. They don't skimp on their naming rights sponsor's branding in the place, either, and, yes, you can get a hot-and-ready pie in various locations.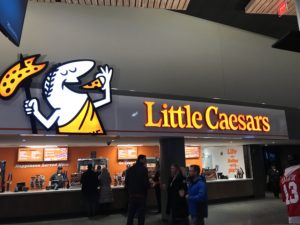 There's also a Kid Rock-themed restaurant. Huge images and statuary of Wings legends like Gordie Howe decorate the concourses.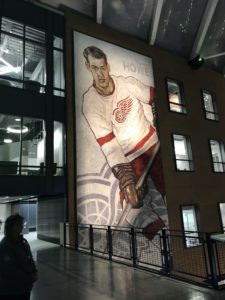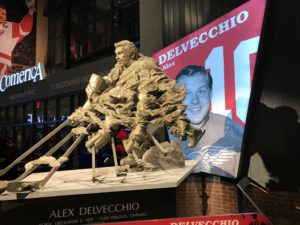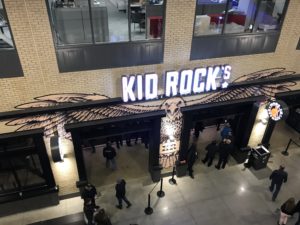 Two things we didn't see as much of: octopi and the Pistons.
Wings fans have long prided themselves on sneaking in mollusks to fling onto the ice during the playoffs. While it's a storied hockey tradition, my guess is the team doesn't want to do anything encourage it. They do, however, have a few kids octopus items in the gift shop.
The Pistons announced their move to the new arena well after the hockey team had spearheaded its development. While it was admittedly a Wings game night, the deficit in permanent branding between the basketball and ice hockey sides of the equation was noticeable.
The Wings announced attendance at 19,515, a sellout, but pockets of empty seats dotted the arena. Playing a Tuesday in frigid weather can't have helped fill seats. I wondered if when the Texas Rangers can add air conditioning in their new ballpark, the hot trip from the parking lot might still depress attendance. My guess is people would favor a 100-degree drive and walk over the same ordeal in freezing cold precipitation, but we won't know for sure until the 2020s.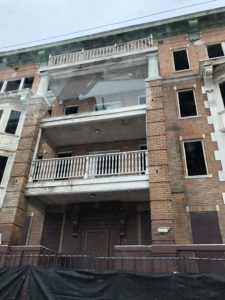 It will also take a while to know how the development schemes around the stadia in Arlington and the Motor City will work out. In year one, there wasn't much around the arena. Perhaps that will change if the city of Detroit recovers from its recent financial turmoil.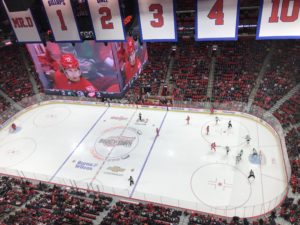 Bottom line is that if you're a hockey fan, an ornate arena operated by an Original Six team is well worth visiting. And if you're a Stars fan, you'll hope to do it on a night like last Tuesday: Dallas overcame an early deficit to earn a 4-2 road win.