Perhaps the best thing about the Super Bowl is that it happens days before pitchers and catchers report to spring training. This year, that reporting day was February 14, Valentine's Day.
Excitement and optimism build as thousands of players, veterans, and rookies report to their respective clubs' spring training facilities in either Florida or Arizona to prepare for the 2018 season, which opens on Thursday, March 29.
Baseball's annual six-week ritual can be a place where dreams are reached or shattered, where careers are reborn or finished. There are the rookies determined to take the next step to make it to "the show." There are the players trying for career rebirths. There are the aging players who are not ready to hang it up. And then there are the players trying for a comeback following major surgery.
Of the more than 5,000 players in the 30 Major League spring training camps, only 750 will be on an Opening Day roster — there are only 25 players on each team.
For baseball-loving fans like me, spring training is always a welcome sight. We're all ready for warm sunny weather after the cold winter months, and Florida and Arizona offer that. It's also a place where life-long memories are made, both for the fans and players.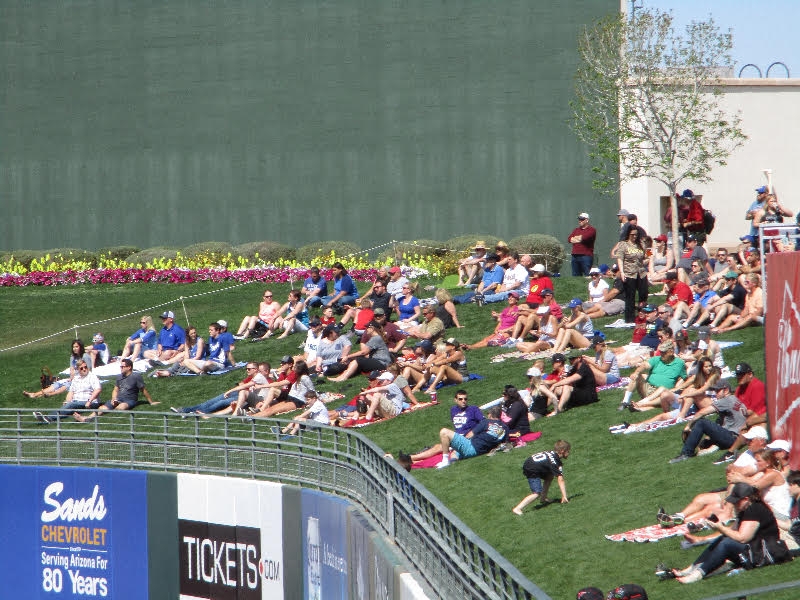 One of the fun things about spring training games is the majority of them are played in the afternoon. In most stadiums, you can purchase a box seat close to the field for $40 or less. For $10, you can sit on your blanket or lawn chair in the grassy area behind the outfield and enjoy the game and sunshine.
The parks are small and intimate, and every seat is good. Also, spring training practice fields allow incredible access, offering fans a variety of opportunities for interactions with players. Nearly every exhibition game features discounts and promotions, with many dates honoring those who serve others, such as teachers, police officers, paramedics, and the military.
This year, I decided to attend spring training games in both the Grapefruit League (Florida) and the Cactus League (Arizona). My first stop was McKechnie Field, now called LECOM Park, in Bradenton, Florida. I was there for the Pittsburgh Pirates' spring training home opener against the New York Yankees.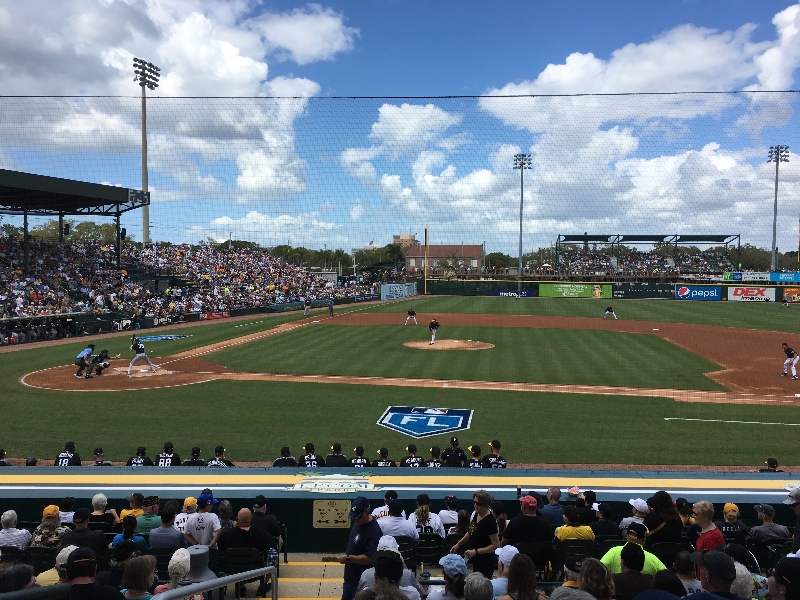 Unbeknownst to me, it was more than just a spring home opener. It was also a milestone event, as local leaders were there to mark the 50th anniversary of the Pirates training in that stadium. Among those taking part in the ceremonies were former Pirates Steve Blass, John Candeleria, Rennie Stennett, and Hall of Famer Bill Mazeroski. Great Pirate names of the past who have played and practiced there include Hall of Famers Roberto Clemente, Mazeroski, and Willie Stargell.
Also, home run king Barry Bonds trained there as a member of the Pirates during his rookie year in 1986. I learned that Hank Aaron, the player to hold the title of home run king before Bonds, reported to spring training in Bradenton in 1956 while a member of the Milwaukee Braves.
It became obvious to me that early spring training games seldom feature some of the team's star players. The starting lineup for the Yankees that day did not have last year's American League Most Valuable Player runner-up Aaron Judge or the reigning National League MVP Giancarlo Stanton, who is now a Yankee. The Pirates lineup did have one player whose name I recognized. Now wearing a Pittsburgh uniform this former St. Louis Cardinal brought back some painful memories. That player was 35-year-old third baseman David Freese. I'm sure many Rangers fans remember him. It was Freese who broke many Rangers fans' hearts in 2011, when the Rangers were one strike away — twice — from winning their first-ever World Series. Freese hit a walk-off home run in the 11th inning to force a Game 7, which the Cardinals won.
The Yankees won the spring training game 4-1. Freese went one for two.
My next game took me to Ed Smith Stadium, the Baltimore Orioles' spring training facility in Sarasota to see them host the Detroit Tigers.
As I looked at the game program, one thing that stood out was the number of former Texas Rangers on the Orioles team, beginning with manager Buck Showalter, who managed the Rangers from 2002 to 2006. Former Rangers players now with the Orioles are first baseman Chris Davis, relief pitcher Darren O'Day, and infielder Luis Sardinas as well as coaches Scott Coolbaugh and Einar Diaz.
On the Tigers was former Rangers outfielder Leonys Martin. The Orioles won the training game 8-6.
Spring training in Florida goes back to 1913, when the Chicago Cubs played in Tampa and the Cleveland Indians in Pensacola. Florida hosted more than half of the spring training teams through 2009. Today there are 15 major league teams training in Florida and 15 in Arizona. All but six of the league's teams have gone to spring training in Florida at one time or another, including the Texas Rangers, who trained in Port Charlotte before moving to Surprise, Arizona, in 2002. Spring training in the Arizona dessert begin in 1929, when the Detroit Tigers became the first major league club to train there. Years later the Cleveland Indians and New York Giants set up their spring shop there.
Like the Rangers, I too left the Florida beaches for the Arizona dessert. My trip to Phoenix was moved up three days after learning that I could purchase a round-trip fare on American Airlines for only $98. That is the cheapest round-trip fare I have ever purchased. Arriving at the airport early for my 6 a.m. flight, I asked the ticket agent why the fare was so cheap. She responded that they needed to compete with Spirit Airlines, who were offering similarly low fares.
When I landed in Phoenix, I headed to Hohokam Stadium, the Oakland A's spring training facility in Mesa, as the Rangers would be playing there that afternoon. Walking around the newly renovated stadium, I ran into my old friend Bert Campaneris, who was sitting alongside his former Oakland A's teammates and star pitchers Vada Blue and Blue Moon Odom. I got to know Campaneris when I went to the Rangers Baseball Fantasy Camp in 1994, and he was one of my coaches.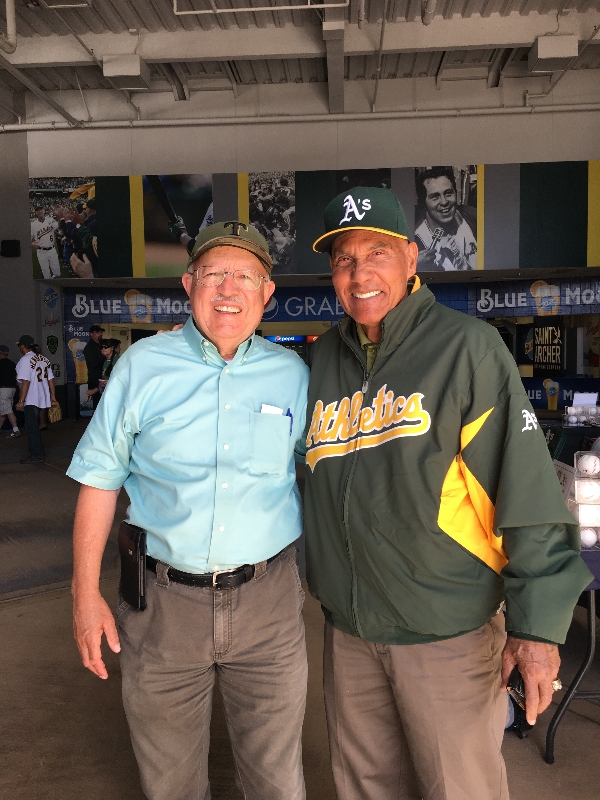 Today he looks like he can still play. He is one of three major league players to play all nine positions in one game. The other two are Cesar Tovar and Scott Sheldon. Ironically, they all played at one time for the Texas Rangers. Sheldon, however, did it while playing for the Rangers on Sept. 6, 2000. Tovar did it on Sept. 22, 1968, as a member of the Minnesota Twins. Campaneris did as a member of the Kansas City A's on Sept. 8, 1965. He still talks about striking out Bobby Knoop. Another twist to this accomplishment is that he threw left-handed to the left-handed batters and right-handed to the right handed batters. We chatted briefly as he introduced me to his grandson, who is proudly wearing an Oakland A's jersey with the number 19 and the name Campaneris on the back. I bid farewell to Campy and his family as the game was about to start.
It was a nice sunny day in the dessert with no clouds in sight. I put on my sun screen and settled in the left-field bleachers to see Rangers starting pitcher Bartolo Colon, the 44-year-old former Cy Young winner, try to pitch his way into the Rangers' rotation this year. Today, he pitched 2.2 innings, giving up five hits and two unearned runs while striking out two and walking one batter. In his 21 years in the majors, Colon has won 240 games and has recorded 2,454 strikeouts.
The Rangers lost the game to the A's 5-3. Following the game, I went to the Rangers' spring training offices to pick up my press credentials. Later that night, I had my first Airbnb experience. I stayed in a nice home about four miles from the Rangers' spring training complex in Surprise. It's amazing how much city of Surprise has changed since the facility opened in 2002 as the spring training site for the Rangers and Kansas City Royals.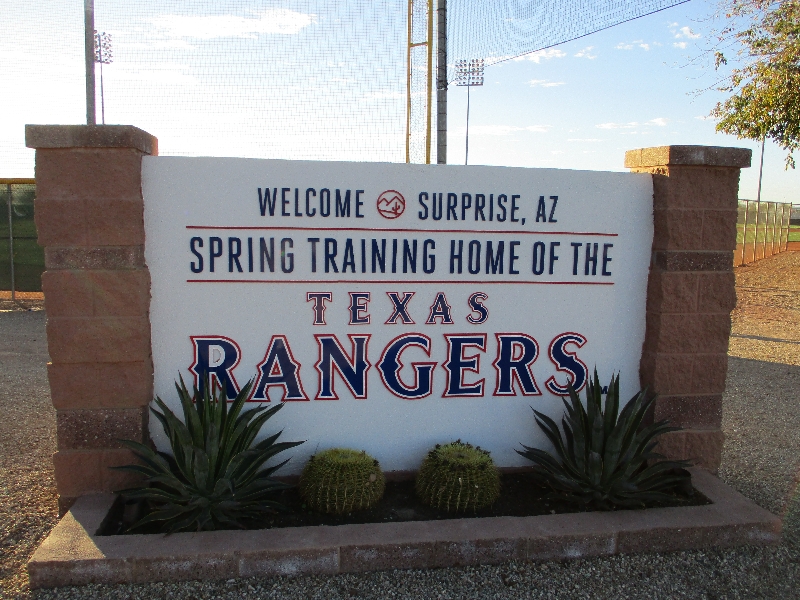 Both teams have their own clubhouses and practice fields opposite each other, and they share Billy Parker Field, a 10,714-seat stadium where they play their spring training home games.
As I made my way to the Rangers clubhouse early the next morning (the clubhouse opens to media at 7:30 a.m.), the first player I ran into was Elvis Andrus, who shook my hand and greeted me with, "Hola, todo bien?" ("Hi, everything OK?"). It's a customary greeting from many of the Latin ballplayers.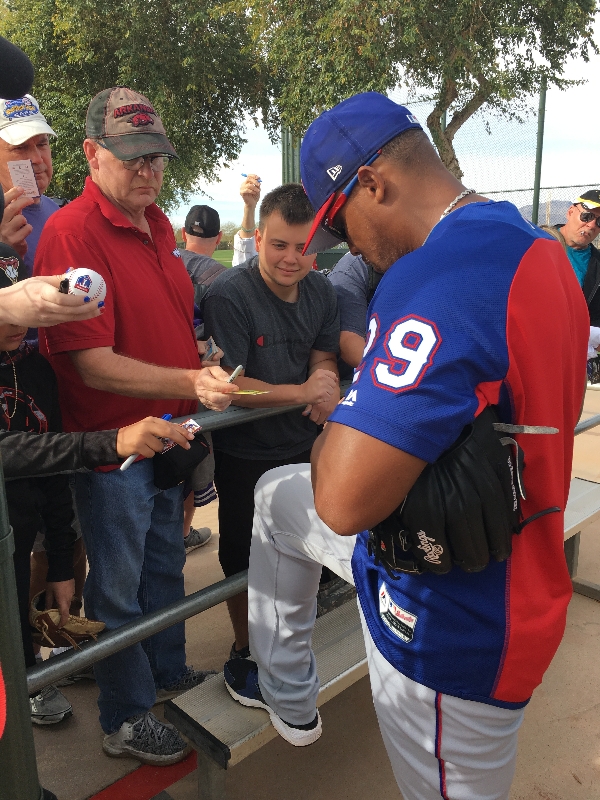 Players begin arriving in the clubhouse around 6 a.m. If you're a rookie trying to make the team, you better be in the clubhouse before any of the veteran players get there. It's an unspoken rule. The clubhouse has a new look, having been upgraded in 2015. There are 75 lockers in the oval-shaped dressing room. Players check the bulletin board for their assignments that day and the starting lineup.
That morning, I was asked by two Rangers beat writers if I could translate for them as they interviewed outfielder Carlos Tocci, who was hit in the face with a ball the day before. Tocci, who speaks very little English, said he feels good and is ready to go back out on the field. As a precaution, the Rangers kept him out of the game that day, but he returned to play the next day.
Making his annual visit to the Rangers spring training camp that week was Country Music Hall of Famer and minority owner of the Rangers Charley Pride. At 84, he still suits up and walks on the field to join the players in calisthenics. Pride played baseball in the Negro Leagues in the 1950s. He said he played some outfield but that he mostly pitched intimidating fastballs, sneaky curves, and knuckleballs for several teams, including the Memphis Red Sox and Birmingham Black Barons.
Manager Jeff Banister met with the media at 8:15 to provide an injury update on pitcher Martin Perez, whom the manager said was "in good spirits and ready to take the next step." He also talked about the scary incident involving Tocci. "He's very lucky," Banister said. He also answered numerous questions about the Rangers roster and the recent signing of two-time Cy Young award-winner Tim Lincecum.
"We're looking forward to having him here," Banister said. "He chose us, so that's encouraging."
To make room for the pitcher on the 40-man roster, the Rangers released catcher Brett Nicholas.
"One of the toughest part of a manager's job is to tell someone he is being designated for assignment," Banister said.
Following the media availability, I talked to the manager about my recent trip to Bradenton, where Banister spent 29 springs as a member of the Pirates organization. He spoke fondly of the Bradenton area and said he cherished the time he and his family spent there.
I later greeted one of the Rangers' off-season acquisition, Edinson Volquez, a pitcher who began his career with the Rangers in 2001. He talked about his earlier stint with the Rangers and said he was amazed at the changes that have been made in the clubhouse and the city of Surprise. Volquez is recovering from ulnar collateral ligament reconstruction surgery (also known as Tommy John surgery) and is not expected to be ready for the start of the season.
Later I met with the Rangers' 2017 Pitcher of the Year, Alex Claudio, who talked fondly about his children and family in Puerto Rico. "They finally have electricity," he said.
The relief pitcher said he played a little winter ball, pitching about seven innings. While he said he's ready to help the team in any way he can, he did not hide the fact that he would like to be the closer.
The players made their way out to the practice fields to begin their workouts. One could easily spot the rookies, who were on the major league camp by the high number of the backs of their uniforms. Players on the major league roster use Fields 1 and 2 for their practices.
Fans attending spring training are in for a treat as they can watch batting and fielding practice up close. They watch in amazement as Joey Gallo launches home run after home run. Many of them are tape-measured home runs that land on Bullard Avenue outside the park. Some fans opt to watch the pitchers warm up nearby on the six mounds that are set up, which allow fans to hear the coaches' instructions.
One of the fun things about spring training is that you can walk alongside players and coaches and chat with them. It's also easier to get autographs, especially from some of the minor league players.
The minor league players use the backfields. It was in one of those fields that I first met Rougned Odor in 2014, when he was a rookie wearing the outrageous number 73.
Some of the players recalled the large numbers they had on their uniforms as rookies. Joey Gallo wore number 73, Shin-Soo Choo had 69, Delino DeShields 79. Robinson Chirinos had his current number 61. "I wanted to get a lower number, but someone already had it, so I just kept 61," Chirinos told me.
Field No. 1 is where most of the B games are played. There are six full practice fields and a half of field that has only an infield. There is also another field that just has the pitcher's mound and home plate. It is in these partial fields that pitchers practice their fielding and pick offs as well as bunting.
When I asked some of the players if they preferred spring training in Florida or Arizona, I received mixed answers. Many of the Latin players preferred Florida because of its proximity to their homes in the Dominican Republic, Puerto Rico, and Venezuela.
Others preferred Arizona because all the teams are centrally located, so they don't have to travel as far to play.
I asked Banister about his spring training preference. He was noncommittal, so I asked him about his family's preference. He gave me the political correct answer: "They prefer to be wherever I am."
Banister was sitting by himself on the bleachers behind Field 2. We had a long talk about what it's like to be a major league manager. While it may seem like an ideal job, it's not exactly easy. Spring training is one of his busiest times of year, as more than 180 players report to the Rangers' camp.
Banister's day begins at 3:45 a.m., when his bedside alarm clock rings. (I'd like to think it's that alarm clock the Rangers gave fans last year in which public address announcer Chuck Morgan says, "It's baseball time in Texas.") He gets up and heads to the Rangers spring training facility's weight room for a thorough workout. At 6 a.m., he meets with coaches and support staff to go over that day's activities, make up the lineup for that afternoon's game, and prepare workout assignments for the players who will soon be arriving at the clubhouse. He then eats breakfast.
Following breakfast, he meets with the team's medical staff for an update on the status of injured players. He also meets with baseball operations staff to go over any potential roster moves or changes. At 8:15, he meets with the media, answering numerous questions about the previous game and upcoming tilts. He feels quite comfortable in addressing the media and appears to enjoy the give and take. The media have come to respect him for his honesty and forthrightness.
By 9:30, he is out on the field. He goes to all six practice fields and tries to talk and greet as many players as possible, especially the rookies, offering encouragement and motivation. Along the way, he greets fans and signs autographs.
He returns to his office to catch up on some paperwork and return some phone calls. This manager also found time to text a get-well message to a long-time Rangers employee who has been diagnosed with cancer.
On this particular day, the Rangers have a 2 p.m. game in Scottsdale against the Colorado Rockies, about a 45-minute drive. While the team boards two charter buses, Banister drives to the game with some of his coaches, where they once again talk baseball and the team.
Following the game, which the Rangers lose 5-4, he once again meets with the media to answer their questions about the game and some of the players' performances.
He returns to the spring training complex to review that game's box score and get updates on other games or workouts that took place in the facility's backfields.
The 2015 Manager of the Year says he still needs to be a husband and father, so he uses what little downtime he has to during spring training to stay in touch with his family and spend some quality phone time with them.
He says that on a good day, when there is not a night game, his day ends around 10 p.m. Still, his phone is always nearby should there be any developments that may affect the club.
The next morning, it all begins again as the team prepares for the 2018 season on March 29, when the Rangers play the World Champions Houston Astros.
ABOUT THE AUTHOR: Ozzie Garza was born in Texas City, Texas, on Feb. 14, 1947, two months before the Texas City explosion that killed more than 500 people, including his father, and injured more than 5,000, including his sister and brother. He moved to McAllen, Texas, in 1952. A North Texas State University graduate, Garza served in the U.S. Army as a public information officer for the Military District of Washington in Washington, D.C. He also worked on Capitol Hill, at the U.S. Department of Labor, and for the U.S. Department of Veterans Affairs. He has written numerous articles for the Rangers game program and other sports publications. He is in his second year as a Globe Life Park tour guide.