What's not black or white but splattering red all over Maverick territory? At Theatre Arlington, John Lang's Tony-Award winning Red has been distilled for the small stage and infused with artistic witticisms and biting wisdom. An unflattering and confrontational portrait of Mark Rothko, the production is full of emotional and aesthetic contradictions that envelope audiences in a dark psychodrama that's hard to escape, especially after becoming ensnared in Logan's writing and the actor's execution of biographically accurate representations of one painter's tortured existence in the art world.
Deep in the bowels of a New York City studio workshop skulks a snarling narcissist named Mark Rothko (Robert W L Krecklow), who finds himself in a perpetual fit of nervous and manic antics about the state of the arts in mid-century America. Enter: new apprentice Ken (Matthew Holmes), a creatively pure neophyte suppressing a dark past at every turn as he dodges the artistic abuse of his teacher. Ken's fresh-cut Midwestern naiveté repulses Rothko as much as it attracts him. After much highbrow sparring, the young and the old, the gentile and the Jew, the optimist and the pessimist come to appreciate each other's differences, but only after the younger of the two razors his way into the elder's cold Apollonian aesthetic.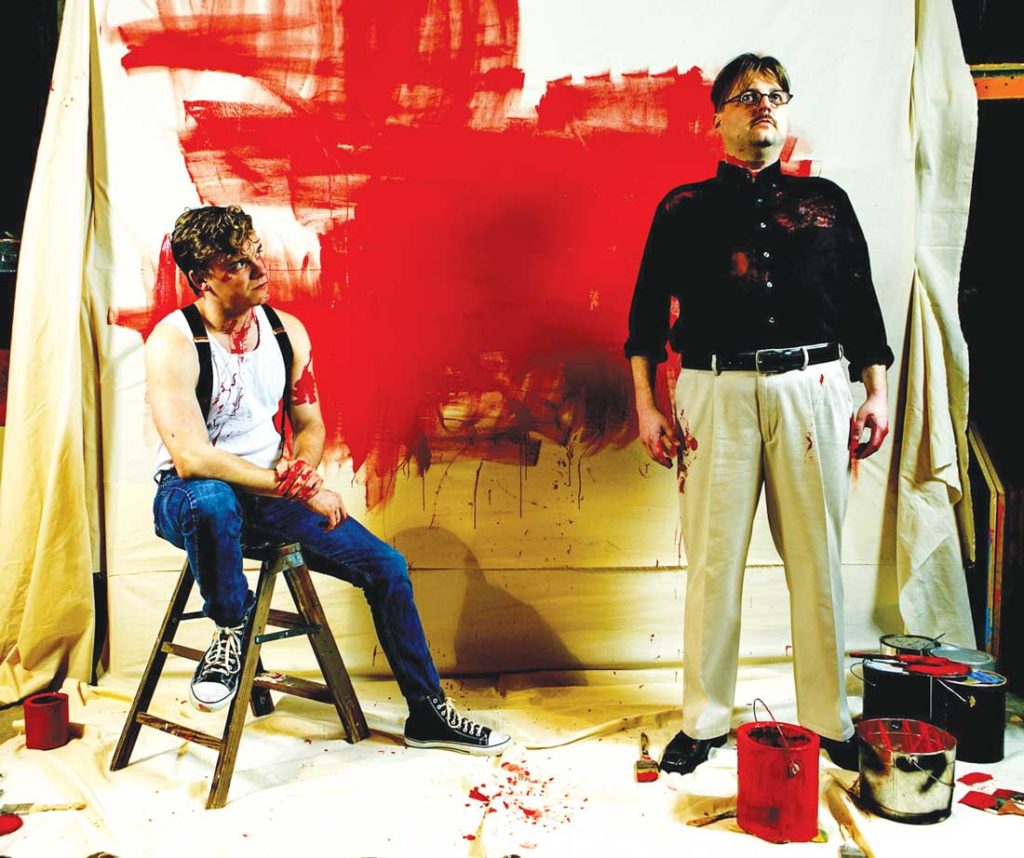 In this two-man act, both characters shepherded a staggering amount of energy as they stunned audience members with bellowing and bawling throughout the entire performance. Krecklow demonstrated first-rate consistency of character to match the development handled by Holmes. The latter could have fooled anyone with how well he fit his part. The former, however, lacked the edge one hopes to see in an acerbic, alcoholic artist type. Krecklow's self-referential ranting held the audience's attention, but there was a problem with his believability. Perhaps it was the lack of sultriness in his soliloquies, but I think it was more likely the barely-there bravado he brought to each rant. Both characters could have elevated their pitch and pursued deeper, louder vocal registers at times, but Holmes, despite his unblemished appearance and nature, stole the show from Krecklow without overtly trying. The intensity of Krecklow's character, as written in the script, ought to have paralleled Holmes' acting more, but Holmes enthralled the audience with a fiery gaze on more than a few occasions. One must watch in person to truly digest.
Color fields on canvases crossed the entire stage, some stacked near center-stage and others suspended over upstage, all foregrounded by two long workshop tables. Cabinets were littered by tin pots of red paint (of course), tools, a record player, and an ashtray. A gutted kitchenette downstage right was exposed to heighten the viewer's role as spectator as no more significant or participatory than a speck of paint seen on the sideboards. The fourth wall was employed frequently, much to the optic intensity of Holmes' gaze. An Adirondack chair turned away from the audience in the center stayed stationary, a questionable prop positioning choice that made experiencing the emotion of Rothko that much more onerous.
As seen at Stage West last summer, the cigarette makes a sooted return to this North Texas stage, ushering in a sense of smell that's always welcome — albeit never appetizing to wit (or, rather, to whiff). Alas, as we too often see the one clutching the cigarette is more aptly described as crutching on the cigarette for character development. Although Krecklow politely thanked us at the end of the show for enduring his smoking, losing the gasper earlier in Act One could have given him the strength of character we saw shining through in Act Two. The musical interludes were mostly well-timed and purposeful, especially when accompanied by the brilliant shifting transitions of blue, yellow, and red overhead lights.
The only answer that remains to be determined is whether or not Logan wanted sexual tension between these two characters to be explicit or implied, harking back to the borderline pedophilic relationships between students and teachers in Antiquity. Regardless of intention, the theatrical relationship burning at Theatre Arlington will appeal to dramatic intellectuals and provocateurs alike thanks to Adam Adolfo's colorful direction of this piece. With a stage that celebrates the splendor of visual art in its raw, unfinished form and two zestful character portrayals, this production whets the appetite for heavier intellectual drama in North Texas.
Red

Thru Apr 15 at Theatre Arlington, 305 W Main St, Arlington. $21-23. 817-275-7661