Terms like "saturation" and "tightening market" abound in craft beer discussions these days, but those are distant worries for HopFusion Ale Works co-founder and brewer Macy Moore. He's focused on supplying and servicing 940 accounts across Texas. Each month, his Near Southside brewery adds an average of 100 businesses to that number, he said. In the coming weeks, HopFusion will add three tanks to meet the growing demand for beers like Feisty Blonde, Fur Slipper, and Tejano lager.
"I'm extremely proud of the beer we make and the variety of beers we produce," he said. "We've been able to hit on quite a few styles that we didn't have when we first started."
Those core beers (now in cans) include Feisty Blonde, Fur Slipper, Go Easy IPA, and Hairpin. HopFusion has steadily expanded on that lineup. Now, you'd be hard-pressed to find a style not offered at the taproom. The tap wall boast 17 beers with styles ranging from IPAs and witbiers to stouts and lagers. HopFusion staffers are more than happy to mix their craft suds with house-made lemonade, cold press coffee, kombucha, or spiced tea from nearby Leaves Tea and Book Shop for the perfect beer drinking experience. (The lemonade blends particularly well with Feisty Blonde.)
Fans of the brewery may have noticed that lighter beers have become more prevalent. Moore said the move to less heavy brews was an effort to balance the HopFusion portfolio. Tejano lager has  become one of the top-selling beers on draught.
"I think that trend has always been there," Moore said. "A five percent [ABV] beer that still has some character" hasn't been readily available in the craft beer market til recently.
Moore plans to add an ancient ale to HopFusion's offerings. Gruit dates back long before hops were commonly used in brewing. Moore said he has experimented with the peculiar ingredients by making teas out of them over the years.
"Who knows what it tasted like back then," he said. "They didn't have the facilities we do. They didn't know what yeast was. I can't imagine it tasted great" by our standards.
He assured me that the gruit would be more than palatable, though. When Moore isn't working, which isn't often, he enjoys a nice glass of vino, either at a local wine bar or on his front porch.
Don't forget to follow On Tap in Fort Worth's Facebook page.
On Tap this Week:
Fly Me To The Moon at HopFusion AleWorks. April 27.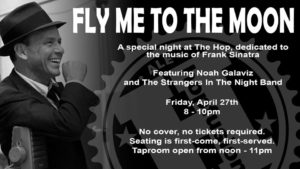 Old Blue Eyes will make a rare appearance (in spirit) at this tribute to the music of Frank Sinatra featuring crooner Noah Galaviz and his band
"The lights will be down, and the brewery will be set," the brewery promises. "Everyone working the taproom will even be dressed to impress. You don't want to miss this night!"
Event page here.