I don't really think of Haltom City's Little Asia district as the frontline for new culinary trends –– the area is known more in foodie circles for its bountiful supply of authentic, if stubbornly conventional, Thai and Vietnamese joints. Then there's Blue Cajun (4045 E Belknap St, 682-250-5455), tucked away in the same hallowed strip mall that houses Asian royalty restaurants Pho Nam and Thai Pakse. 
Blue purveys what's colloquially known as Viet-Cajun cuisine, a portmanteau of, well, exactly what it sounds like. The fusion makes sense on a lot of levels: Both Vietnamese and Cajun cuisines are seafood-centered, with an emphasis on bold flavors, and both are coastal cultures with a shared history of living under French colonial rule. To my knowledge, Blue is the sole source of Viet-Cajun grub in Tarrant County, though there are a couple of outposts in Big D. 
The vibe at the four-month-old eatery is decidedly nautical, with ship's wheels and throw-rings on the walls, buoys hanging from the ceiling, and a wooden deck level of seating packed with picnic-style tables and benches. Management apparently encourages graffiti, too. The walls are tagged like a grade-schooler's leg cast. Floor-to-ceiling windows allow natural light to flood the dining room. Unlike the rest of the nearby immigrant-run restaurants, Blue seems to have a clearly defined esthetic –– though the sugary pop tunes blaring over the speakers detracted from what was otherwise a tightly focused atmosphere that properly prepares you for the coming onslaught of food. 
The menu is spartan, containing only a few items and no descriptors at all, which is a shame, since some of the spices on otherwise conventional options (the fries in particular) are downright exotic. Without knowing anything else about the place, the kitchen's offerings of various fish baskets and po' boys might seem mundane. 
If you're in a hurry to get back to work in 30 minutes, stay away from the lunch specials of crawfish ($6.99) and the shrimp boil ($9.99). My guest and I waited more than half an hour for our entrees.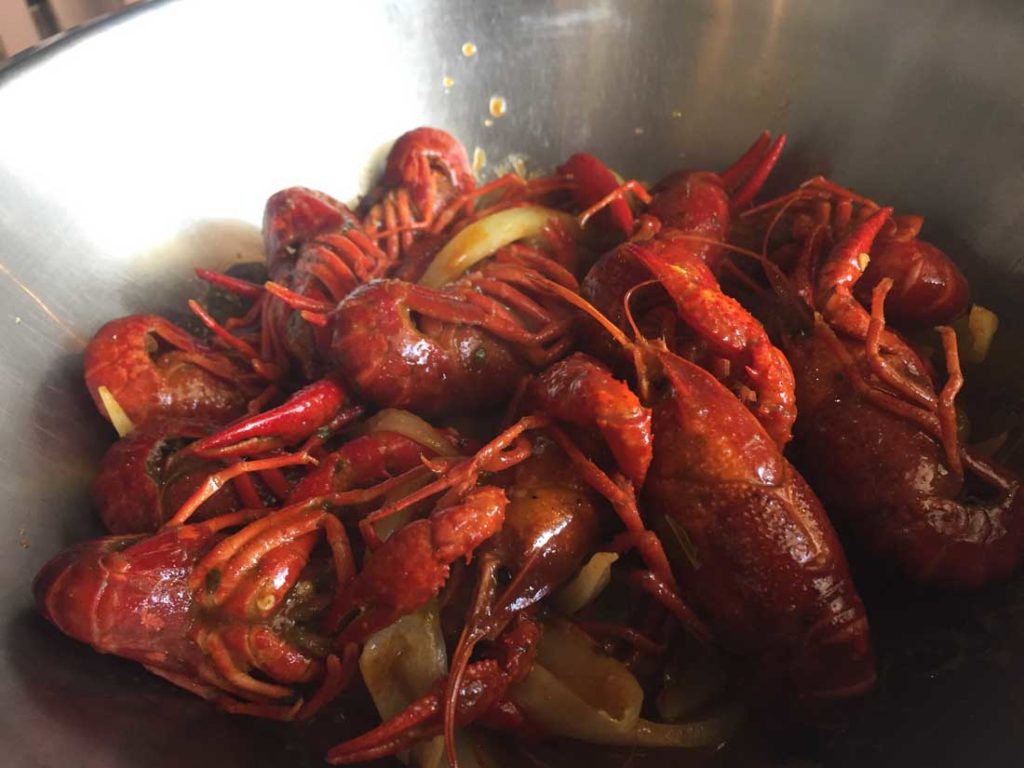 The start to our lunch was rather pedestrian. The spring rolls ($3.25) were burrito-sized vessels for shrimp and thinly cut unseasoned chicken. The peanut sauce was competently bland. Everything afterward was amazing. 
Our server arrived with two bowls filled with puffed-up bags of boiled crustaceans and plastic gloves. (You're going to want to wear those.) When you order, you also pick the accompanying spices, sides (which cost extra), and heat level. I asked for the crawfish with what the kitchen calls "Thai stir-fry," at a level three spice. What I poured out of that bag was a terror-inspiring heap of protein –– the mud-bugs were intact –– slathered in onions, bell peppers, and a pantry's worth of flavors all distilled into an ambrosial, slightly sweet, fiery sauce. A level three spice induced Sophie's Choice-level tears. I usually eschew crawfish because of the effort involved in unpacking the meat, but tearing apart the little critter like a maniac seemed a small price to pay.
My guest's shrimp boil, coated in rich and intensely aromatic garlic butter, was also a three on the 10-scale. His sides of corn (99 cents each) and potatoes ($1.99 for three) also benefited from the fragrant, irresistible sauce. The side of fries ($2.99), plentiful and spicy in their own right, was beautifully seasoned and proved essential for mitigating the mighty spice. (What must a 10 taste like?)
Our butcher paper-covered table looked like a crime scene, with sauce, shellfish husks, and picked-over cobs of corn splashed everywhere. This trend is undoubtedly delicious, but it's messy business.