To every cyclist there is a season to turn! turn! turn! the pedals on bikes that have been hanging in garages through the winter. The reason for the season is the Hotter'N Hell Hundred (HNH) in late August in Wichita Falls. It's the premier bike rally in Texas for which most local spandex warriors train through the summer, and riders have a plethora of options for training rides. With the cycling season already underway, there are still many opportunities for casual cruisers and century-riders alike.
Every bike rally or tour has certain amenities, especially rest stops with food, hydration, medical care, and even mechanical support. These events also offer support and gear (SAG) crews for riders who have problems. The SAG wagons are generally pickup trucks with trailers, who peruse each course looking for anyone who has suffered mechanical failures or crashes.
Burleson Honey Tour Burleson, Sat, May 26
The Honey Tour is hosted by the Burleson Chamber of Commerce and features locally produced honey everywhere. Participants are given single-serving honey packets before the ride that make for a great natural boost. This ride tends to have cooler weather than June or July rallies. The route is typical of most: smooth, paved roads in the host town leading to farm-to-market, chipseal roads that will jar your bones. The trek is supported with rest stops every 8-10 miles with fruit, water, shade, Gatorade, and, of course, honey. Medical support is available too. Swag generally includes a t-shirt. Elevation is not really a factor, but there are some long and gradual hills on the I-35 access roads. Showers are available post-ride in the Burleson Centennial High School Athletic Field House. Route options are 7, 20, 30, 46, and 67 miles. The longest route goes as far south as Grandview. Registration is $35.
Tour d'Italia Italy, Sat, Jun 16
The Tour d'Italia benefits Italy High School (pronounced it-lee) and the Texas Scottish Rite Hospital for Children. The ride boasts collector-quality t-shirts and post-ride sno cones for pedalers. Five rest stops wait for those riding the longest 63-mile route. Elevation is more challenging on this jaunt, dipping as far south as Silver City. The Italy High School Field House is available for camping before the ride and hot showers upon completion. Route options are 12, 30, 40, 50, and 63 miles. Registration is $30.
Tour de Fort Worth
Fort Worth, Sun, Jul 1-22
This event is a little different, just like Fort Worth. Tour de Fort Worth is a healthy-city initiative supported by several groups in the area and Funkytown's chief cycling nut Mayor Betsy Price. The series challenges riders to pedal 21 miles or more for 21 consecutive days. Different levels of organized rides happen each day for three weeks. The series kicks off at Joe T. Garcia's on Sunday, July 1 and concludes three weeks later at Central Market. Club rides are casually hosted by cycling groups and bike shops. Supported rides are unique in that police motorcycles and escorts will block traffic as riders, including Mayor Price, have unrestricted access to the city free of traffic. The best part? It's all free. Check out the calendar for details and times.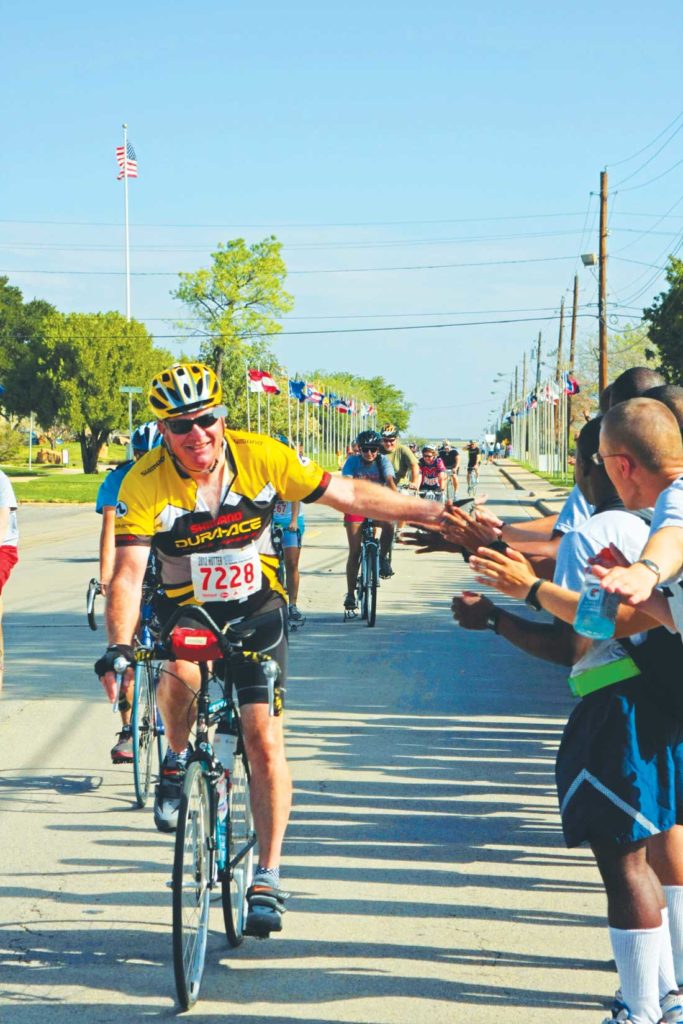 Peach Pedal Bike Ride Weatherford, Sat, Jul 14
Peach Pedal supports the United Way of Parker County and the Weatherford Chamber of Commerce. A gem of a midsummer ride, Peach Pedal generally gives colorful t-shirts and water bottles to their riders. The event runs in conjunction with the Parker County Peach Festival. Riders receive a coupon for free admission to the festival. The route is mostly fast and fun, abounding with scenic farms, horses, and livestock. Rest stops are situated every 9-10 miles and are stocked with ripe seasonal fruit, hydration, medical personnel, and mouth-watering peaches. This ride is very popular, traveling from Weatherford west into Brock and Milsap, finishing back at the Weatherford High School's indoor practice facility. Shower facilities are available for riders to clean up, and shuttles will escort them to the peach festival in charming downtown Weatherford. Route options are 8, 28, 39, and 61 miles. Registration is $35.
The Goatneck Bike Ride Cleburne, Sat, Jul 28
Goatneck is based out of Cleburne High School. Riders receive a t-shirt and water bottle, and stocked rest stops are available every 8-9 miles. The rally supports various Johnson County charities. This course is dotted with rolling hills and rewarding descents. Brutal service-road ascents have caused many a cramp for lovers of The Goatneck. Routes travel out of Cleburne and as far southwest as Glen Rose. The longest option has about 2,000 feet of elevation to torture riders. Route options are 10, 27, 41, and 70 miles. Registration is $30.
Blazin' Saddle 75 Granbury, Sat, Aug 4
As the last serious training rally before HNH, Blazin' Saddle 75 rolls out of Granbury Middle School and offers the longest distance and typically hottest weather of all the area rallies. Proceeds benefit Texas Emergency Medical Services, and their medical crew staff rest stations every 10-12 miles. The 75-mile course punishes riders with 4,000 feet of elevation gained throughout the ride. T-shirts are available to pre-registered riders, and showers are waiting in the middle school athletic facilities. Routes travel south of Granbury as far as Dinosaur Valley State Park. This endurance ride will tax even the most experienced distance riders, depending on the heat index. Respect is earned by those who complete the longest routes of Goatneck and Blazin' Saddle in consecutive weekends. The latter's distance options are 20, 44, 62, and 75 miles. Registration is $35.
Hotter'N Hell Hundred Wichita Falls, Sat, Aug 25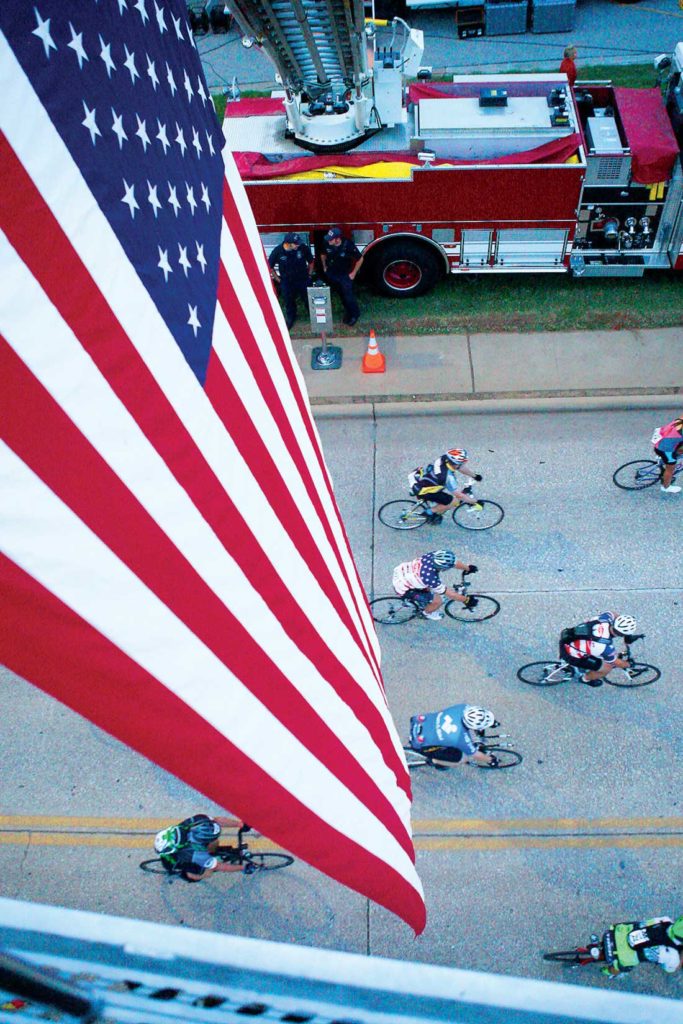 Known as the granddaddy of cycling events in Texas to some and a rite of passage to others, the Hotter'N Hell has the biggest reputation and attendance of all the rallies. Attendance hovers around 13,000 riders, and if you haven't booked accommodations yet, it's most likely too late. Swag for registered riders includes a t-shirt, water bottle, and finisher medal. Camping is plentiful around the campus of Midwestern State University. The entire weekend is a smorgasbord of cycling with professional races and mountain bike challenges, but the main event is the Saturday ride. The trade show on Friday is the opportunity to fawn over new products or score great closeout deals on bikes and accessories. The boogeyman is the heat compounded by the wind on the flat roads of Wichita Falls. The only real elevation on this course lies to the west. The most popular route options are the 100-mile (bragging rights) or the 100K (which is actually the more enjoyable route, culminating with a line of cheering cadets through Sheppard Air Force Base). Be careful on this ride. There are so many eager hellcats at the starting line that danger lurks before riders spread out. Hazards aside, this rolling party is an initiation into cycling that draws participants from all over Texas and the rest of the country. Route options are 10K, 100K, 25, 50, 75, and 100 miles. Registration is $35.