Shawn Hughes was already having suspicions about the Wag! dog-walking service, sometimes referred to as Uber for mutts. The company is based in Los Angeles but relies on thousands of sub-contractors spread out across the country to provide services such as walking, dog sitting, and boarding.
Hughes had been hiring Wag! walkers routinely for six months but was starting to have concerns. Were the walkers really taking her young Labrador retriever, Reagan, on strolls like they said?
On May 24, those nagging doubts turned to certain anger. She returned home from work hours earlier than usual to find Reagan "screaming" in pain, she said. The walker had put the dog in a kennel while still wearing its harness, which became tangled. Reagan had become hogtied in an awkward position.
"The harness is not supposed to be on a dog in a kennel," Hughes said. "It's a no-brainer. Any trained person knows that. Now she has a bad shoulder. I had to take her to the vet."
Hughes lives in Fort Worth but works in Irving. The long commute and workdays mean that Reagan is spending hours alone. Hughes loaded the Wag! app on her phone after seeing the company's TV commercials and began scheduling walks at least once a week.
She liked the first dog walker she met – a young guy named Lance – and began requesting him routinely. Wag!'s website says customers can choose selected walkers and "get the same person each day!" But Hughes noticed that walkers other than Lance would sometimes show up.
One of those strangers showed up in February.
"Wag! will tell you they are sending the [walker] you think you are getting, but really there is someone different," she said. "It's kind of creepy. They have access to your house. You leave a key, and they come into your home. You trust that that's the person they say they're sending."
Wag! walkers use a GPS system that allows customers to follow their dogs as they are being walked in real time. Reagan rarely walked in a straight line, but that day in February, Hughes noticed something unusual.
"They send you a GPS to show you how your dog is doing on a live active walk," she said. "My dog is hyper. There are usually little zigzags. That day was just a straight line."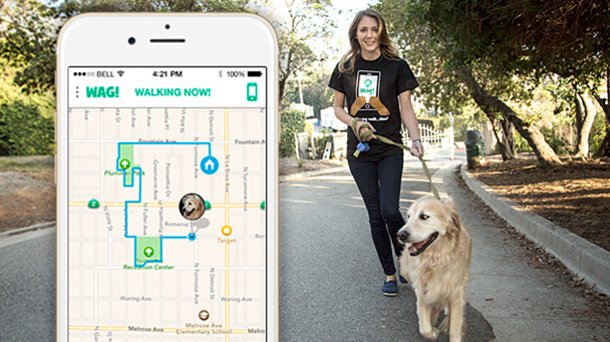 Hughes returned home that evening and spoke to a neighbor.
"My neighbor said [the walker] took the dog, put it in the car, and drove around for 30 minutes," she said.
Hughes didn't complain.
"I let that go," she said.
She continued asking for Lance.
After she came home early one day in May to find Reagan injured, she was stewing when her phone notified her that Lance was taking Reagan for a walk.
"Nine minutes after I walked in the door, my phone went off and said, 'Your Wag! walk has now started,' " she said.
Hughes had seen similar messages many times while she was working. Her dog's face would pop up alongside a GPS log that let her see where her dog was being walked. This time, however, Reagan was sitting beside her in her living room.
"Then they sent me a bill," she said.
Hughes considered the bill to be fraudulent and called Wag! to complain. The customer service representative said she would get to the bottom of things. A few minutes later, the rep called back. At that very instant, Hughes said, Lance assured her he was walking Reagan.
"I said that's impossible," Hughes said. "I've used this guy for six months. It's scary when you trust them with your home and dog, and then they are fraudulent. I don't know how many times they've done this type of thing. Lance was, I thought, my best walker. I had just written a review on him and gave him five stars, because I thought he was doing such a great job. Now, I don't know when he walked her and when he hasn't."
The customer rep said she would call Hughes back the next day. She did not.
Wag! enjoys fairly positive online reviews from customers, although news reports in the last few years have exposed instances of lost dogs –– and even dead dogs. On January 9, The Wall Street Journal reported that Wag!'s app exposed sensitive customer information to potential hackers.
Hughes thought she had seen a Wag! branch office near her house and drove there to complain. Along with having a similar name, Wag Canine Emporium, at 4737 Camp Bowie Blvd., has a similar turquoise color scheme in its logo, but the local business is not related to the dog-walking app. Emporium owner Hannah Witten opened her store in 2012 and has never provided walking services.
"We don't want our customers confusing us with Wag! the dog-walking service," she said. "We are completely different things."
Witten said she fields a couple of calls a week from people complaining about the app Wag!, she said.
"We're having to tell people we're not associated in any way with them," Witten said. "Now that it could harm our business, our feathers are really ruffled. As a small business owner, it's threatening to hear that someone had a bad experience and thinks it's us, and it's not."
Hughes called the Fort Worth Weekly to say Wag! was ignoring her calls.
"Normally, when I want a walk, they call me back within about 15 minutes," she said. "Now it's like they've blocked me."
At the end of May, I called Wag! several times and left messages. No luck.
Then, in early June, Hughes said a Wag! rep called her to say that the company had changed ownership.
"They apologized to me and said they are investigating the situation," Hughes said. "They are supposed to refund my money."
Weeks later, however, Hughes remains displeased.
"I still cannot contact anyone at the service," she said.
She complained to her bank, and a bank official removed charges for two dog walks from her credit card statement, Hughes said.
I called Wag! again and was able to reach a spokesperson at corporate headquarters to discuss Hughes' claims. The Wag! employee said she would check into the situation and call me back the next day or so. That was three weeks ago. I'm still waiting.