Heat exhaustion is rampant and the Texas Rangers are pitiful, so it's time to start preparing for Saturdays full of bigger balls. There are many opportunities to go full high-school biology lab and dissect the Frogs. For now, put on your beer goggles and pay your DirecTV bills, so we can examine the college football landscape. Here is your national championship syllabus.
Alabama Crimson Tide (defending champions): Associated Press (AP) No. 1, Coaches Poll (CP) No. 1
Current Las Vegas odds for a championship: 19/10
Alabama head coach Nick Saban is the Darth Vader of college football: stoic, calculating, and part android. The Tide have appeared in every college football playoff and won five of the last nine championships. Junior quarterback and Texas native Jalen Hurts will stand in the shotgun of a powerful and balanced run/pass offense. Hurts has the benefit of handing off to preseason All-American running back Damien Harris. Even Saban's backup quarterback has title game experience. The always imposing Bama defense returns seven starters from their championship team last year. Dig in for the long haul of hearing every pundit talk about the Tide in the playoff because it's the safe, albeit boring, bet.
Toughest tests: November 3 @ LSU, November 10 vs. Mississippi State, November 24 vs. Auburn
Clemson Tigers: AP No. 2, CP No. 2
Current Las Vegas odds to win the title: 3/1
Smiles abound when Clemson head coach Dabo Swinney talks about his team, and why not? The folksy Southerner has elevated this program from losing embarrassingly to bottom feeders to national contender. NFL teams will be watching the Tigers' defensive line closely, as scouts predict four first-round draft picks postseason from this elite unit. The offensive line returns three starters and running backs Tavien Feaster and Travis Etienne, a.k.a. Thunder and Lightning. Senior dual-threat quarterback Kelly Bryant will lead the offense, and Swinney has said that his senior quarterback is as confident as ever. Bryant's backup, freshman Trevor Lawrence, was the No. 1 quarterback recruited last year, and Tiger faithful will be eager to see what he can do if Bryant struggles. Both QBs are expected to see playing time in the Tigers' opening game. The hype around Lawrence is significant, and the freshman impressed onlookers during spring football. Clemson may not be in the top poll spot, but it has the least difficult road to the playoffs compared to the other teams in this preview. (Prove me wrong, Aggies!) The development of either Bryant or Lawrence as the signal-caller will show us how far these Tigers can strive toward another national title for the coach with the best first name in college football.
Toughest test: October 27 @ Florida State … and that's it. The rest are pop quizzes at best.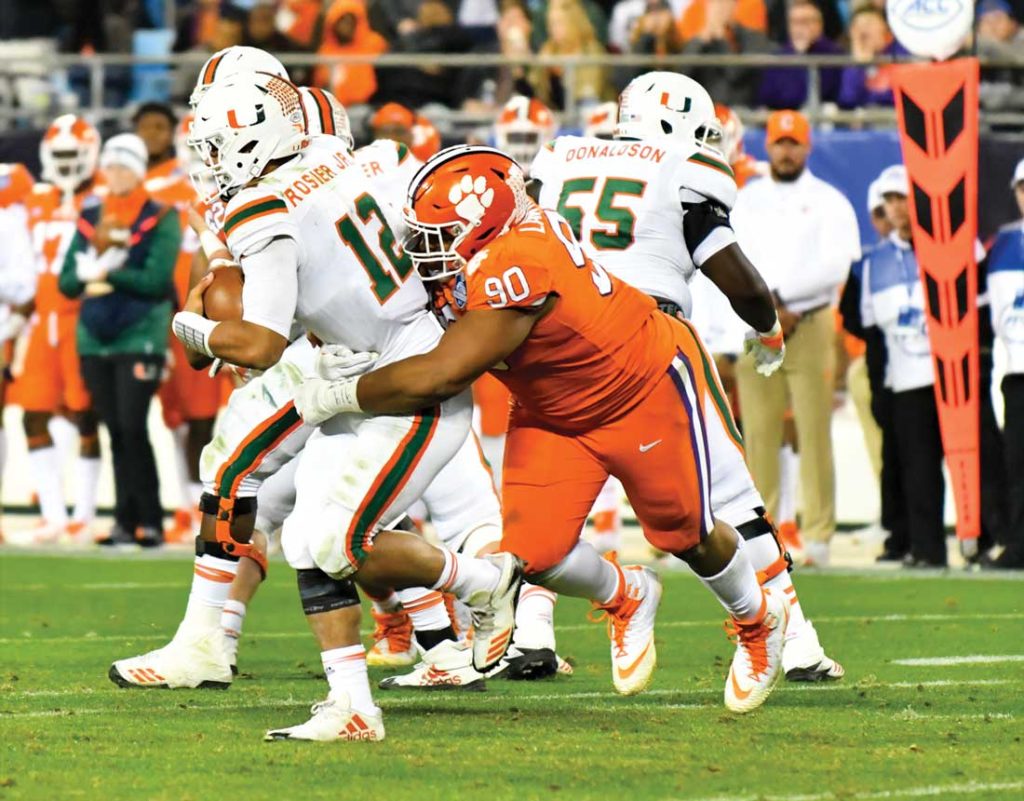 Georgia Bulldogs: AP No. 3, CP No. 4
Current Las Vegas odds: 9/1
The Bulldogs are the defending SEC champions who lost the national championship in overtime to Alabama last season. These dogs will be hungry for elephant meat, and head coach Kirby Smart will return the majority of a powerful offense. Sophomore quarterback Jake Fromm (ya know, the one with the hot mom) will lead the charge through the SEC Easy –– I mean, "East." The Dawgs will have an adequate defense but not to the level of Bama or Clemson. Their road to the championship isn't a cakewalk. Luckily, the Bulldogs' non-conference schedule is softer than Ted Cruz's moral integrity, and they stay home to play the Auburn Tigers. I'd bet my tailgating spot the Bulldogs are back in the SEC championship game on December 1.
Toughest tests: October 13 @ LSU, November 10 vs. Auburn
Wisconsin Badgers: AP No. 4, CP No. 7
Current Las Vegas odds: 25/1
Badger football is usually boring. Most of the Big 10 is, really. Expect another season of boring Badger football with lots of handoffs to set up play-action passes. Wisconsin has three All-American offensive linemen, and sophomore running back Jonathan Taylor scampered nearly 2,000 yards last season. Wisconsin will physically dominate most of their opponents in the trenches, grinding them into submission. The Badgers might fly more than usual this year, returning their three most productive receivers and with junior quarterback Alex Hornibrook showing solid command of the offense last season. Wisconsin is formidable offensively, but they will lack the explosiveness of their conference rival coached by Urban Meyer. These junior cheeseheads will be in the playoff conversation all year. Wisconsin's conference slate is manageable, despite traveling to Ann Arbor and Happy Valley. The real trial is their hopeful return trip to the Big Ten championship game, most likely a rematch against those nuts from Ohio that they failed to crack last season.
Toughest tests: October 13 @ Michigan, November 10 @ Penn State
The Urban Meyer College Football Team: AP No. 5, CP No. 3
Current Las Vegas odds: 10/1
This university will have a football team this year, but more on that in the coming weeks. Head coach Urban Meyer, who apparently is not very good at the family dynamic (ask any Florida Gators fan), has been suspended without pay since August 1 for his handling of domestic violence allegations involving a former assistant coach. Meyer's punishment for fumbling reported domestic abuse is missing practice leading up to the team's first game with Oregon State and banishment from games against Rutgers and TCU. Meyer's team probably has the toughest schedule of the anticipated playoff contenders yet has become famous for the ability to shake off an early season loss and slither into the playoffs anyway. 
Toughest tests: September 15 @ TCU (AT&T Stadium), September 29 @ Penn State, November 10 @ Michigan State, November 24 vs. Michigan
Washington Huskies: AP No. 6, CP No. 6
Current Las Vegas odds: 12/1
Last year, the Pac-12 was left out of the playoffs entirely, despite loads of NFL talent. The Huskies are hoping to rep the conference this year with their relentless secondary and an experienced offensive line. Head coach Chris Petersen, whom Frogs know better as the former coach of Boise State, is one of the most respected and innovative offensive coaches in the game. There is no clear downfield playmaker for the Huskies, though. The positives are the backfield's veteran leadership and that Washington plays their toughest conference opponent, Stanford, in Seattle. Peterson and the Huskies will be in the immediate spotlight this Saturday when they travel to Auburn for their season opener while most other teams are playing Multidirectional State University. If the Huskies win on Saturday, they should stick around in the Top 10 rankings for the majority of the season and will have the chance to carry the torch for the Pac-12 toward a playoff berth.
Toughest tests: September 1 @ Auburn, October 13 @ Oregon, November 3 vs. Stanford
Oklahoma Sooners: AP No. 7, CP No. 5
Current Las Vegas odds: 16/1
The Sooners are looking for their fourth consecutive Big 12 championship and another shot at the playoffs. With Baker Mayfield crotch-grabbing in Cleveland, freshman Kyler Murray of Allen, Texas, is taking the reins of another powerful Oklahoma offense. The undersized Murray is protected by a forceful offensive line and an imposing 1,000-yard rusher named Rodney Anderson. The best news for OU's opponents might be that 6'5" tight end Mark Andrews was drafted by the Baltimore Ravens. Murray will look to junior receiver Marquise Brown to become the regular downfield threat. Second-year head coach Lincoln Riley is an offensive guru, and his defensive units have reflected that. If Murray struggles, the Sooners will be vulnerable during their toughest games, all of which are on the road.
Toughest tests: October 6 @ Texas (Cotton Bowl), October 20 @ TCU, November 23 @ West Virginia
The State of Texas: TCU Horned Frogs AP No. 16, CP No. 16; Texas Longhorns AP No. 23, CP No. 21
That's it. Those are the only ranked college football teams in the state of Texas' preseason lineup. Not to worry. Texas A&M already presented new head coach Jimbo Fisher with a national championship trophy with the year "20–" on it, so it's only a matter of time, right?