Ever wonder what places like Fuzzy's or Torchy's would be like if instead of purveying gimmicky, so-so Tex-Mex they served authentic Mex-Mex/taqueria cuisine? Los Taco H's (2108 E Rosedale St, 817-420-6877) could be the best version of that style of eatery in the 817, and you should know it by rote. 
The Eastside stand-alone building sits just beyond beloved Mamma E's near an abandoned Huddle House (which I mention only because I never knew it existed) on the swath of Rosedale Street that leads to Texas Wesleyan University. Just as an aside, the money the city has been pouring into that area's suddenly drivable streets is evident. 
The light sandstone building is hard to miss from the side of the road, thanks to a digital message board and a colorful logo near the entrance. A fun-looking patio beckons. Inside, the walk-up counter joint's one room is bright with natural light, colorful, and full of quirk, with sky blue- and mustard yellow-painted walls emblazoned with random Spanish phrases. My guest and I sat across from "El dinero no compra la felicidad, pero si unos tacos," which translates to, "Money doesn't buy happiness, but it can buy tacos." Also sharing wall space is a painted Dia de los Muertos skull and the back of a Volkswagen bug.
Just as you walk in, you're greeted by an impressive, ample salsa bar, replete with four flavors of sauce ranging from aww, isn't this lovely? to holy hell! cut off my tongue!, cilantro, onions, radishes, pickled onions, and limes.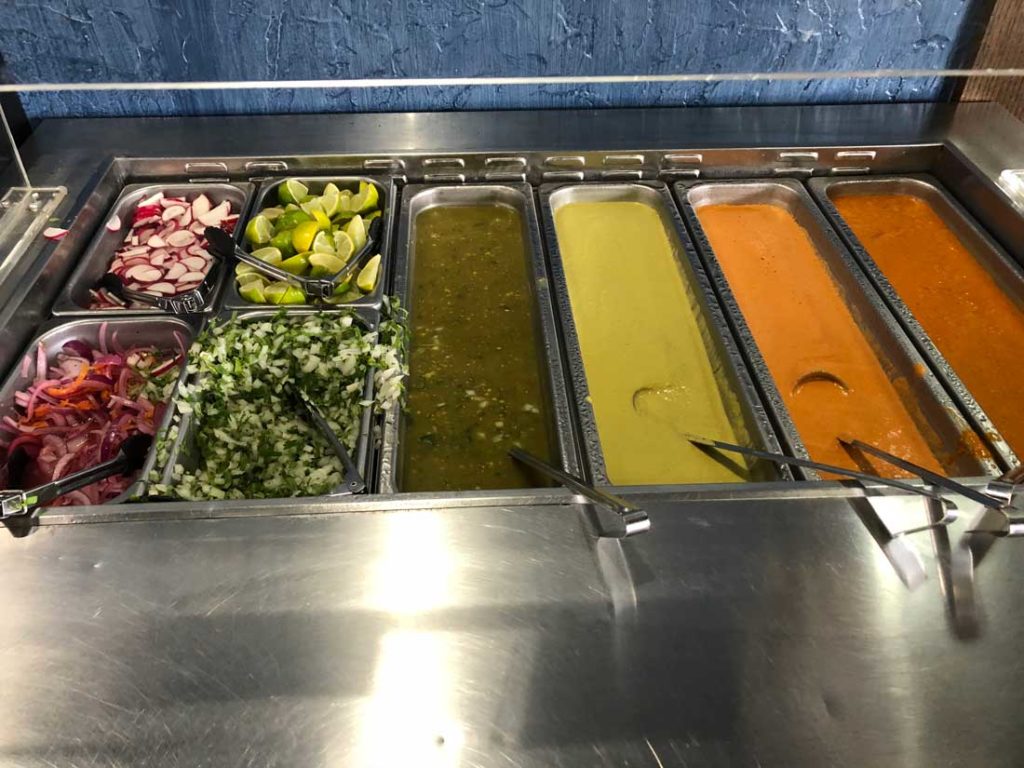 My order of huaraches ($7.99), with mildly sweet pastor, beans, cilantro, white cheese, and crema, all slathered on thin masa dough, was fresh-tasting and well seasoned. My guest's Tartuga Mexicana ($8.50), a sandwich stuffed with beef, chorizo, white cheese, avocado, lettuce, and tomato, was hearty and boldly flavored, like a Mexican banh mi. We just so happened to show up on dollar taco day (every Tuesday), so we each indulged in a carnitas taco, which was fork tender but could have used more seasoning –– and was definitely aided by a pile of everything from the salsa bar. 
You know it's a good lunch when you're stuffed and you want to eat more just to see how the rest of the menu tastes. I've never felt that way after eating at Torchy's or Fuzzy's.