The panoramic view from the patio of Branch & Bird Restaurant (640 Taylor St, 817-785-8888) was as stunning as everyone had told me. From the 12th floor of the Frost Bank Tower, you can look down on most of the buildings on the eastern end of downtown and for miles into the horizon. And, on my recent visit, the weather was perfect: sunny, mild, and with a light breeze –– the kind of afternoon when you could wear a sweater if you wanted. Or not. We get, like, four of those days a year. 
When the hostess told me the patio was full, despite the fact I'd made a reservation out there, I was disappointed, though I understood. Things like that happen all of the time, and there are bigger problems in the world (see: everything). Then the manager came over, hand extended for a rigorous shake, to apologize to my guest and me. That seemed a little much, but his heart was in the right place and I appreciated the gesture. Then, when our server greeted us, she quipped, "Didn't you want to sit outside? It's such a beautiful day." 
Ouch.
Still, even though we were the only ones sitting in the sleek, modern-looking dining room, with silver, shimmering, metallic-looking tables and lamps, colorful geometric lighting fixtures, and a comfy-looking lounge replete with couches, the floor-to-ceiling windows allowed the sun to fill the vast room with light – they also taunted me with a view of smartly dressed business people enjoying the sun at the table I reserv … sorry. 
For a place that just opened over the summer, B&B has already experienced a goodly amount of change, including the name (it was originally called Perch), the chef, and the cocktail program. When it first opened, the eatery was meant to serve only the occupants of the tower, and it just opened to the public at large around the time we ran a (as it turns out, premature) review ("A Precarious Perch," July 18). Some remnants of that first iteration are still evident, such as the grab-and-go deli case filled with goodies and breakfast stuff situated next to the bar/coffee station. 
The menu is small and simple, but it reads well. There is a section each of salads, panini, non-pressed sandwiches, and flatbreads, with a trio of dessert options. Since it was the middle of the day, I turned down our server's offer of a cocktail. I told her I was already drunk, but she didn't laugh. 
Not on the menu was the featured soup, a hearty beef stew ($4 for a cup), which tasted rich and wine-heavy like a proper bourguignon base, with onions, carrots, and fork-tender beef. Though perfect for any weather, the stew will be vital when the temperature drops another 20 or 30 degrees.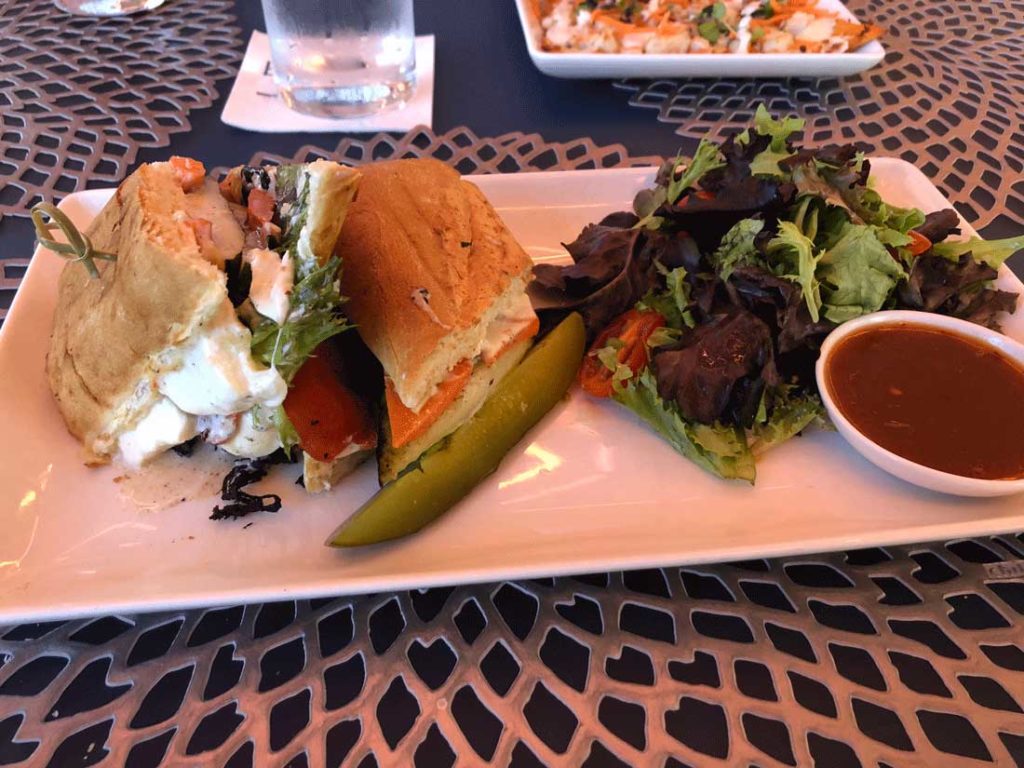 My grilled vegetable panino ($14), with superbly cooked (read: not mushy) eggplant, red bell peppers (whose sweet flavor was coaxed out by the grill), carrots, arugula, and a thick slab of mozzarella, dressed by a subtle-tasting herbaceous basil aioli and stuffed between slices of buttery ciabatta, was delicious if nearly impossible to eat as a sandwich. The ingredients tumbled out like falling masonry every time I wrapped my hands around the bread, so I knife-and-forked it. For a lighter, spicy-ish lunch, my guest's buffalo chicken flatbread ($14) sounded like dressed-up bar food but tasted zesty thanks to its tangy buffalo sauce. 
After our lunch, my guest and I walked out onto the then-empty patio to take in the fresh air and view. That alone would be worth a second trip – I'll just make sure to double-check my reservation.