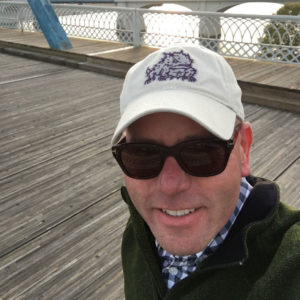 The craft beer craze has eluded me for years, and I'm not sure why. I'm usually first in line for any reason to behave snobbishly, but as much as I've tried to nerd out on beer the way I obsess over a well-made cocktail or a delicious glass of wine, my palate just hasn't cooperated – until now. Central Market's beer and wine impresario, J.R. Clark, recently beer'd me in a place I'd never considered: the dinner table. 
Pairing food and beer is similar to finding a wine to complement your meal. You need to find a beer that 1.) you like and 2.) doesn't overpower the flavor of whatever you're eating. And, frankly (I say this as a full-fledged wine geek), beer spans a much larger spectrum of flavors, from herbal hops to roasted malts. 
You could even say that it's easier to find a beer to pair with your din-din than it is a wine. At the very least, beer pairing is way more difficult to mess up, which is a common foible of matching food with wine, with its no-fish-with-red-wine edicts. No such limitations exist in the beer world. In fact, thanks largely to the recent-ish craft beer revolution, the possibilities are limitless. One brewer's IPA may be great for a fish, and another's beer of the same style may match well with pork. The options are so vast, making a choice can be even more overwhelming than the more-rigid world of wine. 
As a rule of thumb, look for a beer that either matches the intensity of your food – lighter beers like pilsners with appetizers and salads, heavier beers like stouts with hearty, rich beef – or one that balances whatever you're eating, like a subtly sweet, fruit-forward ale that cuts through spice. Think about the flavor profiles of most beers (malty, hoppy, nutty, citrus, fruity) and pair them with the main flavors in your grub (roasted, spicy, savory, buttery, sweet).
Another helpful tip is to pair classic beer styles from a particular region with classic dishes from that country. For instance, lagers go very well with hearty German food like sausages and breaded meat. British stouts are perfect with any greasy pub food. And Belgian beers dance well with just about anything. 
I quizzed Clark via text message about some pairing advice for some of my favorites, which I've listed below:
Cheeseburger: "A not overly hopped IPA, specifically the Axis IPA by Real Ale."
Tenderloin: "A Belgian Dubbel."
Salmon: "Something a little softer, like a Hefeweizen or German kölsch.
Scallops: "Goze. The saltiness in the beer will go really nice with shellfish."
Pepperoni pizza: "Bock – Wild Acre Brewing."
Caesar salad: "Something fruity, like Adios Pantalones by Rahr & Sons Brewing Co."
Vanilla birthday cake: "Belgian lambics."
Yogurt: "That's a tough one! Maybe Rahr's Blonde?
So I'm officially a beer snob, which is a lot like being a wine snob but without the dress code. Guess I'd better get some tattoos. Thanks to J.R. Clark, Central Market's Beer and Wine Manager, for the lesson. Go visit him any day if you have a specific question or just want to stalk people who are shopping for beers and give them unsolicited advice.