I knew I'd like Jason's Grocery & Grill when my guest and I pulled up to the venerable Jacksboro Highway convenience store and its parking lot was filled with work trucks. They're like honeyguides that lead to great bang-for-buck grub. I knew I would love the place when I smelled cigarette smoke. I'll explain. 
Normally, I detest the foul stench of cancer sticks, especially around anything I plan on eating. I discovered the source of the toxins midway through my meal in the tumbledown dining room of about 10 tables and chairs situated smack in the middle of grocery aisles, all surrounded by a charming clutter of neon signs, throwback movie posters, and rows of hats – I mean, a lot of hats, too. I bet Jason's can go ball-cap to ball-cap with Buc-ee's. 
As I went to find the bathroom, I walked through a doorway into a room plush with 8-liners and two dudes sitting there intensely pushing buttons and sucking down  Camels like the pair were suspended in time in a highway casino outside of Shreveport. 
I couldn't really tell you why I found that image so compelling other than to say I felt like I had stumbled into Jason's seedy underbelly – a find within a find. Whatever resentment I felt toward those two chimney stacks mellowed at the thought of how two guys in the primes of their lives decided that the best way to spend a weekday afternoon was to sit in a tiny, narrow brick half-room and let Lady Luck decide just how much malt liquor they were going to carry home. I eventually found the bathroom after asking a helpful woman sweeping the floors to unlock it. 
Jason's (5922 Jacksboro Hwy, 817-626-5858), according to my knowledgeable lunch guest, is a destination eatery for those who live around this swath of Jacksboro. The menu is vast for a small convenience store, and the focus is split between Americana (burgers, cheesesteaks, chicken-fried steaks) and standard Mex-Mex and Tex-Mex. The burgers are the kitchen's calling card; at least, that's what the hanging pictures that greet you at the counter suggest. 
I never like being out-ordered, and the relentlessly cheery woman manning the register went nuts when my guest requested the double-bacon cheeseburger combo with fries and a drink ($7.99). I can see why she was so effusive. The double-meat patty was juicy, expertly seasoned, and slathered in melted cheese. The overall effect of the fresh lettuce, pickles, tomatoes, onions, and crispy bacon, with generous swipes of both mayo and mustard on the fresh-tasting standard-issue bun, tasted like a higher-quality Whataburger – I say that with all of the reverence due to the Texas-bred burger chain. The accompanying fries were crispy on the outside and pillowy soft within.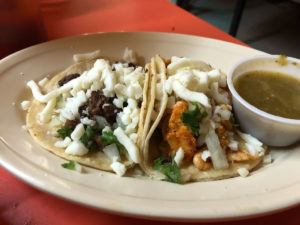 I ordered Jason's giant cheeseburger combo ($7.99), which was the same thing but without the bacon and only one patty. The lady just rang me up without so much as a knowing nod. I found it to be more than filling, but for the sake of due diligence I also ordered a couple of tacos ($1.50 for two on Tuesdays only) – one each of the kitchen's only offerings: beef and chicken. Each meat was swaddled in a double-ply corn tortilla and topped with cilantro, onions, and queso fresco, with piquant, flavorful green salsa served alongside. 
The tacos were fine, but the burgers are the reason I'll go back to Jason's – and maybe a shot at winning some store credit on the 8-liners.