Montana De La Rosa wrestled out of Azle High School before starting her professional fighting career at age 19. The Fort Worth-based MMA fighter competed in multiple sports from a young age.
"My dad was always pushing me to compete in different things," she said. "He would always make me arm-wrestle different kids in the garage and just always raised me to be super-athletic and competitive." 
Now 23, De La Rosa has won nine of her 14 fights, seven by submission and two by judges' decision. This Saturday, she'll be taking her Brazilian jiu-jitsu background and four-fight winning streak to Melbourne, Australia, to compete in a women's flyweight bout at UFC 234.
She had planned to wrestle in college, but she had her daughter as a sophomore in high school and stayed in Azle to raise her. When Genesis Jiu Jitsu opened a location in her city, De La Rosa's dad encouraged her to try the Brazilian version of the martial-arts discipline, which specializes in grappling and takedowns. "I had no idea I wanted to do MMA at that point. I just knew I wanted to be competitive, because wrestling was very competitive and a hard sport, and I wanted something like that."
The gym provided De La Rosa with jiu-jitsu training but not as much MMA preparation for competition, she said. She and her coach at the time, Karen Kovach, needed a new space to train. That's when the MMA management company Team Takedown found De La Rosa. At age 19, De La Rosa was attending classes at a local college and raising her daughter as a single mom while training.
"I got a call on the phone from this super-high-level team," De La Rosa said. "They had UFC fighters and all that. And they were like, 'If you want to come, you've got to come now.' " 
With zero amateur fights in her background, De La Rosa began professionally fighting for the team after a few months of training. Team Takedown, she said, "would pay for your housing, pay for a car, and basically all you had to do was show up to training and fight."
Female MMA fighters like Ronda Rousey were earning millions around the time Team Takedown took on De La Rosa. "It was basically just for money," she said. "They wanted to get me there fast."
She lost her first two professional fights. "That may not sound like a lot," said Douglas Frey, who became De La Rosa's coach about two years ago, "but psychologically, for a young kid, it takes a really big toll, especially when all your peers around you are succeeding, and you're just not at their level."
De La Rosa recalled one of her first fights: "I was throwing up in the back, I was so nervous. I should have beat that girl easily, but I was just completely nervous."
Team Takedown no longer showed an interest in training De La Rosa after those losses, and she returned to college and lived with her parents while she trained out of Genesis. 
"They still believed in me, and I won six fights in a row, most of them by finish — all submissions," she said.
At the gym, she met her husband Mark De La Rosa (a UFC fighter with an 11-1 record), who became a father figure for her now 7-year-old daughter Zaylyn, a wrestler herself who's won multiple state championships and dominates the girls' and boys' divisions.
"We all get it," he said. "We're going to be world champions."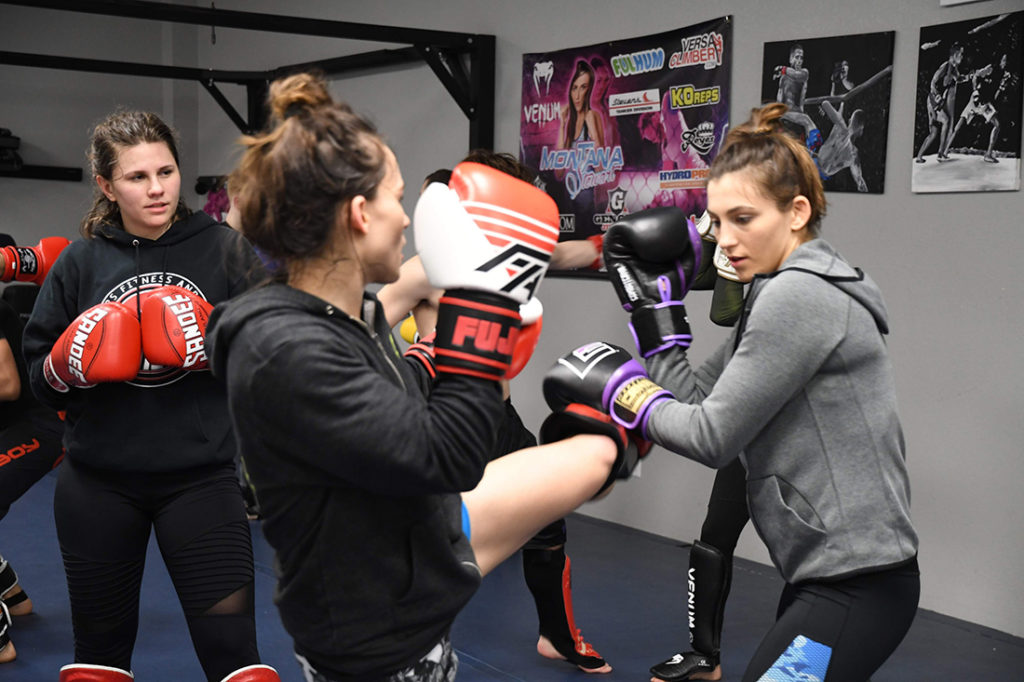 At 5'7" and 125 pounds, De La Rosa uses her long arms and legs to her advantage by forcing her opponents to the ground in the octagon, applying strangleholds and joint manipulation to finish her fights. However, her upcoming bout against Australian Nadia Kassem might look different. De La Rosa has been practicing throwing kicks, knees, and punches from a distance, employing those long limbs to develop a more well-rounded fighting style. Kassem is undefeated at 5-0 but has only recently moved up in weight class.
"Kassem will throw hard and heavy as a southpaw, and we're prepared for that," Frey said. "Montana will have the size advantage, she'll have the length advantage, and she'll have the experience advantage as well. I think that Montana is able to outclass this girl."
His fighter agrees. "I just feel like I am so much smarter of a fighter, like I've been training for so long," De La Rosa said. "I'm not just going in there to brawl. I know what she's going to do, and I know what I'm going to bring to the table. And I know how to finish the fight."
Five years after her first professional loss, De La Rosa teaches kids' jiu-jitsu, hangs out with Zaylyn and Mark at the gym, and spars regularly with Jinh Yu Frey, the current atomweight world champion with Invicta Fighting Championships, and also Douglas Frey's wife.
"I just love being at the gym," De La Rosa said. "I couldn't imagine sitting in an office or typing. I love pushing myself."
This weekend, De La Rosa will be almost 9,000 miles away from Zaylyn, whose birthday lands on the day before her mom's fight. "And she's like, 'You know what, Mom? You don't even have to get me a present. I just want you to get a knockout,' " said a smiling De La Rosa. "So I was like, 'OK, I'll get you a knockout, but I'm still going to get you a present.'"
The UFC 234 fight card headlines with middleweight champion Robert Whittaker defending his title against challenger Kelvin Gastelum. De La Rosa and Kassem fight second on the main card that starts 9pm Saturday on ESPN.

An earlier version of this article incorrectly stated the purpose of Montana De La Rosa's fight in Melbourne, Australia. It was a match in the flyweight division of UFC, not a title fight. We regret the error.