When I was a kid, my mother hosted a supper club attended by various well-dressed neighbors and friends. Sometimes the events were progressive, and the group would move from house to house for every new course. My mother was no great shakes in the kitchen, usually, but you would have thought she was Julia Child when the neighbors popped by for club grub. It was one of the few occasions she would deign to use the good china, light candles, and break out the frilliest soaps in the bathroom. 
Those experiences hardly prepared me for the lunch club I've twice attended recently. The group, which meets at least once a week, is made up of mostly high food-IQ musicians just waking up, food service workers, and other ne're-do-wells –– my kind of people. Unlike the doily-heavy meal clubs of my youth, this one tends to lean toward hole-in-the-wall gems more than restaurants that have separate menus for wine and cocktails, though the clubbers will fine-dine, too. 
It was in their company that I discovered Qana Cafe & Hookah (7860 Chapin Rd, 817-862-9728), a superior Lebanese eatery set in a homey, ramshackle stand-alone building on the West Side. 
The first thing I noticed –– and the first clue I would like the place –– was the living-room-meets-flea-market décor, replete with book cases and a television on one side of the room, and the clutter of vintage bric-a-brac, like an old record player and antique phone, sitting on the horseshoe-shaped counter. Behind that were shelves of hookahs, whose appearance ranged from ornate to ostentatious.  
In case you doubted Qana's authenticity, a smiling, pleasant woman donned in a black burqa came to take our order, her voice reminiscent of my uncle's back when he smoked two packs a day. 
If I was charmed by the décor, I was blown away by the food. The clubbers had visited Qana many times and seemed eager to share their favorite dishes. The first arrivals were the spicy potatoes ($5.99), chile-flecked spuds, diced and cooked crispy alongside garlic, cilantro, and lemon juice. If home fries had a more sophisticated cousin, this was it. 
The deep-fry treatment only enhanced the nuttiness of the fried cauliflower appetizer ($6.99), served with a zingy tahini sauce that added a bright zest to the dish. I usually don't mix meat and hummus, but the kitchen's version served with impeccably seasoned ground beef ($7.99) and two fluffy pieces of housemade pita bread could turn even the most obnoxious vegan.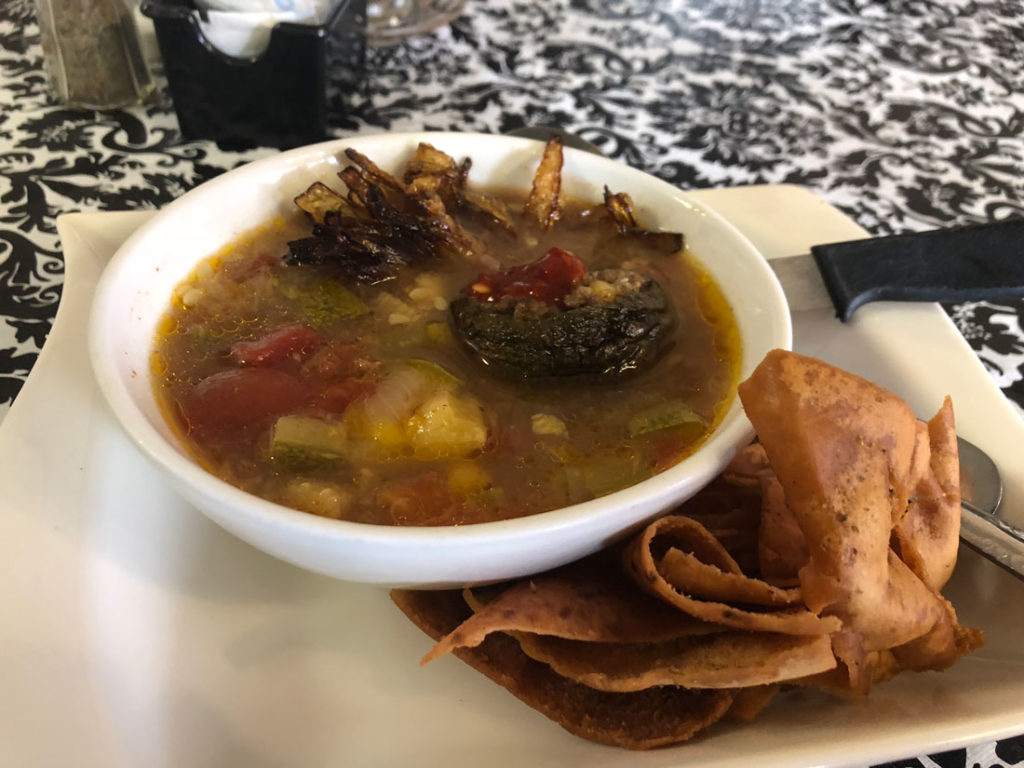 One of the most visually impressive soups I've eaten in a while was the kitchen's daily offering ($4.99) of beef-stuffed zucchini with caramelized onions bobbing alongside fresh-tasting zucchini, tomatoes, squash, and cilantro in dark, umami-bombed broth. Pro tip: You should follow Qana on Facebook, if for no other reason that to see their soups of the day. They're always stunning. 
The real showstopper among many hits was my entree of fish shawarma ($12.99), which was strongly recommended by all of my dining partners as a good introduction to the menu. Flaky seabass encased in tahini and stuffed with herbs sat atop fresh pita bread and served alongside the house salad and an avocado drenched in a thick red chile sauce. Fresh-looking tomatoes, onions, and more avocado topped the fish. 
I don't usually get into to the club life, but if these guys are going to lead me to more places like Qana, I'm all in. My mother might even be proud.