I'm likely in the minority. I spent Saturday afternoon screaming at my mobile device while pacing my living room and anxiously toggling from court to court to watch a fisheye lens broadcast of serves, volleys, and groundstrokes. My lawn isn't mowed, nor my laundry folded, and I have no regrets. It was worth it to follow TCU tennis' weekend in Starkville and Sweet 16 super-regional match-up with the seven-seed Mississippi State Bulldogs. The Bulldogs fell to the Frogs back in February at the Midtown Athletic Club in Chicago, which was eons ago. Coach David Roditi's Frogs immediately pounced on the doubles point by dominating lines one and three pairs to secure an early advantage.
The singles match-ups looked bleak as the Frogs fell behind in their first sets. A rain and lightning delay might have been the godsend needed for Roditi's racketeers, who gathered their wits during the delay. Star Frog Alex Rybakov finished his match first but won only a single game in the first set against top-ranked Nuno Borges. The Portuguese prince showcased his No. 1 singles ranking and dispatched Rybakov in straight sets to even the score 1-1. Bulldog Strahinja Rakic stumped Reese Stadler shortly after in straight sets to avenge his February loss and send MSU ahead 2-1.
Lanky Luc Fomba corrected TCU's downward dive by dispatching his fifth-line opponent in straight sets to even the scoreboard. The 6-foot-6-inch French freshman has been rock solid this season and is easily the most physically imposing purple player. Bertus Kruger volleyed from his doubles loss and won a third set net-burner at the fourth line. Second-line singles served heaping helpings of hope for Horned homers when 28th-ranked Alastair Gray won a dramatic tiebreaker with a sliding laser backhand that shanked off his opponents' racket frame to decide the first set. Gray rallied for an eventual third-set victory and the deciding point overall despite suffering a nasty tumble during his match resulting in a medical timeout and eventual stitches. Sander Jong's match at line six was abandoned, though he had won a tiebreaker to stay alive and win the second set and was leading 5-4 in the third when their match was stopped. Frogs won 4-2 and advanced to the quarterfinals.
TCU tennis is no stranger to the Elite 8 and will face a familiar formidable foe in the Texas Longhorns to reach the Final Four. UT's first four lines of singles are all ranked in the Intercollegiate Tennis Association's Top-100 players. The Frogs stole the doubles point when the teams met in early April but couldn't win any of their one-on-one matches. Second-seed Texas will try to repeat its domination of in-state rival TCU on Thursday in Lake Nona, Florida, in the NCAA quarterfinal. The Frogs have punched above their weight and are the lowest ranked seed remaining in the tournament. The victor of the UT-TCU match advances to face the winner of Virginia and Wake Forest on Saturday in Orlando before the championship match on Sunday.
Walk this Way
TCU returned triumphant from their Morgantown match-up to rest and prepare to host the Kansas Jayhawks. Friday featured a strong pitching start from purple ace Nick Lodolo, who allowed only a single base hit through four innings. Lodolo struggled in the fifth by walking a batter, beaning another, and then allowing a triple to surrender two runs. Lodolo finished the fifth and dismissed the Hawks in the sixth before being replaced after the stretch. Jake Eissler, Lodolo's replacement, immediately mucked things up with a walk, throwing error, and hit batter to load the bases with no outs. Augie Mihlbauer hastily replaced his teammate and deftly salvaged the inning. Despite pegging a batter, which allowed a free-run rotation for Kansas, TCU escaped their self-imposed scare relatively cleanly tied 3-3. The final two innings trudged slowly while each team rotated through relief pitchers to manage the knotted score. TCU's Conner Shepherd wasn't interested in extra innings and blasted the first pitch of the bottom of the ninth over the right-field wall for a 4-3 hop-off win.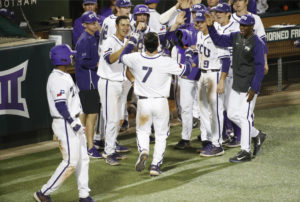 Saturday's early innings were benign compared with Friday's wild finish. The fourth inning featured a pair of hits and a run for the blue birds before the purple players bounced back with two of their own, thanks in part to a Jayhawk throwing error. Three KU singles earned a run in the fifth that brought Kansas even at two runs each. Each team went scoreless before a bizarre eighth in which the Jayhawks rallied thanks to a passed ball and throwing error that turned a should-have-been strikeout into an eventual two-run inning and a 4-2 Kansas lead. TCU failed to string together any hits until Jake Guenther doubled to start the ninth. A walk brought the tying run onto the base pad, and Andrew Keefer forged ahead in the count before bashing a two-RBI double to tie the Jayhawks at four runs each and represent the winning run in scoring position. Shepherd, who homered to win less than 24 hours previously, arrived at the plate to receive four intentional balls before trotting to first. Alex Isola, not to be outdone by Shepherd, patiently worked the count full before bashing the payoff pitch past the left field wall for a three-run homerun and TCU's second walkoff win in as many days.
Sundays have been paradoxically unkind to the Horned Frogs, who haven't won on the Sabbath since early April against Oklahoma. They've also dropped the third game of the series against their last four opponents. Kansas notched Sunday's first run in the second inning from a fielder's choice. TCU's Johnny Rizer walloped a fourth-inning homer over the right field wall to knot the scoreboard at 1-1. Two infielding errors in the top of the ninth allowed as many runs to score. Walkoff heroics eluded the Frogs, who couldn't dig out of their self-imposed hole and fell 3-1. Coach Jim Schlossnagle's sluggers have improved tremendously since their horrid series against Baylor by winning their second consecutive series, but fielding errors continue to be the team's Achilles' heel and are proving the difference in close games. The Frogs are fifth in the conference standings, one game ahead of Kansas and Oklahoma and close behind fourth-place West Virginia. TCU drives the long and desolate road to Lubbock this week to rassle the Red Raiders, who are one game behind first-place Baylor and riding a white-hot winning streak of eight games. Stealing one game of three from Tech would be an accomplished outing and buy confidence heading to the postseason, assuming there will be one.