It's been a long wait. Digging back through the interwebs, I found my first interview with the homebrew team who recently opened Funky Picnic Brewery & Café off South Main Street on the Near Southside. Samantha Glenn, who now co-owns and manages the brewpub, informed me back in early 2016 that she was noodling out a business plan for a brewery/restaurant. 
A small but boisterous crowd filled the place on a recent visit. There are basically three unique areas where you can imbibe or dine. Near the entrance, there's a lounge with two couches that are surrounded by a partitioning bookcase. Most of the brewpub is reserved for dining, and there's a long wraparound bar. The completely refurbished interior is pristine and not too fussy. Bits of yellow (via the chairs, murals, and lights) added a visual "pop" to the otherwise subdued metal, cinder block, and wood environs. 
There were five original beers on tap alongside HopFusion Ale Work's Fur Slipper, Rahr & Sons's Paleta de Mango, and The Collective Brewing Project's Petite Golden Sour. I ordered a flight of Funky Picnic beers: Vibes (kölsch), Coasters (pilsner), You Wanted a Wit (witbier), and Bob Wehadababyitsaboy (imperial IPA). Vibes was light, refreshing, and "true-to-style," meaning that in a lineup of other true-to-style kölschs, it might get lost in the mix. If your friend is one of the few remaining craft-beer unwashed, this light brewski will not offend them. The Coasters is a hopped-up take on a traditional pilsner. The Czech hop used in the light beer isn't going to deliver IPA-levels of bitterness, but it does add character to a style of beer that largely has been passed over by craft beer breweries. The witbier had hints of coriander and orange peel, while the IPA had resin-y, piney notes that typically accompany West Coast IPAs.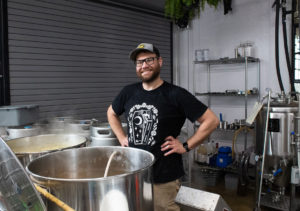 That evening, the beers were on the lighter side, except for the IPA, of course. Funky Picnic snagged brewmaster Michael Harper to head up the production side of operations earlier this year. Harper's recent stints include Texas Ale Project, Community Beer Company, and Oak Highlands Brewery. Harper is the brewer equivalent of a switch hitter. He's equally in his element cooking up traditional beers as he is concocting waffle-inspired brews, prickly pear-pink peppercorn saisons (an actual recipe), or imperial you-name-it beers that have whiskey-soaked wood chips thrown in for good measure.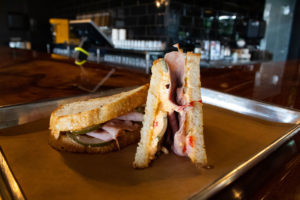 Funky Picnic also offers wine, hard cider, and a sandwich-heavy menu. Three sandwiches are vegan-friendly, and several pass as vegetarian dishes. My longtime vegan guest and I split the Vegan Air Force (originally the "Vegan AF" until Glenn's dad asked what the "AF" stood for, which prompted Glenn to conjure up the PG-rated reply). The hummus-heavy entree was held together with hearty slices of locally sourced bread. Fort Worth's craft beer scene has added a handful of notable food-centric brewpubs over the past year. Last year, Cowtown Brewing Company opened its 'cue-forward establishment and was soon followed by Deep Ellum Brewing Company's Funkytown Fermatorium and its pizza- and burger-centric menu.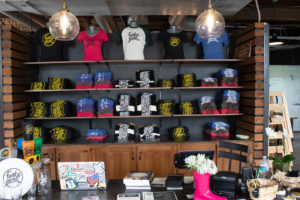 Funky Picnic isn't peddling brick-oven pizzas or barbecue. Beyond a well-crafted selection of beers and picnic-friendly noshes, Funky Picnic may define itself from the craft beer competition simply based on its proximity to the plethora of new and upcoming destinations for dining, drinking, and entertainment in South Main Village. 
If you've been by Funky Picnic since its recent opening, you may have found a patchwork of beer offerings instead of a well-rounded lineup of beers on tap. Glenn said several beers that were meant for last Saturday's grand opening sold out in only a day or two. Those issues (if they're even an issue) will be resolved soon, she said. Harper said his team is ramping up production and adjusting to consumer demand. I shouldn't be so antsy, but I'm looking forward to trying my kölsch alongside craftier options in the near future.
Funky Picnic Brewery & Café

401 Bryan Av, FW.

817-708-2719.