Jordan Dowd had been struggling to find work when he landed a position as a bouncer at Texas Republic Bar & Grill in 2018. His duties at the bar/restaurant/nightclub in the bustling West 7th Street corridor included turning people away for attire that violated the clubs's dress code. Most nightclubs, especially in the West 7th area, enforce dress codes as a way of keeping things classy after dark and prohibiting anyone wearing attire associated with gangs or violence. Texas Republic's policy, said Dowd, who is biracial, black and white, appeared to be unevenly enforced at times to target minorities. As a customer before he had started working there, he had at least once witnessed what he considered racially insensitive treatment at Texas Republic. As an employee, he said, he saw it up close.
Texas Republic opened in 2017 and markets itself as a modern, Texas-inspired bar where everything is big – the food, the drinks, and the open space. At night, dance music pounds the floor and makes the soles of your feet vibrate. A new 6,000-square-foot rooftop room accompanies the 8,300-square-foot main space, allowing Texas Republic to declare itself the neighborhood's biggest all-weather bar. Air flows inside during mild weather when the windows are open, and artificial grass and picnic tables lend an urban sense of nature to the hard, concrete surroundings. Farther inside, a wall-length LED screen flashes over the crowd.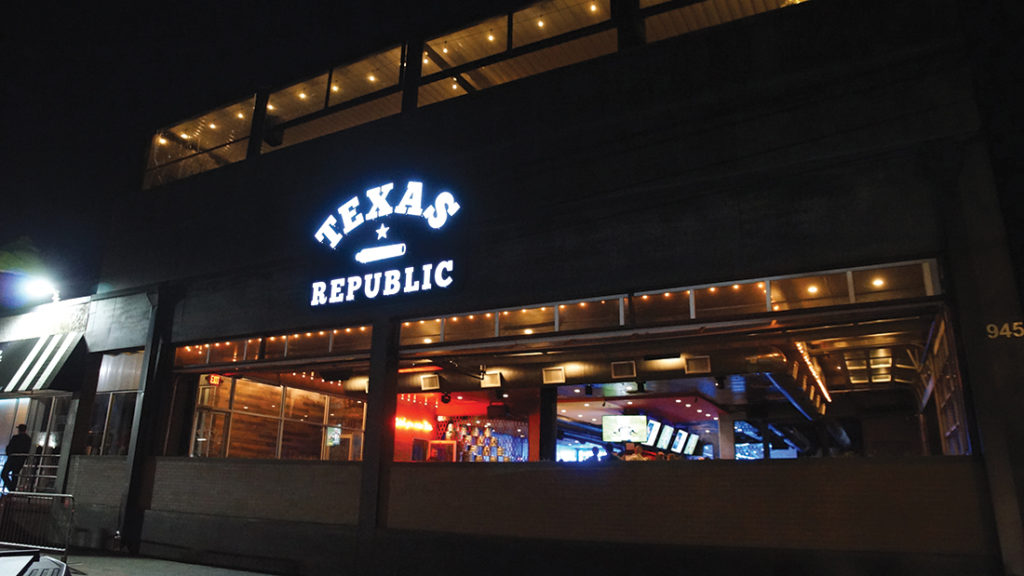 The bar sits at the center, and people flowing in and out during the day and especially at night keep the bartenders hopping. It's not unusual to see long lines of people, sometimes in the hundreds, waiting outside near the entrance.
Dowd recalled working the door one night when the lead bouncer approached him twice – once to remind him to turn away people wearing certain kinds of jewelry and having certain kinds of tattoos and again for allegedly something more drastic.
"If you think a white girl would be intimidated by a black guy, don't let him in," Dowd recalled being told.
Dowd quit on the spot and demanded his check. Although he needed the job, Dowd said he didn't want to work somewhere whose security teams would racially profile customers. Dowd said he has the same tattoos the lead bouncer allegedly told him to watch for – ink visible on the neck or head.
Dowd doesn't participate in social media, he said, but posted a Google review criticizing the club. That review is tucked in among multiple others on Google and Yelp from customers alleging racial discrimination at Texas Republic in the past two years.
Some of those people shared their stories with us, recalling how they or their friends – all people of color – were allegedly turned away because they were wearing a certain brand or color of shoe or a certain type of T-shirt. At the same time, these customers noticed other clubgoers – white patrons – allowed inside wearing the same clothes or shoes.
Texas Republic owner Sam Sameni said the "concise, clear" dress code is posted in a highly visible part of the building and is enforced equally. Baggy clothing, non-military issued camouflage, Air Jordans, Air Force Ones, Polo boots, Timberlands, solid T-shirts, sports attire, and offensive clothing are prohibited after 9 p.m.
"There is no way to not be fair about it," Sameni said. "The dress code is posted on our website. It's posted at the front door. It's black and white."
He softened his "no way to not be fair" statement by saying mistakes are made: "Do people slip up? Of course, they do, you know? It happens everywhere. You can't catch it all. We try our best."
He said bouncers block "intimidating figures" from entering the club, but their decisions have "nothing to do with race."
Sameni sees the negative reviews and responds at times. He doesn't believe all of them.
"They are entitled to their opinion," he said. "It's not always true. Sometimes it is. They have a right to be upset. They didn't get good service or whatever their reason may be. A lot of times I think they exaggerate a little bit."
Sameni, who worked as a bouncer 20 years ago in the nightclub industry, is a principal at One Entertainment Group, a Dallas-based company specializing in hospitality development, management, and nightlife, and One also owns several other establishments in Fort Worth, including Landmark Bar & Kitchen and The Yard. His company develops dress codes using a variety of input, he said.
"By speaking with the different consultants and police officers, we take notes from them and come up with a dress code policy that feels like it fits the look of the bar," he said. "If it's Saturday night, and you're spending a thousand dollars on a VIP table, you don't want a guy in basketball shorts and a jersey next to you."
Critics we spoke with say the dress code is applied selectively and with racial overtones since African-American men tend to favor the dress code's prohibited items. 
Last year, similar accusations of racial profiling were leveled against nearby Varsity Tavern, prompting a city commission to launch an investigation that included undercover operatives. On December 16, we requested the results of that months-old study and are still awaiting their release.  
•••••
In April, Texas Republic employees denied entrance to Coleman Maxwell, an African-American life and character coach with the Fellowship of Christian Athletes, an interdenominational sports ministry. Maxwell has been working with TCU athletes since 2014, and he was an assistant chaplain at Texas Tech prior to moving to Fort Worth. Maxwell was planning to attend a draft party for a TCU football player at Texas Republic but was turned away for wearing Jordan 11s. Later, Maxwell tweeted he was also wearing a striped, collared "Ralph Lauren Polo shirt with a nice pair of black jeans. It was a fresh look with my Jordans."
Maxwell tweeted that he sensed a "racist motive in [Texas Republic's] dress code."
Around the same time, white TCU student Taylor Barton told us about going to Texas Republic with three male friends, all black. The bouncer prevented all three men from entering because one was wearing prohibited shoes, Barton said. 
She and her friends suspected the dress code was being used to discriminate against black men. Since then, Barton has returned to Texas Republic, looked around at clubgoers, and seen white people wearing the same shoes without being hassled, she said.
In October, a Yelp reviewer – an African-American man – said he had "never been racially profiled until visiting Texas Republic." He said he was denied entrance for wearing Air Jordans but saw white patrons allowed inside wearing similar shoes.
Another online reviewer characterized the club as "bigotry at its finest" and described how bouncers refused entrance to a black friend wearing Nikes but "allowed a group of white guys in wearing classic Nikes with a big check on the side."
In November 2018, Thomas and Katherine DeLeo described how their black friend was turned away at Texas Republic for wearing Jordans. Thomas, who is white, had been allowed inside while wearing similar shoes. When the friends suspected racial profiling, they left the bar and went somewhere else. Thomas said the slight was hurtful to his buddy.
"He tried to play it off like he wasn't upset, but you can tell his demeanor changed for the rest of the night," Thomas said.
"I don't think it was any coincidence that he was the only black guy in our group," Katherine said. 
The friends left a one-star online review vowing to "never spend a dime at this place" and to "get this place shut down."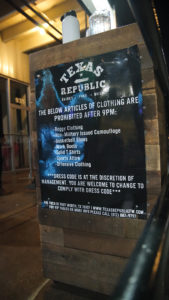 The city's "public accommodation" ordinance requires dress codes at bars to be posted and enforced evenly in a way that does not discriminate against someone's race, age, disability, gender, sexual orientation, or religion. Customers who feel they were denied entrance for the wrong reasons can file a complaint with the city's Human Relations Commission, a panel of appointees who consult with and advise city officials on matters involving racial, religious, or ethnic discrimination. The city investigates complaints about housing, employment, and public accommodations. The vast majority of complaints are about housing or employment, said Angela Rush, human relations administrator.
"We do not get a lot of public accommodation complaints," she said, adding that Texas Republic has not received any official complaints.
Last year, the commission received complaints against Varsity Tavern, a sports bar and dance club that sits a block west of Texas Republic. Almost all of the other venues in West 7th have similar dress codes.
The first official complaint about Varsity came from Sam Sayed, a light-skinned Egyptian who watched a black friend denied entrance for wearing Air Jordans. Afterward, the black friend and a white friend changed shoes, with the white guy now wearing the Jordans and the black friend now wearing the white guy's Sperry shoes. Both were allowed inside, Sayed said.
Banning basketball shoes is inherently racist, he said.
"Look at the people who buy Jordans," he told us. "The overwhelming majority of them are minorities, so people are subjected to racism long before they get in line."
Varsity posted on social media a response to the complaints, saying in part that "we were saddened to learn there were people who felt they had been discriminated against when they were turned away based on our dress code. … Racial discrimination is something we, as a diverse family ourselves, take very seriously and absolutely do not tolerate or condone."
The complaints prompted the city investigation. In July, Varsity Tavern entered into a conciliation agreement, a resolution between the club and the city. When we asked for a copy of the agreement, we were told by Veronica Villegas, a city spokesperson, to submit an open records request, which we did. A city attorney, however, said the conciliation agreement includes a stipulation that the city is required to allow Varsity Tavern to make an objection to the study's release. The additional time required for the attorney general's decision will delay the study's release until after our deadline for this story.
What little we were able to glean about the study does not indicate malfeasance. The conciliation agreement, Villegas said, resulted in Varsity making changes to its dress code, ended the commission's investigation, and reflected no judgment as to the merits of the complaints. Varsity also didn't pay any fines.
Benjamin Middleton, an African-American filmmaker from Dayton, Ohio, who visited Fort Worth in 2018 with a group of mostly white friends, said he experienced racial profiling at Texas Republic. The group was allowed inside, and Middleton ordered and drank a Corona beer, danced with his friends, and was "having a good time," he told us, when he set his empty glass down and went to the restroom. He was headed back toward his friends when a Texas Republic employee allegedly gripped him by the shirtsleeve and accused him of being "over-served," Middleton recalled.
Middleton told the employee he was mistaken, but the employee allegedly "started pushing" Middleton "toward the bartender" and made him close his tab. Middleton complied but pointed out that he had ordered only one beer. He asked to speak to a manager. An employee offered to take Middleton to a manager but allegedly led him to the exit instead.
"Once I reached the threshold of the door, he shoved me outside," Middleton told us. "There were two police officers standing there, and I simply turned once more and said, 'What is really going on here? I want to speak to a manager.' At which point the police officers turned to me and said, 'Do you want to go to jail tonight?' "
Middleton tried calling his friends in the club, but they weren't monitoring their phones. He spent the rest of the night pondering what had happened. He believes he had been the only black person in the club that night.
"I'm a pretty introspective person, so I kept questioning myself," he said. "Like, did I really miss something? Is there something that happened? Something that I said? Something that I did that may have been misconstrued? I couldn't figure anything except for I was a black guy dancing with white girls. That was about the only crime I ever committed."
He tried calling and emailing a manager but "received no response of any kind," Middleton said.
He seldom leaves online reviews, he said, but made an exception.
"I definitely felt a bit of obligation, a responsibility to put that out there so that anyone who may have the opportunity to find themselves in a similar situation might avoid it just with the knowledge of what kind of establishment it is," Middleton said.
Online, he saw similar reviews and considered them "confirmation that this wasn't a fluke and that I wasn't imagining something but that this was actually a repeated issue that there's plenty of documented evidence."
•••••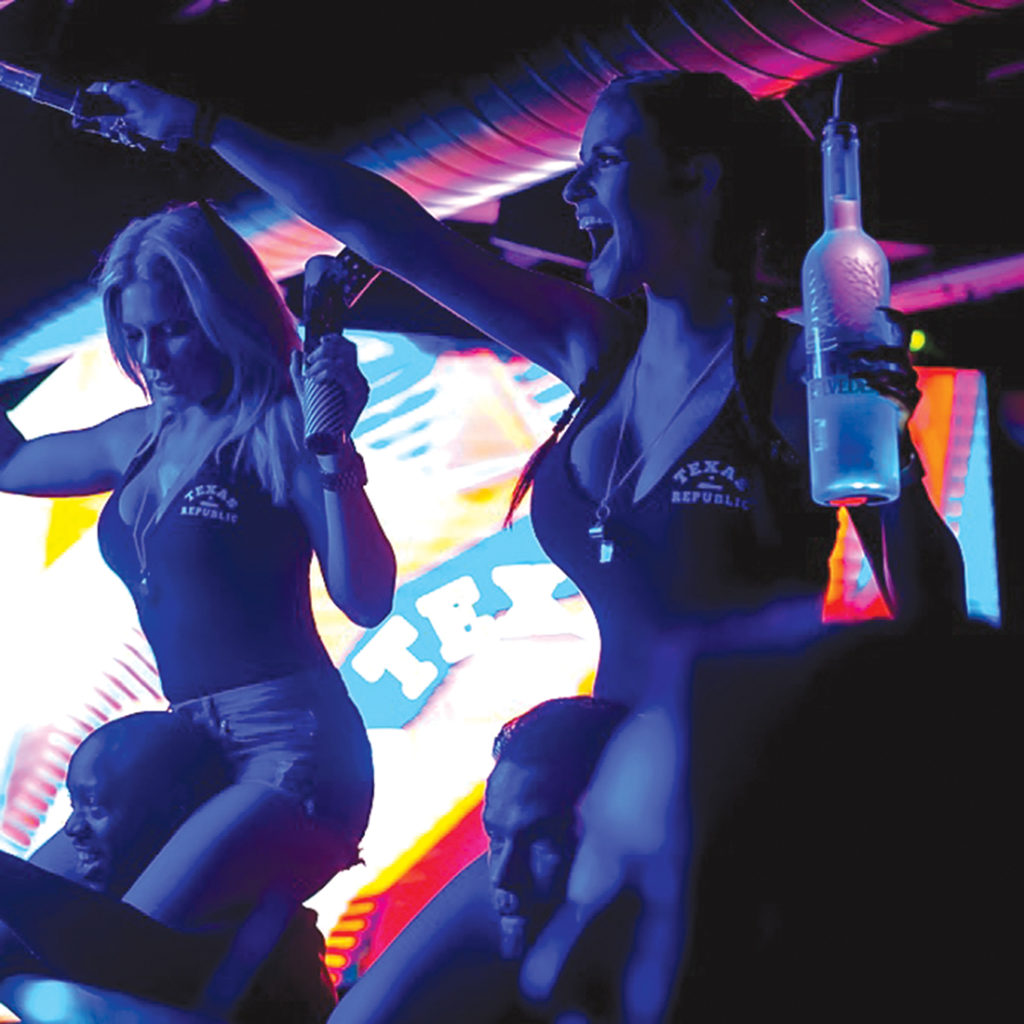 Texas Republic owner Sameni established himself in Fort Worth's West 7th corridor with Brownstone, a restaurant that opened in 2010 and struggled for three years before closing. Sameni had hired a celebrity chef to create an upscale menu but figures he was too early for the market.
In 2014, Sameni found success with Landmark, followed by Texas Republic and The Yard beer garden in 2018. Part of his success is his business philosophy that the customer comes first, he said.
"We strongly believe that you can get a drink anywhere," he said. "And if you're here to purchase a drink, you're … here for the experience that goes with it."
During the early hours, Texas Republic caters to diners attracted by the Texas-sized food entrees and the banks of TVs on the wall, including one of the largest LED screens in the city. After dark, the nightlife sizzles.
"We hit capacity almost every weekend," Sameni said. "We've been very blessed."
He sees the negative reviews online but keeps them in perspective. Texas Republic is visited by thousands of people each week, and the warm bodies vastly outnumber the complaints.
"When someone has had a good experience, they're not so quick to take time out of their day and get online and praise someone," Sameni said. 
At first, the negative comments were "really hurtful," he said. "I would get defensive, and I would try to respond to everyone."
Now, Sameni focuses on doing the best job he can.
"At the end of the day, the numbers speak for themselves," he said.
His dress codes take into consideration the hybrid nature of his businesses, with one set of rules for early in the day and another, stricter policy at night.
"Years ago," he said, "when we started doing nightlife and doing hybrid concepts where it's a daytime-which-goes-into-a-nighttime event, we teamed up with consultants, safety consultants, police officers, and gang units, and they kind of tell us what to look for" when identifying "troublemakers."
Certain tattoos and types of clothing are forbidden, but all races and ethnicities are welcome, Sameni said.
"We're very blessed to have a melting pot of employees and investors," he said. "One of our operating partners is Mexican. My manager is black. I'm Middle Eastern myself."
Mistakes can happen, he said upon hearing that customer Thomas DeLeo wore the same brand of shoes as his black friend, but only his friend was prohibited from entering.
"At the end of the day, they're human," Sameni said of his employees.
He described a situation that might lead to a mistake being made at the door.
"Maybe our main door guy will run inside to go grab a water," he said. "They'll go to the restroom, and they'll ask somebody else to go up there. And when the other guy goes up to the front, he doesn't know what to look for. He's not used to being at that position."
Texas Republic might see 3,000 people come and go on a Saturday night. Some people wearing Air Jordans or other banned clothing might slip through.
"Is everyone wearing a pair of Air Jordans bad?" Sameni said. "Of course not. I have a pair of Jordans. Would I wear them to a nightclub at 10 p.m.? Probably not. We've tried to make the policy as defined as possible to not have a gray area."
That doesn't mean problems and miscommunication won't arise. Sameni said venues that are busy and selective will have "somebody screaming, saying, 'They're sexist. They're racist. They don't like me because I'm black. They don't like me because I'm white. If I was a girl, I wouldn't have to wait in line.' People talk. And unfortunately it is what it is."
The negative reviews have an impact, he said, such as prompting more training for employees. The club manager reads the online reviews and investigates the accusations, such as by monitoring security cameras. The goal is to follow up on complaints with employees and discover how mistakes occurred. An employee might admit allowing people inside with prohibited clothes because they are regular customers or personal friends.
"We understand exceptions happen, but we try to limit them so it's not unfair to other people," Sameni said. "We just can't catch everything."
Sameni said he was unaware of the complaint made by Middleton, who was allegedly ejected for being "over-served" after one beer and sent an email of complaint but received no response. Texas Republic employees are told to stop serving customers who show signs of becoming intoxicated and remove them from the premises "so somebody doesn't serve them and put them over" the legal intoxication limit.
Sometimes people come to the bar after drinking elsewhere and might have one drink and then start showing the cumulative effects, Sameni said.
Middleton, though, claimed to be completely sober.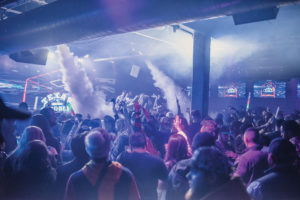 "He could be," Sameni said. "But here's the thing, though. Let's say it's a Saturday night. Midnight. You have a thousand people in here. The bouncers are trained and bartenders are trained to look for things that point to signs of becoming overly intoxicated. This is what TABC tells us to look for, if somebody is leaning on something, when they're slurring. It's possible the guy has a speech impediment, and my bartender thinks he's slurring. They don't know –– they're getting three seconds with the guy. Or you've been out at the golf course all day and you're exhausted, and when you come to order a drink, you kind of rest on the counter to order your drink. Bartender thinks you're showing signs. Unless I have a Breathalyzer and I'm testing everyone, they don't know for sure."
Maybe someone is sober but tosses their beer bottle at a trashcan and misses and it breaks, and he is asked to leave. Maybe someone is loud and animated normally but is mistakenly deemed intoxicated. Maybe this. Maybe that.
"We're taking [2,000-3,000] people every night, and, unfortunately, mistakes will be made," Sameni said.
What about Dowd's claim that he was told to ban black guys who might scare white girls? Intimidating or drunken people should be prohibited, Sameni said, but "I don't think it matters what color they are."
Sameni said the employees who work the door are called "customer service members" rather than bouncers.
"They're not these giant football linebacker tough guys," he said. "We teach them customer service first. On our staff, we have black, white, Mexican, Asian, Middle Eastern … . I mean, you name it, we have it. We're a family, and we treat each other with the same respect. I don't care what color you are. As long as you act right and you are respectful to our guests, then you're welcome."
While researching this article, we visited on a Friday night and saw many different races and ethnicities in the crowd. Sameni said he likes it that way.
"We play good music, we serve good drinks, we have good times," he said. "It doesn't matter what color you are. We're not going to discriminate based on that. We just want a room full of respectful people, because I want people to feel safe. That's our number one priority."