Toast & Jam is a weekly source of gentle zen silliness — but we're also an intermediary for heroes!
The most recent Toast & Jam episode features Loretta Burns, who provides free summer and after-school reading programs for some of the East Side's most vulnerable children. Her philanthropic message of "learn, earn, and return" resonated deeply with T&J viewers.
One viewer responded in bold fashion.
Jarrell McDonald, owner of the Cross-Eyed Moose in the Stockyards, recently purchased a small fleet of used semi-truck trailers. Most of the trailers are filled with inventory from a closed bookstore. Many of the books – still new and in boxes – are hardcover, illustrated children's books. Also included are many cases of kid-sized T-shirts and straw hats.
At noon today, McDonald called me saying he wanted to donate the items to the "lady who was on Toast & Jam last week."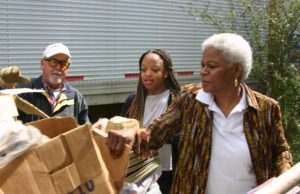 I called Burns to relay the message, and she dropped what she was doing and hustled to the storage area where the trailers are being kept temporarily. We spent the next half-hour loading up car trunks and backseats with boxes to haul back to AB Christian Learning Center. Afterward, as I was about to head back to work, I heard Burns making plans to return with more vehicles to haul away more items for the kids.
Those thousands of books and garments will make a huge impact on the lives of many young children. A big thanks to Burns and McDonald for illustrating so beautifully what the "return" part of Burns' mantra means.