Given pizza's popularity, dining on a slice of Italian pie is rarely a novel experience. Newcomer Delucca Gaucho Pizza and Wine has dusted off and revamped that experience by continually serving bite-sized slivers of the popular dish. The restaurant's similarity with Texas de Brazil was obvious on a recent visit — not least because Evan Caregnato, the former culinary director of Texas de Brazil, was on hand to greet visitors to his new establishment.
The space looks effortlessly posh. Black and white tiles, wide minimalist chandeliers, circular booths, and an open kitchen make Delucca one of the trendier restaurants in the area just west of the Tanglewood neighborhood.
Our waiter gave my guests and me a primer on the Delucca concept, which he described as a "continuous Brazilian gaucho pizzeria." For the Brazilian culture unwashed, gauchos are South American cowboys, and their love of cooking meats over an open fire inspired Texas de Brazil's approach to continuously serving roasted, skewered meats. For a set price ($21.95 per adult), Delucca customers enjoy appetizers and the option of sampling from 20 pies, including five dessert pizzas. A plastic token with alternate green and red sides informs the wait staff whether to stop at a table or do a flyby.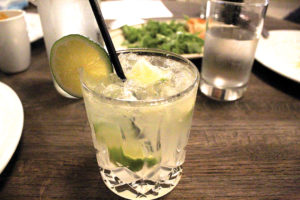 Out first was a platter of arugula salad, meatballs, and sliced baguettes served family style. The salad was light and refreshing. The lemon vinaigrette balanced the mildly bitter arugula, which was as crisp as it was fresh. The juicy and soft meatballs — made from Kobe beef — were topped with fragrant Parmesan cheese and drenched in a San Marzano sauce that was rich in tomato, garlic, and onion flavors. A cup of lobster bisque, intended to be sipped sans utensils, was thick, slightly spicy, and tinged with brandy. I passed on the bread to save room for the pending carb-loading experience.
The sauteed shrimp and fontina pie put ample morsels of shellfish, which were firm but not tough, front and center. The mild and buttery fontina cheese enriched the dish without covering the lightly spiced cuts of crustacean. The brie cut through the four-cheese and truffle pizza and left the dish nutty and delicious, while the Portuguese pizza (sliced boiled egg, ham, black olives, red onion) was a textural delight. One slice of the Mexican elote pie blended savory cream sauce, piquant paprika, and slightly sweet roasted corn for a Latin-tinged experience. The hearts of palm option (Brazilian palmitos, sundried tomatoes, Mozzarella, oregano) was almost a bit too salty due to the generous use of olives. The chicken tikka masala was the night's winner. The spicy curry sauce made the dish the most creative take on pizza that we tried that evening.
In between rounds of thin-crust slices, I sipped Delucca's signature cocktail, a caipirinha. The lime-forward drink, made with cachaça liquor, was light, mildly sweet, and refreshing. Delucca offers several dessert pizzas, which I would have tried if I had paced myself better — a rookie mistake that I'll avoid on my next go-round at Fort Worth's newest pizzeria.
Delucca Gaucho Pizza and Wine

3010 S Hulen St, FW. 682-224-5194. 4:30pm-9pm Sun-Thu, 4:30pm-10pm Fri-Sat. All major credit cards accepted.