A stellar lineup of singer-songwriters piled onto Tulips FTW's stage Saturday night in celebration of one of their own. Levi Ray had just released his second recording, the EP When the Sad Songs Make You Happy, and Quaker City Night Hawks' Sam Anderson and Summer Dean warmed up the crowd before Ray and his backing trio — father Gerald Ray on guitar, Charles Kleuser on bass, and Jeffry Simms (The Matthew Show) on drums — took the stage. The sound was pristine, and the tunes even sharper.
"The band played great on Saturday, by the way," Ray said. "I'm super-lucky."
Super-lucky or just talented? One listen to Ray's five-song effort strongly indicates the latter. The haunting, lifting, and gritty sounds are anchored by Ray's soulful baritone.
Whatever Ray does, he said, "it just has to be real."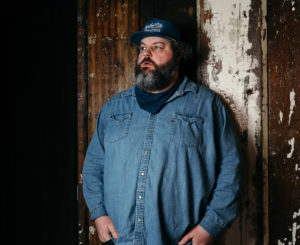 When the Sad Songs Make You Happy was recorded in bits and pieces starting last year in Fort Worth at Niles City Sound (Leon Bridges, White Denim, Vincent Neil Emerson) with producer Joel Raif. Along with Gerald and bassist Kris Luther (The Polydogs), Ray was joined by drummer and engineer Peter Wierenga (Siberian Traps). Jordan Richardson (Son of Stan) mastered the EP.
Ray's songs come from the depths of the pandemic blues.
"I kind of reached a point during the lockdown where I forced myself to do something," he said. "I got ahold of Joel at Niles City maybe around this time last year, and we were both open to it."
The sweet title is appropriate to these five songs about beating back remorse and despair.
"Feels like I'm dying," Ray sings on leadoff track "Give." "Weight is killing me, bringing me down / Running out of time to figure out and make everything alright … Wish that I had known then, the simple things have no time left to own / Best that I can do is give / It's all that I have left to give / It's yours for the taking, life and lovemaking / Everything we have is ours to give."
Ray feels like he's improving, always improving.
"I feel like my writing is getting better, or, you know, it's different," he said, "being a better self-editor, I suppose, and I think that's important."
The album includes one cover song but not of anything off a major label.
Not too long ago, Ray heard a song by his graphic designer and media artist, the local musician Conor Dardis of Thirst and Company, "Ballad of the Butcher's Wife."
"I fell in love with it," Ray said. "It's a murder ballad that's very visceral and real."
Ray said he hopes When the Sad Songs Make You Happy resonates throughout the community.
"We have a wonderful little circle here in Fort Worth," he said. "There's all kinds of places to play, and they're all wonderful, and they're wonderful people, but go beyond that."
Ray, who's been known to haunt stages all over town, said that playing three-hour gigs five days a week isn't something he's too interested in and that it can be a bit monotonous — he's been gigging steadily for at least the past decade. Performing and making music has to mean more than just writing lyrics and releasing digital tracks, he said, which he stresses as the importance of why he makes music in the first place.
"So much of life is difficult, and the last year-plus has been even more so," he said. "It's easy to get lost in all that. Part of writing and recording and playing is to just keep going. Helps my head, my heart, my soul, everything. Life didn't stop. It just changed."