If given the chance, there are few who would pass on a do-over of the foul and contemptible hellscape that was 2020. Let's set aside the very real pain and suffering endured by millions around the globe and — like all good God-fearing Americans — focus instead on the most trivial of all subjects: professional sports.
Considering the nightmare season the Dallas Cowboys had, owner Jerry Jones is likely no exception in wishing for a mulligan on doble veinte. If it were possible, Jerry would no doubt have used his "billions" to construct a Texas-sized, fully functioning mockup of that mind-eraser thingy Will Smith uses in Men in Black and wheel it out to the 50-yard line at AT&T Stadium during the last home game and proclaim in sing-song, "Loooook at the birdeeee." And the cavalier crowd in attendance and millions watching at home would willfully gaze into the device with the same giddy zeal and disregard for personal safety as The Former Guy staring into that solar eclipse.
Alas, we must live with the image of Dak Prescott's foot hanging 180 degrees the wrong way seared into our memories in the same way the sun left irreparable damage to 45's retinas. Nothing to do but re-rack and move on. Though free agency technically begins that process, the Cowboys haven't been big players in that regard since Brandon Carr was paid top-tier coin for mid-tier play nearly a decade ago. Every year since in Big D, "next year" really begins with the draft.
After a handful of solid player selections over a few years, recent drafts have been fairly teeter-totter. Will McClay has helped steer Jerry into picking some pretty good offensive players, but misses on the defensive side of the ball have neutralized those hits. For every Zack Martin or CeeDee Lamb, there's a Taco Charleton or Trysten Hill.
Now that the Cowboys brass have finally come to terms with their franchise QB (a three-year delayed process that has cost them close to $100 million they wouldn't have had to spend if they were timely instead of "frugal"), the league-best offense (while Prescott was under center) looks to be returning intact. Free-agent losses to an already historically worst defense has left new D coordinator Dan Quinn with too few fingers to plug all the holes in the Dallas defensive dam. Fortunately, this year's draft class is rife with the talent to take a terrible defense to middle-of-the-pack — all that might be required to put Dallas back in the driver's seat of the very weak NFC East division. — TF
*****
The Shopping List
Thanks to the free agency departures of Byron Jones and Robert Quinn after the 2019 season, with compensatory picks, Will McClay and the Joneses will have 10 shots to help shore up this debacle of a defense. After letting Chidobe Awuzie walk in the offseason, cornerback is the team's most glaring need. With the defense's biggest weakness being up through the middle of the field, help at safety, interior defensive line, and linebacker should also be at the top of the war room's wish list.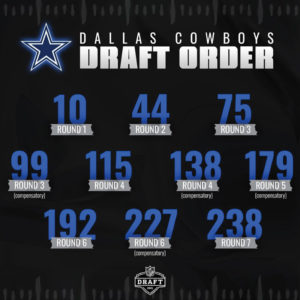 While the additions of safety Keanu Neal, defensive end Tarell Basham, and tackle Ty Nsekhe technically help give the Cowboys enough players to play a football game, they in no way will prevent Dallas from attempting to upgrade these positions throughout the draft weekend. Offensive line depth is another area of concern, with Tyron Smith a huge question mark for longevity and the inconsistency of Connor Williams. And you can never have enough edge rushers. Basically, wide receiver is the only position I could see Dallas avoiding altogether. — TF
It's tradition. Every year, Cowboy fans collectively yawn at the front office's free-agent hauls. Remember last year when Ha-Ha Clinton-Dix and Dontari Poe were supposed to patch major holes in that bubble machine the front office calls a defense? Clinton-Dix didn't even make the team out of camp. Poe was promoted to full-time fisherman after Week 8. At least casual fans had heard of those guys. The team's normal free-agent classes are competing for shift lead positions at Home Depots across the country.
Like everyone else, I saw this Dallas defense gashed on a weekly basis. That said, I am far less concerned about Cheedo leaving and permanent cheer-coach Sean Lee hanging up his crutches than I am the state of the team's allegedly elite offense. When a team's strength begins to look like it's unraveling, you don't have a lot of ways to win. If McCarthy and the 'Boys stroll into this season relying on tackles Tyron Smith and La'el Collins, we'll be looking toward next year's draft by mid-season.
Call me a cynic, but I'm of the opinion that, with the exception of the wide receiver and quarterback positions, this roster needs a major overhaul. If you don't agree, ask yourself this: Which position group on this team inspires confidence besides QB and WR? The only correct answer is "none." I'll take it a step further. Outside of Demarcus Lawrence, who is the player not in those two position groups who gives you hope? The oft-suspended Zeke coming off his worst year? The dude looked like he was one cheese fry short of taking the field riding a Rascal scooter. Jaylon Smith? The guy who loves to celebrate tackles 7 yards downfield when his team is down by 26? You could make a case for second-half-of-the-season Trevon Diggs, but the sample size is too small.
If you're on Team Jerry, you don't have to worry about reaching for need in this upcoming draft — need is all you've got. — BJ
*****
What's the Plan? 
If you're hoping a sure-thing Hall of Famer will still be on the board at Pick 10, prepare to be underwhelmed. Frankly, outside of the QB and WR stock, I'm not sure this is a draft in which you'll find much high-end talent anywhere on the board.
Oregon offensive tackle Penei Sewell is probably the highest-rated non-QB or -WR on most experts' lists — and even he is divisive among scouts, with some calling him "overrated" or "too passive." I'd be thrilled if Florida tight end Kyle Pitts was still there at 10, but he won't be. Neither will Sewell for that matter.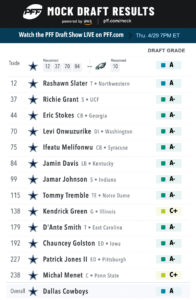 If I'm Jerry, I'd be clutching my chalice filled with vintage port, watching beads of blood work their way down my translucent veins as I sit in my swivel chair stroking a hairless cat while sacrificing a sweatshop worker to the Igigi gods and praying that Northwestern offensive tackle Rashawn Slater falls into my jaundiced, gnarled hands.
If he's not there, my preference would be to trade down for more draft capital. Yes, rebuilding the once-mighty O-line must be a priority. After that, let's give Jerry, Stephen, Will McClay, and company so many defensive darts they're bound to hit the bull's-eye at least once.
The interior of the defensive line and the whole damn secondary need major talent infusions. There aren't any first-round studs to man the middle of the defense in this draft — 'Bama DT Christian Barmore is the top of the pile, but he's more tools than production at this point. He'll probably be picked in Round 1, but he might not have been in prior years. There are some intriguing Day 2 options to shore up the most porous part of the most porous defense in the league. I'm high on Washington's Levi Onwuzurike, who was misused in the Huskies' three-man front. Alim McNeil is a potential unicorn — a 1-tech with pass-rush moves.
The secondary in this draft is deep in the middle, but there's not much star power at the top. Alabama's Patrick Surtain is by far the best corner in the draft, and the drop-off is steep after him. Jaycee Horn is another sure-fire first-rounder, but the consensus among draftheads is that he's not worth a Top 10 pick — though he leads the field in #swag. For safety, there are really only two elite options, TCU's Trevon Moehrig and UCF's ball hawk Richie Grant. Oregon's Jevon Holland is a safety in name only, as he mostly manned the slot after his freshman year. Still, the ball just finds him. I'll take him on my team.
I've got pet cats up and down the draft board, and I won't bore you with those names. My sincere hope is that Jerry and staff see the team for what it is — a group of guys who are, with a few exceptions, either unproven, unable to stay healthy, or just plain meh — and pick accordingly. — BJ
With the Cowboys picking 10th in the first and an offense-heavy top half of the round, Jerry should be able to snag an impact player with his first pick. Standout corner Patrick Surtain appears to be the odds-on favorite name to appear on Dallas' selection card. However, with the Panthers trading for Sam Darnold, Carolina appears to be out of this year's insane quarterback sweepstakes, and they could just play spoiler for Jerry's hope of ending up with the best corner on the board. The fear is that this sort of pitfall could send him chasing the proverbial shiny object and end up reaching for a high-risk project like edge rusher Kwity Paye or controversial linebacker Micah Parsons.
Last year, despite having a top-tier wide receiving tandem in Amari Cooper and Michael Gallup, Dallas, perhaps uncharacteristically, did the smart thing and stuck to its board and took the best player when wideout CeeDee Lamb fell into their laps. With the QB frenzy at the top of the draft, a similar scenario could play out with a luxury player like lineman Penei Sewell or potential generational tight end Kyle Pitts being pushed down to them. Would Jerry add yet more power to the offense? Or could he pass on these can't-miss acquisitions and again take a chance on an injury-plagued player in corner Caleb Farley — an inarguable talent but likely undraftable on some team's boards — a la Jaylon Smith.
One can only hope that the lessons of the Lamb pick still linger in Jerruh's Johnny Walker-addled brain. Remember, when you reach for Taco, you miss out on TJ Watt.
Luckily for him, we have the battle plans to follow into draft day victory. Stick with us, kid, and the coveted "A" will stand as your draft grade. Here are a few scenarios to help make it happen. — TF
******
The Mockery 
If you're sports-nerdy enough, doing mock drafts can be as time-consuming and infuriating as it is … cumbersome and frustrating. Every self-appointed member of the draft cognoscenti feels, nay, believes that he or she has the answers. We read avidly about the prospects and commit to Ph.D.-level research every year without having nearly the same level of information as actual scouts — to say nothing of the access they're granted to players and coaches. In other words, we don't know what we're doing but will defend our positions as though we've actually seen most of these guys play football.
I can't speak for Troy Fakeman, but I've probably played out more than 500 mocks this offseason. Easily. It's a great way to avoid my family in the evenings, and it fills the emotional and creative space that something like Dungeons and Dragons might have if I weren't too insecure to ever play it.
For our purposes, we chose the interactive draft platform on Pro Football Focus — mostly because it's easier to make trades. Trades are fun. PFF has a wildly different player ranking process than, say, Dane Brugler of The Athletic or the dudes who run The Draft Network. All of them are equally great and probably totally inaccurate after the first 12 or so picks. For all of their study, most "experts" are only a smidge better at this than the casual fan.
Let's mock. — BJ
Bo Jacksboro's Full Seven-Round Mock
As Pick 10 rolls around, my board is stocked with two of my favorite targets for this spot: Rashawn Slater and Patrick Surtain. The Eagles are asking about a trade, but I'm going to deal with my division rivals only if their front office is willing to empty its clip of draft picks to move up three spots.
To my astonishment, the Eagles' front office, even the fake one, remains one of the most incompetent in the biz. To move up three measly spots, I asked for and received the Eagles' first-round pick (13), second-round pick (37), and both of their picks in the third (70, 84). If I weren't already wine drunk, I'd pop champagne. They use the pick on QB Trey Lance. Both of my targets are still on the board at 13.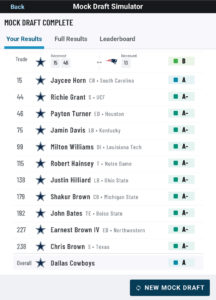 Round 1: Northwestern OT Rashawn Slater gets knocked for his arm length, but he's almost universally lauded for his smarts and sound fundamentals. He also offers position flex in the mold of La'el Collins. Brugler, my mock draft spirit guide, offered this promising nugget on the next anchor of the league's best line: "Slater will have trouble versus long-armed rushers in the NFL, but he is agile, stout, and power-packed and doesn't allow rushers to go through him (Isaiah Wynn conversation all over again). He is very quick to lock up pass rushers before they can set up their moves, staying connected due to his leveraged attack. (Zero sacks allowed in 2019.)"
Round 2 (37 via Eagles): UCF safety Richie Grant is a do-it-all rover who walks onto campus as the team's best safety. Brugler has him ranked ahead of Moehrig on his board, but he's either the best or second-best safety in a class with only two elite players at the position. He's a single-high or split specialist who was a turnover magnet during college. I didn't even look or care to see what other players were also available.
As Pick 44 draws closer, a lot of my favorites are falling out of the ranks. Asante Samuel Jr. was the corner I hoped would fall this far, but he's moving to South Beach. Cornerback Kelvin Joseph is the highest-rated available player on PFF's board, but I don't want to deal with a player whose rap career is more important than his playing days. Georgia corner Eric Stokes is a personal favorite of mine for no other reason than he was really excellent during the one Georgia game I watched. He's still there. Linebackers Jamin Davis and Jabril Cox are still available. Offensive tackles Samuel Cosmi and Walker Little are, too, but I'm not quite ready to double up on the OT position.
Round 2 (44): Georgia corner Eric Stokes boasts great size and is often praised for his ball awareness. He's a little raw, but scouts are gaga over his recovery speed and instincts. He'll start on Day 1 for his new team.
Round 3 (70 via Eagles): Washington DT Levi Onwuzurike is a natural 3-tech on a team that already has two of them, but you have to take this player here. He shouldn't be around at this point. He is a twitched-up, penetrating monster capable of wrecking defenses at the snap. If you're nit-picking, he's small for an interior lineman at 290 pounds and has had some trouble staying healthy, but I stand by this pick for value.
Round 3 (75): Yeah, I just picked a corner, but few players match Ifeatu Melifonwu's raw athleticism. Brugler has the Orangeman rated as a second-round guy, so getting him here is a coup. He'll have time to develop and translate that freakish ability into production.
Round 3 (84 via Eagles): In picking Kentucky LB Jamin Davis, need meets value. I've seen him projected to go in the first round in many a mock. He's more of a cover guy than a gap-filler, but his sideline-to-sideline range is off the charts. Besides, coverage is what NFL defenses need out of linebackers these days. My guess is Davis is good enough to start at the Sam right away and will hopefully replace the team's current porcelain doll, Leighton Vander Esch.
Round 3 (99): Jamar Johnson played everywhere for the Hoosiers, but most analysts see him more as a box/slot guy or split safety in a Cover 2 at the next level. He'll compete for snaps as a rookie. Brugler, CBS, The Draft Network, ESPN, and others have him as a second- or third-round player, so this pick represents excellent value at a position of need.
Round 4 (115): Notre Dame TE Tommy Tremble doesn't jump off the screen like some of the flashier tight ends in the league. He's more in the *gulps* Jason Witten mode — he does everything well but nothing spectacular. Dude is a gamer, too. He's known for making clutch, one-handed, third-down catches while being swarmed by bees and attacked by a mountain lion.
Round 4 (138): From here on out, I'm trying to find guys who shouldn't be available at this point in the draft. Illinois guard Kendrick Green was graded as a second-round prospect by Brugler and others. He also carries position flex, as he's had some experience playing center. He'll push for a starting gig early in his career.
Round 5 (179): East Carolina tackle D'Ante Smith is one of those guys who appeared on no one's radar at the start of draft season. He's an ascending prospect with starter potential during his rookie contract. Smith is also a wrestler whose wingspan was the widest of any player at the Senior Bowl.
Round 6 (192): Iowa's Chauncy Golston may not have the bend of elite ends, but he's long at 6-foot-5 and relentless.
Round 7 (227): Pitt DE Patrick Jones II shouldn't be here. Brugler has him as a third- or fourth-rounder. The Draft Network grades him as a second-rounder. Of course, in real life, there's always a guy who falls like this — a player all of the experts overrate. I'll take my chances.
Round 7 (238): Did you think I was kidding when I said I wanted to rebuild the line? The Cowboys aren't settled at center. Tyler Biadasz showed promise before he was injured, but a backup plan never hurts. Brugler graded Penn State center Michael Menet as a third-/fourth-round talent, noting, "Overall, Menet lacks explosive or overwhelming traits, but he is technically focused with functional strength and movements in space to be a rock-solid pro. He projects as a potential NFL starter." That's an easy choice at 238.
Troy Fakeman's Full Seven-Round Mock
Round 1: With the prospect of Surtain slipping through their fingers, the Cowboys need a backup plan. What they may suffer in a bit of quality, they can make up for in quantity by flipping that 10th overall pick to a QB-needy team and grab a second bite at the apple in Round 2. As luck would have it, Bill Belichik is still searching for TB12's replacement. If Surtain is gone, it's possible a QB is available. We'll give New England No. 10, drop down a few slots, and pick up No. 46 in the second round. We'll take the next best thing to Surtain in press-corner master Jaycee Horn at 15 and feel just fine about it.
Round 2: With the middle of the field a perpetual vulnerability on D, we threaten to take the keys to the Bravo Eugenia away to force Jerry to finally spend a high pick on a safety at 44 in Richie Grant. The versatile ball hawk could immediately be the best safety to wear a star since Darren Woodson. Just two picks later we get to turn in the card for defensive end Payton Turner. He's got all the traits QBs have nightmares about. He can play all across the line, and, in a duo with Tank Lawrence, opposing tackles will have their hands plenty full. He's a bit of a project but less so than Paye and less of an injury concern than Miami's Jaelen Phillips.
Round 3: With two more picks in the Top 100, we again attack the middle of the defense. Even ignoring the maddening play of Jaylon Smith and the health concerns of Vander Esch, linebacker is a big need. Kentucky LB Jamin Davis at Pick 75 can help shore up Dallas' run-leaky backing core. His side-to-side mobility, length, natural play diagnosis, and aggressive tackling should be an improvement over Smith's what-the-hell-is-he-doing? over-pursuit. Follow that up with defensive tackle Milton Williams at 99. The freaky athletic 3-tech projects to be a mauler in the same mold of one who shares his surname, Jets' bruiser Quinnen Williams.
Round 4: With two picks again in this round, we try to add much-needed depth behind our projected starters. Notre Dame lineman Robert Hainsey could compete with Ty Nsekhe to be the swing tackle at 115 and Buckeye linebacker Justin Hilliard can work in at Sam and give a spark to Bones Fassel's special teams.
Round 5: With Miami holding Dallas' true fifth-round pick, we'll have to wait until the compensatories at 179 in this one. We'll add another corner with Michigan State's Shakur Brown. He's not the cleanest player, but his five interceptions this past season show a nose for the ball that's been absent on this team for more than a decade.
Round 6: Here is another two-pick round. At 192, we'll add some tight end competition with John Bates. The 3-year starter has a balanced game with both receiving and blocking skills. Going to school at offensive coordinator Kellen Moore's alma mater will certainly help. Northwestern's Earnest Brown IV gets the call at 227 as a dart-throw edge rusher. He shows burst and explosiveness and can be a good addition on third down.
Round 7: Texas Longhorn safety Chris Brown gets a chance to push Jaron Kearse off the 53. A bit undersized but plays with an attitude. He's likely destined for the practice squad, but, hey, you need those guys, too.
****
Drafting Is Dumb
Even for the pros, the draft is a total crapshoot. Statistically, an average NFL player's career lasts only around three and a half years. A study by professional sports nerd Dr. Patrick Rische found that first-round picks make up 67% of the players who last 80 games or more. Second- and third-rounders represent roughly 35%, and after that, we're into single digits.
So what makes a good draft? How do we judge a front office and scouting department? It's tough. There are countless mitigating factors you have to consider: Do the coaches suck? Is the player a scheme fit or being deployed correctly? Did the player stay healthy? Does a player have an opportunity to make it onto the field? Is the GM also the owner who can never be fired despite his team failing to advance past the second round of the playoffs since the Millard Fillmore administration — a narcissistic billionaire whose sons are set to replace him after learning the ways of his futility by rote?
Conventional wisdom says in a good draft, a team should collect three above-average starters, a couple of decent rotation players, and a few serviceable test-crash bodies to trot out on special teams and line the pockets of the CTE industry. Even that logic is flawed, because drafting starters on a bad team just means the guys they are replacing were worse.
I don't know, and neither do you. We can take solace in the fact that Dane Brugler, Mel Kiper, and the rest don't know either, but at least we can distract ourselves from our lives' many failures and complicated emotions, if only for a weekend. — BJ