When opening the first Vietnamese distillery of its kind in America, raised eyebrows were to be expected — but not calls from Australia in the middle of the night regarding the liquor's availability or a couple from Switzerland adding the distillery to their travel itinerary or a handwritten letter postmarked from Virginia by an 80-year-old Vietnamese lady requesting a bottle be mailed to her. To that point, no one would ever have expected a nondescript building off a parkway through Kennedale to be the site for the recreation of such an ambiguous spirit, ambiguous because although it's rice-based alcohol, it carries the label of whole grain and potato-made vodka, ambiguous because its name remains taboo in Vietnam due to its history as the moonshine of their culture, and ambiguous because its return from obscurity represents a newfound respect rooted in heritage.
SuTi Craft Distillery, 528 W Kennedale Pkwy, Kennedale. 817-330-3976. 1-6pm Tue-Thu, 1-7pm Fri-Sat. All major credit cards accepted.
The families of Suy Dinh and Tien Ngo emigrated here after the Vietnam War, settling in the Arlington area, which boasts one of the largest Vietnamese populations in America. (Houston is the only other Texas city in the Top 10.) Growing up as friends, their bond grew stronger as brothers-in-law and now as entrepreneurs of the new SuTi (Soo-tee) Craft Distillery.
By trade, Ngo is an architect for commercial real estate, including several bars as well as the intelligently designed tasting room heavy with vintage Vietnamese accents complete with a Honda moped (both are avid riders), while Dinh was a software engineer by profession who is now fully retired to concentrate on distillation and operations.
Just how distinctive is the bottled product being boiled south of Arlington? SuTi's Ruou De, or grass liquor, is the first rice-based Vietnamese liquor made in the States. Think: Japanese sake or Korean soju — both rice-based as sweet or rice wines. While those clock in around 14% alcohol content — similar to that of wine — Ruou De floats between 40-45%.
Dinh became interested in Ruou De after being asked to learn by an older friend in 2011. Building permits began in 2018, and tanks arrived on Labor Day in 2019 with a November 2020 opening. Ruou De was once a celebrated spirit that's party came to a halt during the communist regime of Northern Vietnam's prohibition, thus drying the country of the legal variant. Much like moonshine in America, illegal variations of Ruou De sprung forth, keeping the people full of rotgut.
De is grass that can grow upwards of 10 feet, which provided ample coverage to distill in grass fields akin to what occurred in the heavily wooded Appalachians with moonshine. Due to the bastardizing of the popular spirit during the prohibition, Ruou De now carries a negative connotation in Vietnam, so it's simply called vodka. That doesn't negate the fact that this spirit is still enjoyed to this day. Especially amongst the aging Vietnamese population, in which the taste harks to pre-war memories.
The two products that Dinh and Ngo decided to focus on are the Lion 45 and Old Man. The Lion 45 comes from long grain rice grown along the Gulf Coast in Beaumont whereas the Old Man is made of a Louisiana-grown hybrid rice named Jazzman developed by Louisiana State University professor and rice breeder Steven Linscombe to compete with aromatic rice like jasmine imported from Southeast Asia.
While Lion 45 is SuTi's "Americanized" version, in which character commonalities align with that of vodka, Old Man's flavor is defined by an initial sweetness before a rice aftertaste that the Vietnamese prefer as a complement to their cuisine. Each recipe has one day of cook time followed by five days of fermentation before an eight-hour distillation and one-month aging process.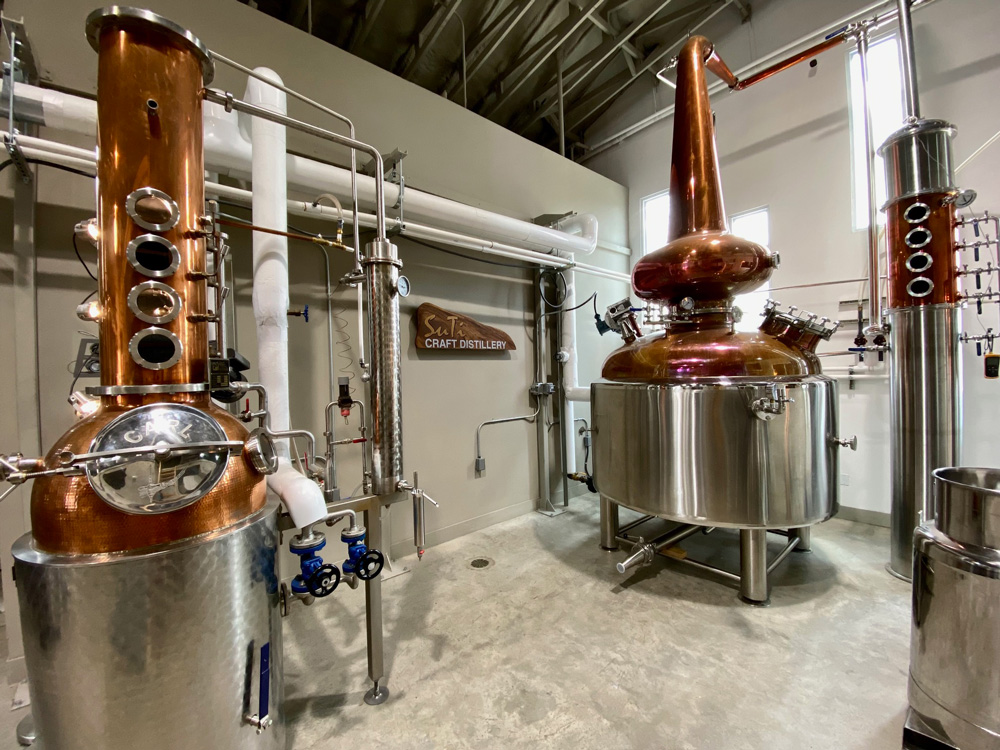 A tour of SuTi distillery displays shiny stainless steel and copper equipment imported from Germany and fermentation tanks that yield aromas of sweet bread. Unlike many other distillers who brag about their distillation amounts, Dinh maintains a single distillation to avoid a loss of flavor.
To prepare for their endeavor, Ngo traveled to Vietnam and purchased top-shelf versions of the drink and attended educational conferences as far away as Wisconsin. Dinh invested much of his time with older Vietnamese immigrants doing taste tests until the co-owners felt confident enough in their product to move forward. Old Man's title is a hat tip to this aging Vietnamese generation, specifically those who helped Dinh rekindle the Ruou De flavor.
As somber post-wartime Vietnamese tunes of loss circle on the reel-to-reel Teac, after a couple shots into the day, Dinh and Ngo remain eager but hesitant to expand, selling only on-site. Their patience shows a willingness to learn and with that, Dinh hints at the possibility of a future product, a rice-based port liquor all the way from Kennedale, Texas. Dzo!