Big Kat Burgers now has a fixed location, and they picked a good one. The spot at 200 Bryan Ave. puts them smack dab in hoppin' South Main Street, where, on a recent Saturday, I spent 10 minutes trying to find a parking spot — argh! Actually, I'm happy to see the neighborhood and my favorite watering holes bustling once again.
The three co-owners of the popular food truck have a simple origin story: "Fed up with ordinary food at our regular jobs, we set out to make fine burgers."
By "fine," the owners mean "big and delicious."
A handful of families placed orders or sat waiting for their meals on the parking lot corner. Scanning Big Kat Burgers' website, I saw a wide range of creative items that included one-offs and staples. There were six burgers on the menu when I visited, and fries were the only side option. Big Kat Burgers offers kid-friendly options like a grilled cheese and mini-burger.
In 2020, the first order up snagged the critic's choice for best nontraditional burger in our Best Of Fort Worth issue. The hefty and dense Peanut Butter Boi featured a generous, delightful slathering of PB. The housemade jam and candied jalapeños added a mildly fiery and sweet pop. Melted provolone, crisp bacon, and the juicy patty kept the overall experience savory and not too sweet. The peanut butter permeated every bite but was surprisingly subtle. Not knowing what to expect from my first peanut butter burger, I was pleasantly surprised at how well the concept worked.
The Cheesy Kat looked like an overgrown patty melt. The alternating layers of sliced bread, cheese, bread, cheese, meat, bread, cheese, and *catches breath* bread took two hands to negotiate. At first, I found the greasy ensemble to be overwhelmed by the bread, but a few bites in, the jalapeño-bacon jam, beef patty, and provolone made for a delicious centerpiece. Though I tried, I couldn't finish this bad boy in one sitting.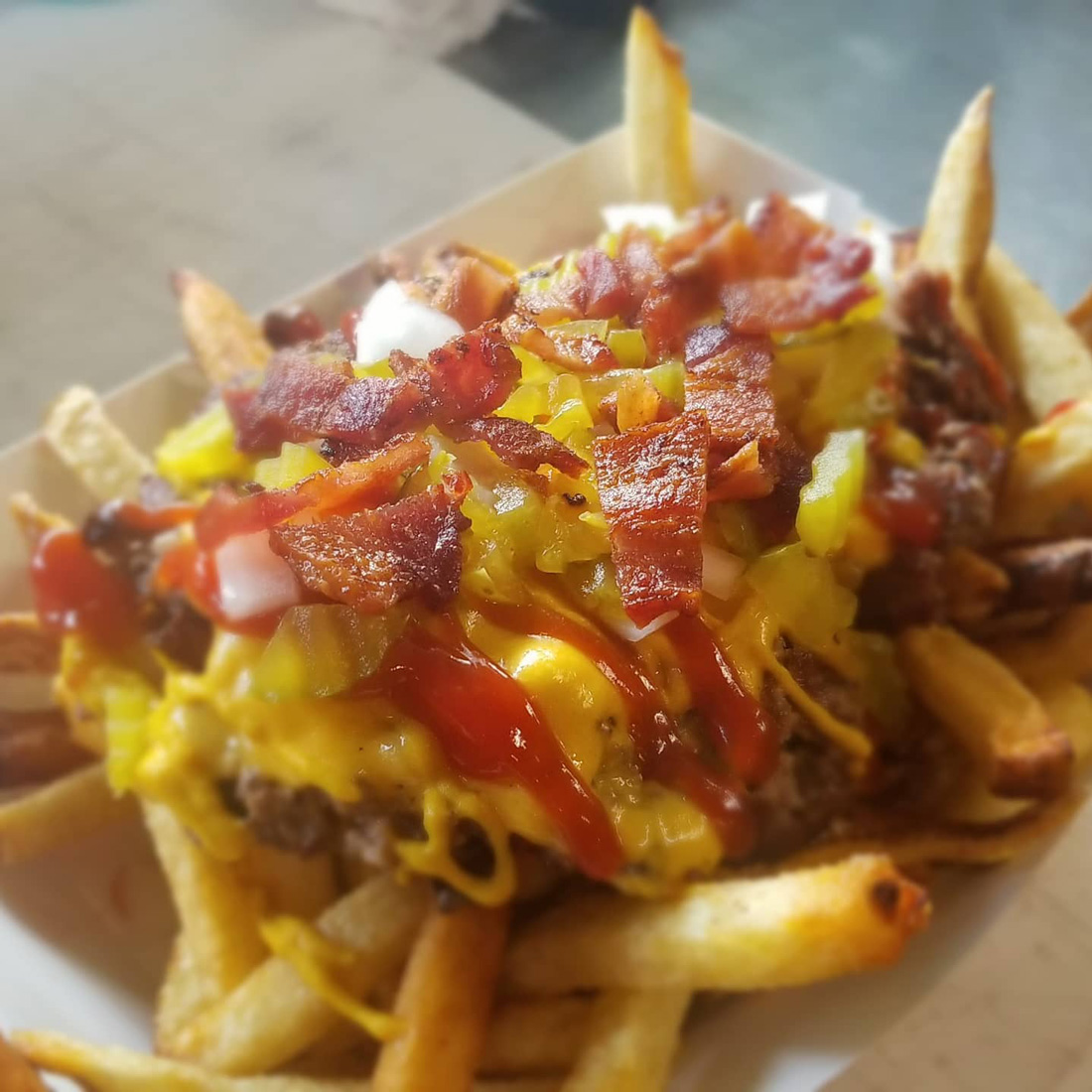 For a menu that goes heavy on meat and cheese, the team behind Big Kat knows how to make one helluva veggie burger. In a crowded field of big-ass burgers, the Veggie Kat was the biggest I tried that day. The star here was the hockey puck-sized portobello mushroom cap that was dense without being rubbery. Elevating the monster were feta cheese crumbles, provolone, and a zesty avocado-mayo sauce. Crisp white onions added a nice bite to the otherwise texturally subdued experience. Considering how many vegetables were crammed between the buns — red bell peppers, tomatoes, spring mix — the overall effect was far from that of a salad.
The mushroom bacon Swiss melt was hefty. An herb-infused aioli lent a creamy mouthfeel to the dense burger that was packed with a juicy 6-ounce patty, gobs of melted Swiss cheese, generous cuts of sauteed mushrooms and onions, and Big Kat Burgers' bacon jam that seems to come on everything.
Big Kat Burgers keeps it simple. You might find the occasional one-off donut burger now and then, but you're always guaranteed six options that are creative, well-executed, and ridiculously big.
Big Kat Burgers
Peanut Butter Boi $13
Cheesy Kat $13
Veggie Kat $13
Mushroom bacon Swiss melt $13