The lingering effects of the lockdown and local judges' refusal to work more than four- or five-hour days have left Tarrant County's courts heavily backlogged.
The plight of criminal defendants languishing under costly bond conditions is fairly well known, but multiple watchdogs recently told us that one January fundraiser demonstrates that family courts can be just as unsympathetic to folks waiting to settle child custody agreements.
At issue is an event presented by District Court Judge Kenneth Newell and Associate Judge Kate Stone dubbed "Navigating Family Court Masterclass." Had the judges not closed their downtown courtroom for a full day during government business hours for the fundraiser, the ticketed class likely would not have caught our attention.
The watchdogs were furious that public officials would use government resources to help the private business Brighter Possibilities raise funds. Based on the event's flyer, owner Michael Flores provided "tactical training" for professional counselors about the "ins and outs of testifying in family court."
Photos indicate that the course at 233rd District Court was well attended by attorneys and counselors, who all paid $189 per ticket if they didn't register early at the $139 rate.
We asked the county for documents or copies of policies that allow outside, private, for-profit groups to book government facilities and were told none existed and to contact the 233rd directly. The clerk there has yet to respond to our query through a type of request known as Rule 12.
The clerk did state via email that Newell denies any wrongdoing related to the January event.
During a brief interview with Flores that, somewhat awkwardly, took place in front of patients in his waiting room, he questioned our media credentials and was generally combative. Flores said Newell scheduled the event and that we should direct questions to the judge.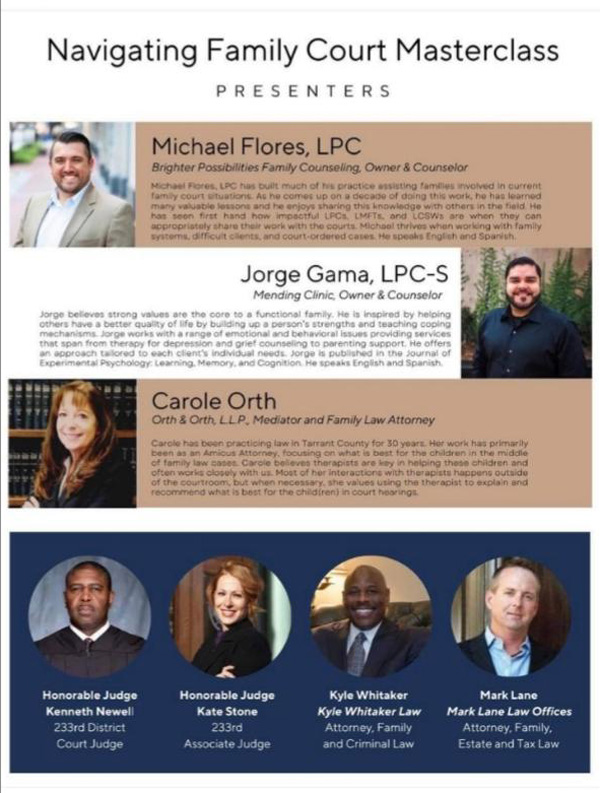 Newell had already replied, we told Flores, adding that we had specific questions for him. Brighter Possibilities, he said, is one of several counseling services Tarrant County judges can choose from and does not hold undue influence over them. He said all funds from the event were used to pay for his time, and no judges or government officials were paid.
Flores said neither he nor any of his relatives of current employees have ever donated to a Tarrant County judge, but campaign finance disclosures show otherwise.
Michael's father, Rene Flores, donated $500 to former family court Associate Judge Lori DeAngelis in late 2021. Rene gave $1,000 to current District Judge Beth Poulos' campaign around the same time. Michael did not respond to follow-up questions about why he falsely said that his relatives do not donate to judges.
Several parents privately confided in us that the service Brighter Possibilities provides to family courts — psychological evaluations — is often misused to sway child custody battles in favor of parents who can pay $1,500 or more to have their ex-spouse undergo the test. The psych evals are often court-ordered, and insurance is generally not accepted.
One Tarrant County father currently seeking reunification with his son in the 325th District Court said the optics of the January event look "terrible." The influence that Michael has over Tarrant County's family courts isn't surprising, said the dad who asked to remain anonymous. "They use [Michael Flores] because Tarrant County is this incestuous threesome among certain judges, lawyers, and Brighter Possibilities, who are all in bed together."
The father, who does not have access to his 14-year-old son, worries that many parents remain unaware of the influence Brighter Possibilities holds over local judges. The company, he said, is "not a neutral actor. They are for-profit. They are a private entity acting as a quasi-government authority because they are appointed by judges. What they say pretty much goes. People didn't elect Brighter Possibilities, but that group has been granted all of this authority by judges."
This story is part of City in Crisis, an ongoing series of reports on unethical behavior and worse by local public leaders, featuring original reporting.
This article has been updated to correct a reference to the 233rd District Court.