Cheezy Does It

The Holly, 305 W Daggett Av, FW. 1-6pm Sun, 11am-2pm & 4-9pm Thu-Fri, noon-10pm Sat.
While many food influencers are content to interact with followers through screen time on Instagram and TikTok, Chef Scotty Scott has always sought more meaningful connections with his fans. Last year, he authored his first cookbook, Fix Me a Plate, which includes standard recipes and creative takes on Southern cuisine, after years of working his own pop-up events under his brand, CookDrankEat.
Scott said he recently opened Cheezy Does It after chatting with the owners of The Holly, a wine bar on the Near Southside. The proprietors were looking to offer patrons food options, and Scott had been considering taking the step of opening an establishment. Not one to overthink the obvious, he settled on the fromage theme because, well, cheese and wine.
On a recent chilly afternoon, Scott was manning his truck solo. He said, like many food-service managers, he is still trying to find consistent help. The menu, laid out on the side of his truck in colorful letters, features several sandwiches and a few sides.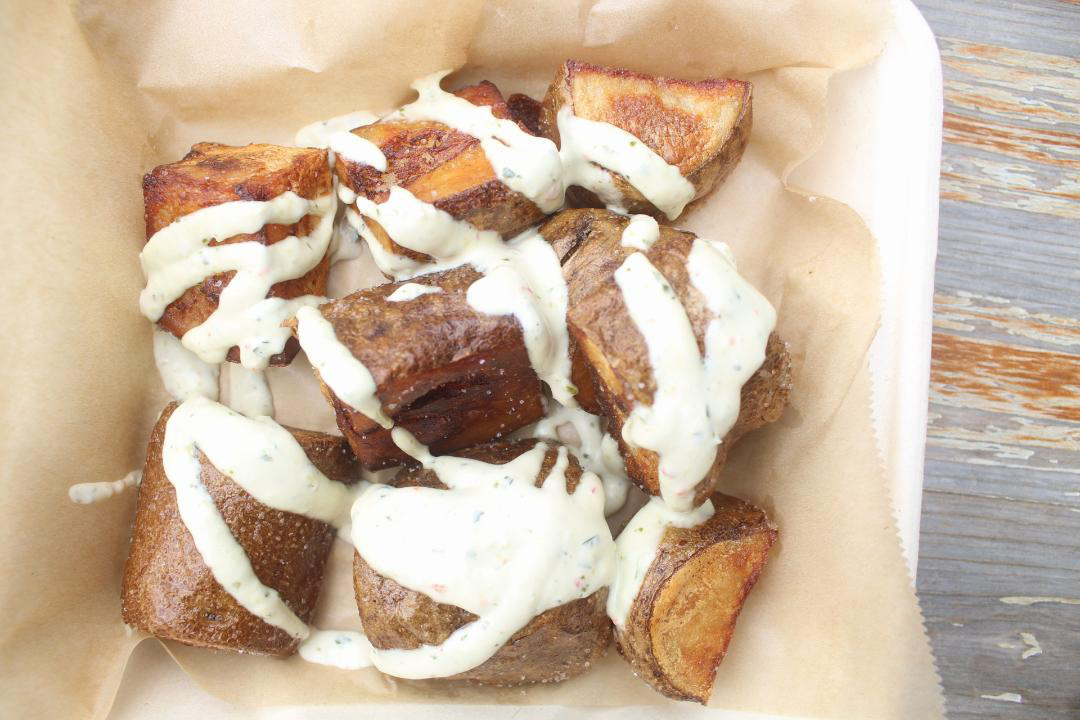 The Cheezy Joe brought out my inner (ravenous) child. Lightly buttered Wonder Bread added a crispy crunch to every bite of rich, meaty homemade Sloppy Joe and gooey American cheese. The simplicity of the ingredients and the contrast between toasted bread and melted cheese made the offering a delightful and not overly filling opener.
The Goud Butt, served on toasted baguette slices like a panino, was another heavenly sandwich. It burst with flavor from the dense and nutty gouda that coated slivers of sweet red apple and bits of mint. Gouda is a heavy, often oily cheese, but the sweetness of the fruit and cooling properties of the mint gave my taste buds a trifecta of pleasure.
An off-the-menu option, the Bao Chicken Wow Wow, served in a pillowy steamed bun that encased spicy fried chicken, diced cabbage and lettuce, and drizzles of creamy mayo, was a creative Asian/Deep South mashup. The slightly bitter veggies, fiery bird, and cooling sauce had me savoring every bite.
An accompanying side of chimichurri duck fries was an unexpected delight. Rather than thin-cut taters, the potatoes had been sliced into large wedges that took several bites to finish. The unskinned spuds had a pleasant crunch while being steamy and soft within. Topping the bad boys were generous drizzles of chimichurri aioli that added a creamy zing to every chomp.
Capping off my visit was the dessert of the day, a thick and chewy sugar cookie drizzled with salty strings of caramel that set me buzzing.
Scott's newest venture keeps with his spoken belief that food should be fun. The childish themes of his new operation don't detract from the originality of his menu and the exacting execution of the delicacies that he has honed at home over the past several years. The self-taught chef who is continually redefining his role within the culinary world finally has a spot where folks can enjoy his creations on a near-daily basis, and it's a concept that has all the makings of Fort Worth's next break-out success.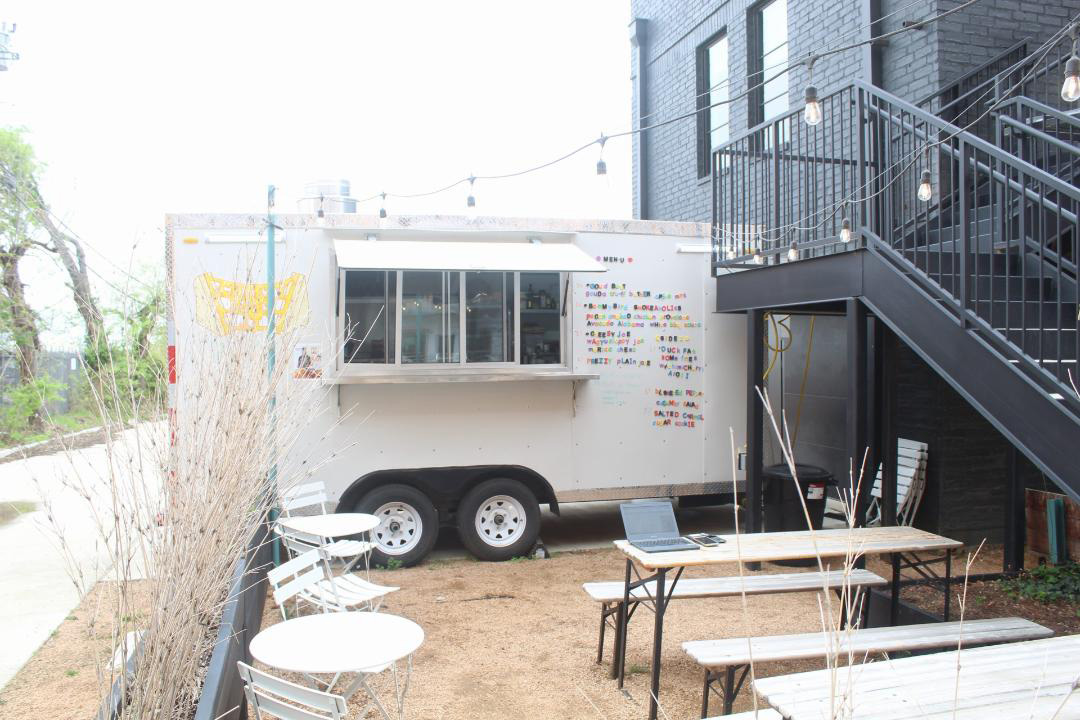 Cheezy Does It
Bao Chicken Wow Wow $6
Cheezy Joe $9
Chimichurri duck fries $7
Goud Butt $12
Salted caramel sugar cookie $3