Before he was fired last year, Rodney Banks got to know Patriot Mobile pretty well. The 42-year-old Black man worked for the conservative Christian cellphone company/PAC from April 2019 to May 2022, and his memories from that time are full of egregious displays of racism and economic exploitation.
The family-first, pro-life company has been facing intense criticism for several other reasons. In 2020, Patriot Mobile received a $367,000 loan as part of the federal government's Payroll Protection Program (PPP) while donating $2 million to local right-wing political causes (" Mobile Patriots," Feb. 9), and, more recently, former employee Kara Cunningham accused her boss of impregnating her, asking her to terminate the pregnancy, then firing her when she said no (" Shut Out," March 15).
Over the past several months, former employees Banks, Cunningham, David Grinage, and Kala Matus have filed separate discrimination complaints against Patriot Mobile with the U.S. Equal Employment Opportunity Commission (EEOC). Cunningham has filed a lawsuit against her boss, CTO Everett Trost, and Banks said he and Matus tried to file a class action suit against the company but were told by counsel they could not because they accepted severance packages. Banks also said he signed a nondisclosure agreement. He was anxious about his finances and caring for his family, he said, and he was unsure how soon if it all he would find another job.
CTO Trost, CEO Glenn Story, former CEO Ron Montgomery, and the head of Human Resources, Richard Savage, did not return my requests for comment.
Patriot Mobile hired Banks after he interviewed with former CEO Maury Leland in spring 2019 at the company's previous location in Irving. The two men bonded over their Navy service, but Leland was soon replaced. Montgomery was listed as CEO on Patriot Mobile's LinkedIn page as recently as last month — there is now no CEO listed anywhere online.
The way Banks describes his first year at Patriot Mobile seems like a horror movie in slow motion. "Patriot Mobile didn't know much about me other than the fact that I was in the service when I first started the job, and as I learned in the service, it's best to keep a low profile, sit back, and observe when you don't know much about a place, so that's what I did, and that's how I got by, because I realized this day would come about a month after I started working there."
The day Banks is talking about is when the media began to scrutinize Patriot Mobile's questionable actions.
Banks believes that as a Black male professional he was the perfect person to oversee Patriot Mobile's Tier 1 customer service department or call center. On his first day of work, Banks noticed that Tier 1 was full of people of color while Tiers 2 (sales) and 3 (leadership) were occupied by whites. Banks said the first two things you learn on the job about Patriot Mobile is that "they're racist and not really a company. They don't really want cellphone subscribers. They just need a front to gather alt-right phone numbers and move dark money around. They only took on about 30,000 new subscribers in the first year I was there. Other companies I've worked for, like T-Mobile, would take that on in one month."
Banks also said most of the new customers calling in were from "country towns that were out of our limited service area." When he told the CFO, Jenny Story, wife of CEO Glenn Story, about the service area being a problem that if fixed could generate a vast number of new subscribers, she said not to worry about it.
Another former Black employee, Kenneth Hadley, alleges that any time a Black employee came up for a promotion, "a white supervisor from another department would make up some reason that they couldn't move up, despite [Banks] pulling for us as our actual supervisor."
Around August 2020, Hadley was looking forward to his quarterly performance review because he believed he had done well training new employees. Earlier that day, CTO Trost "came all the way across the room to look at a video I was laughing at on my phone with a co-worker and asked if he could see it," Hadley recalled, "and then he got all serious when he saw what it was" — a man accidentally shooting himself in the leg. "Trost wrote me up, and because of that, I didn't get the promotion."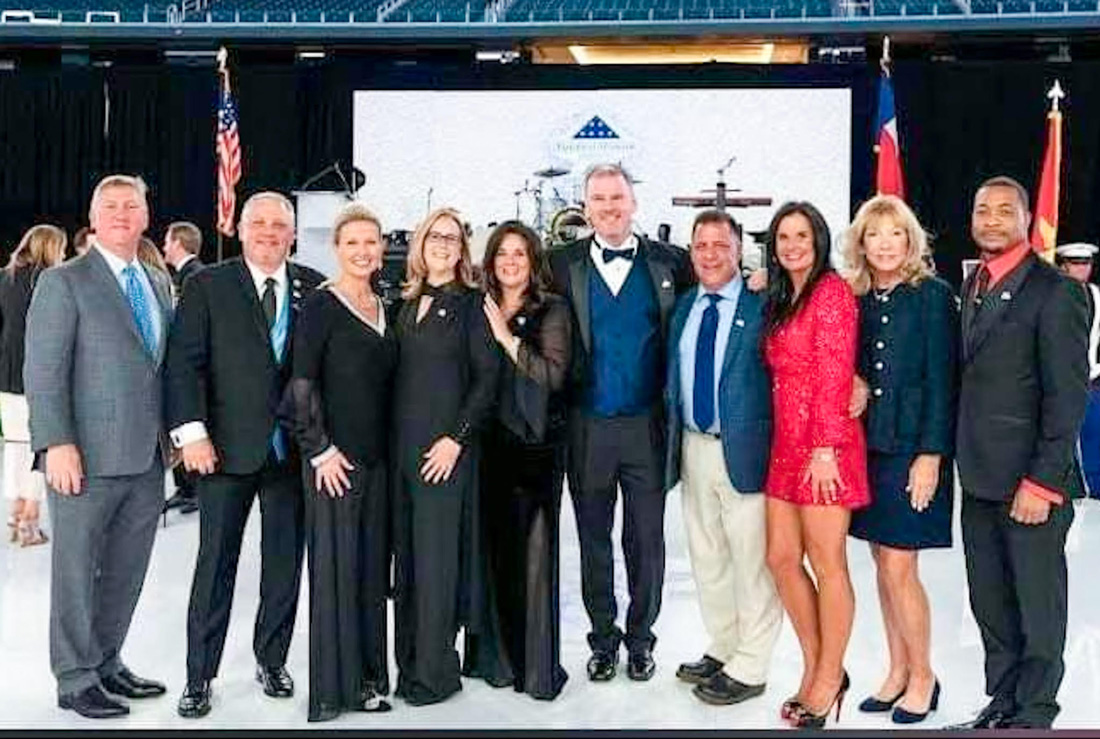 Hadley felt gutted. Up until that point, he said, he chalked up all the racist jokes and slurs that soundtracked the office to mere locker-room humor, feeling that underneath the bluster his superiors really did appreciate his hard work and wanted him to succeed.
Hadley was diagnosed with kidney failure later that year and terminated in the spring of 2021 for not showing up for work, even after he provided his bosses with medical proof of his dialysis treatments. As recipients of a PPP loan, they were not legally able to fire anyone for a year.
Banks said the day he realized the truth about Patriot Mobile started with a photo of popcorn. Shown on office TV screens one day was a tin divided into a majority white with smaller portions of cheese popcorn ("ya know, yellow as in 'Asian,' " Banks said) and "caramel for Black people" alongside the caption "For those who say walls don't work, explain this."
Banks said he was "blown away by the boldness of that."
The reference in the picture might have been to the border wall that indicted former president Donald Trump claimed the United States would build at Mexico's expense — the wall was never completed, and Mexico never paid a dime.
The picture could also refer to the Wallbuilders. Categorized as terrorists by the Southern Poverty Law Center, they are closely associated with Patriot Mobile. The Wallbuilders are led by David Barton, a disgraced historian whose 2012 book The Jefferson Lies was recalled by the world's largest Christian publisher "for too many serious whoppers," the law center says, "the kind of gross factual mistakes that are a death knell for any real historian."
Banks also recalls with disdain how Martin Luther King Jr. Day was removed from the office calendar, and in that same month, a huge cotton plant was placed in the bathroom used primarily by the Black customer service department. Banks said he felt that a "new culture of systemic racism" had been established and that without Leland or Montgomery around, he would never been seen as an equal.
Banks' recollection is backed by Alecia Hackler, a Black customer service representative who said that in 2019, her trainer, Dan Weinstock, a current white employee, laughed when she asked if Patriot Mobile would be open on Juneteenth as well as MLK Day. She said he told her, "Those aren't real holidays."
Hackler also recalled that on a company trip to a nearby American history museum she was allegedly told to "try out the guillotine" by Jenny Story, "which everyone had a big laugh about."
Hackler said the bosses would "look for any opportunity" to put down the minority employees "in these petty little ways."
Hackler would play along, but she and many of her fellow employees "knew it was never actually funny for the people on the other side of the bankroll. They would joke around to get us to feel comfortable just so they could jab us as soon as we did."
Summing up the executives at Patriot Mobile, Hackler said, "Wolves in sheep's clothing,"
Banks further realized he was working for the wrong company when at Patriot Mobile events Glenn Story would "give speeches" about how racism doesn't exist. "Do you know how it felt standing there as a Black man next to my department that was almost all people of color and listening to that?"
Banks said that while he took some personal time off in fall 2022, his department was mostly outsourced to a third-party vendor because, he believes, many of his workers had quit or been fired due to racial discrimination. When Banks saw the depleted office, he told his higherups he could not operate an entire department smoothly with so few people on-site. Patriot Mobile fired him.
"I was told I was fired for undermining" Jenny Story, Banks said. "That's the reason they gave, anyway, but the truth is that by then, they had simply figured out I was not going to be controlled by them, which they thought would be possible at first because of my military background."
Banks also claims that at one point the mostly Black customer service employees were not paid on time because the company had spent so much money on the most recent election — successfully. Thanks to Patriot Mobile donations, 11 Christian Nationalists now sit on local school boards when there were little to none before.
There was also an ambitious transgender man Banks knew who was fired by the former head of Human Resources, Janette Minasian Pires, allegedly because he lived "against their moral code of conduct."
It was when Patriot Mobile rejected a well-qualified friend of Banks' for tech support that the former customer service manager decided to speak out. The friend's right arm didn't work properly after a stroke, and Patriot Mobile bosses allegedly told Banks "point-blank that was the reason" for rejecting the man.
Banks, a Christian, was appalled at the company's "delusions of Christianity," especially the way the executives mistreated his friend and then flaunted their behavior with such detachment. Banks told the Storys that their company had discriminated against his friend, and it was then that they began distancing themselves from him. He was fired shortly thereafter.
"They're so detached from reality it honestly did not even occur to them that they had openly admitted textbook discrimination," he said.
Even though Banks felt remorseful for possibly leaving his department vulnerable by going public, he said he could no longer ignore the company's unabashed displays of discrimination.
Hackler claims she was fired after requesting to work from home because she was pregnant. Even after being an employee for over a year, she claims she was told Patriot Mobile "didn't offer maternity leave," which Hackler said is "ludicrous" given that the company advertises itself as pro-life and family-first. "But something I just found out from a friend of mine who still works there is that as soon as a white woman got pregnant a couple months ago, then they decided they were gonna have maternity leave."
Patriot Mobile fired Hackler last June when she was five months pregnant. The company's explanation was that she did not properly handle a call with a customer with high blood pressure when she sympathized with him. Patriot Mobile said her comments were "inappropriate."
Hackler is still disgusted by the way Patriot Mobile treated her. She said she worked hard for years for a company whose executives discriminated against her and others and that all she has to show for it is trauma.
"But I'm over it now," she said with gusto. "I've moved on with a new and better job, and they can't affect me anymore."
Long before Patriot Mobile relocated to Grapevine, the city had passed an ordinance outlawing call centers, so "none of us should have even been working there in the first place," Hackler said. "Maybe that's why they moved the company to Grapevine: to get rid of all the Black people since then they would have to start working from home in this city."
Further complicating the lawsuits is the fact that Patriot Mobile appears to be invisible to the federal government. Banks claims his former employer routinely changed staffing companies. ADASTAFF, ADP, ExtensisHR, and Robert Half Staffing are just four that he can recall from before the time he was fired.
"That's another reason we've all been through hell trying to file these grievances: Patriot Mobile is a company that the federal government can't even find," Banks said, "but it kind of makes sense that all these different human resources companies are part of their big scam, considering they really just see us as resources to use and throw away anyway… I mean, unless you're as white, rich, and soulless as they are."