After more than four years living under felony charges for domestic abuse, Nick Maddox recently received good news.
"They dismissed my case," Maddox texted me.
Maddox has hired an attorney for the civil suit that he plans on bringing against Fort Worth police for wrongfully arresting him in June 2019.
During a follow-up phone call, the 25-year-old single father of one was in high spirits. He said that now, without any looming criminal charges, he has better job opportunities than in the recent past. Maddox's ordeal began when his former girlfriend and the mother of their child allegedly punched him in the face while he was driving in mid-2019. When he called 911 to report the alleged battery, he told me, Fort Worth police assumed he was the abuser and arrested him.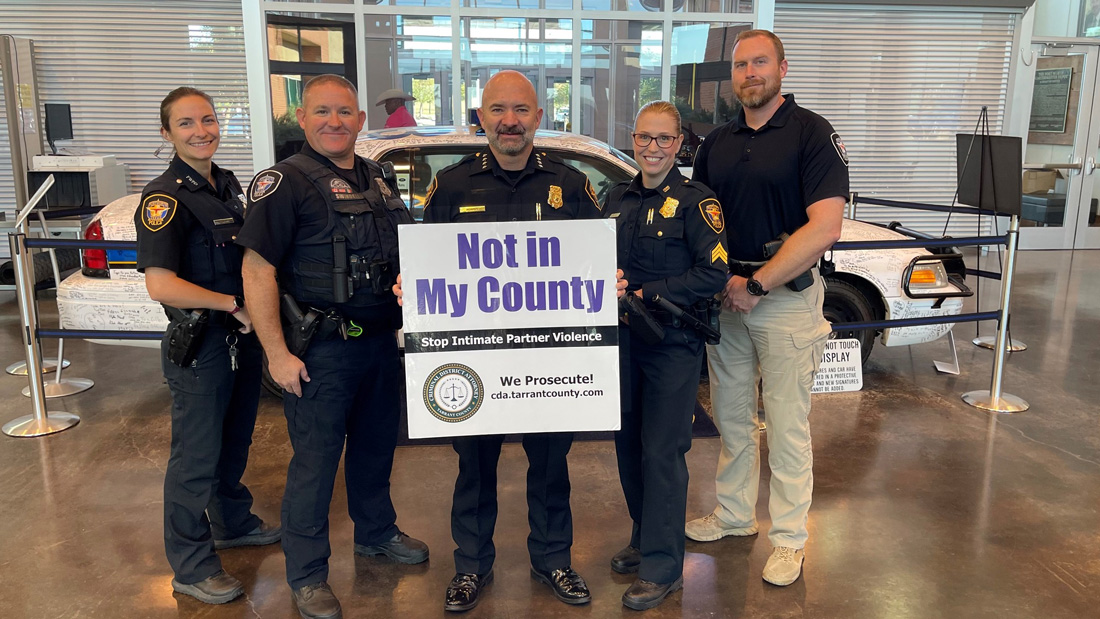 The young father shared a screenshot of his mugshot at Tarrant County Jail.
"Look, you can see my black eye," he said, referring to the dark welt on the right side of his face.
Maddox, who had no criminal record before the incident, lost his job and savings from the now-dropped charges.
Maddox said he spent $117,000 the first year in court costs alone. "I had to give up everything."
He worked in wealth management after covid closed his private business until the allegations against him led to his felony indictment and his firing. He was facing two to 10 years in state prison.
The Tarrant County District Attorney's office offered Maddox six months deferred adjudication, meaning he could plead guilty to an unrelated offense and have the charges removed from his record if he met certain guidelines over six months. The DA's office often places bond conditions that require defendants to check in monthly with a bond supervision officer. Until just a couple weeks ago, Maddox was restricted from consuming alcohol, owning or possessing a firearm, or traveling outside the country.
"I had to skip out" on socializing with friends due to the bond restrictions, he said. "I missed out on much of my 20s."
Further complicating his ordeal was an argument he had with his brother during that time that led to what Maddox described as a minor outdoor tussle, which prompted neighbors to call the police. When the officers arrived, they pinned a Class B misdemeanor charge on Maddox, he alleges, because the domestic violence charge made him appear like an aggressor. Maddox recently pleaded guilty to the charge that required no fine or jail time and six months' probation.
A spokesperson for the DA said in an email that their office dropped the domestic violence charges as part of an agreement that Maddox plead guilty to assaulting his brother — something Maddox isn't buying. The dropped felony and light probation for the fight allowed county prosecutors to drop a meritless case that had lingered for more than five years, he said.
Maddox plans to make his grievances public. Already, he said, dozens of his friends are calling the DA's office, demanding prosecutors treat Maddox as the victim of alleged assault by his former girlfriend. Maddox said his former defense attorney was recently called by DA Phil Sorrells, who had inquired about the dismissed charges. Maddox believes Sorrells' call was an attempt to intimidate the former defendant into not going public about possible malicious prosecution. The DA's spokesperson did not reply to follow-up questions about Sorrells' phone call.
Based on data published by the DA's office last year, assault charges (including family violence) were the third most prosecuted crime in Tarrant County in 2022 with 2,040 charges filed out of around 45,000 total criminal cases. Homicides related to intimate partner violence dropped from 16 in 2016 to seven in 2021, based on DA data. Former DA Sharen Wilson started a social media campaign #NotinMyCounty in 2017 to raise awareness about intimate partner violence, which continues under the current administration.
Men are far less likely to report physical abuse from female partners, said Alyson Huntley. Speaking to Reuters Health in 2019, the University of Bristol professor said cultural stereotypes are the main factor in that disparity.
"The issue of masculinity is a societal one," she said. "Men are not expected to be the weak ones. It is a hard stereotype to work against."
Maddox believes gender stereotypes played a role in Fort Worth police's decision to arrest him when they met him and his then-girlfriend at a gas station in 2019. It makes sense. Based on government data, around 75% of suspects arrested for domestic violence are male. Maddox's ordeal and that of Jen Roundtree, the Fort Worth mother whose daughter was allegedly driven to suicide due to her boyfriend's physical abuse, show how local law enforcement fail to properly charge or not charge individuals with domestic violence.
In several reports, police describe the alleged physical abuse suffered by Jen Roundtree's 25-year-old daughter, Sierra Roundtree (" Unanswered Cries," Nov. 10). Law enforcement in Dallas, Parker, and Tarrant counties were called many times to reports of screaming and domestic disturbances but failed to arrest the boyfriend.
"The victim, my daughter, is now dead," Jen emailed one law enforcement agency after Sierra's death. "The police had been out to her house several times and still no one arrested this monster. He sat in the apartment for TEN MINUTES while neighbors, police, and EMTs were beating on the door. Do you know where my beautiful daughter was? Hanging by her neck from the back porch."
The DA's Victim Services Unit can be reached at 817-884-2740 during normal business hours. The National Domestic Violence Hotline is available 24 hours a day at 800-799-7233.