Since 1947, TCU Press has filled an important niche in the literary world by commissioning and publishing books that the large houses may not find profitable enough to print. The 76-year-old nonprofit's marketing director James Lehr and editor Kathy Walton focus on stories by regional authors which center on North Texas lore, Fort Worth architecture, and forgotten parts of American history.
The looming summer months are prime reading time for book lovers, and Lehr and Walton believe several TCU books can satisfy your literary lust while supporting area writers and storytellers.
The Art of Texas, Lehr said, is one of the most comprehensive books on Texas artists in print. The 456-page compendium covers more than 250 years of art in Texas, from Spanish colonial paintings to works by living artists.
Talking to the Stars: Bobbie Wygant's Seventy Years in Television tells the autobiographical story of the famed arts and entertainment reporter who headlined WBAP (KXAS-TV) for several decades. Her most notable interviewees include Bob Hope, Denzel Washington, and Matt Damon, among others.
Another memoir, Speak Loudly and Carry a Little Stick, details the life of John Giordano, the longtime Fort Worth Symphony Orchestra music director. The new release chronicles his collaborations with Tony Bennett, Ella Fitzgerald, Itzhak Perlman, and other famous performers.
Giordano, Lehr said, put the Fort Worth Symphony Orchestra on the map.
"He is a wonderful storyteller," he added. "He is such a neat guy and so talented."
Walking TCU, Walton said, is more than a page-turner on campus architecture. The publication describes "how the campus has changed" over the years, she said.
Directly east of the Harrison Building, one chapter on the east campus reads, is the TCU Music Center. Readers can learn about the technical details of the hall that the authors say rivals well-known area venues like Bass Performance Hall.
Lehr said A History to Remember covers a topic that has historically been underpublicized — the uneven relationship many Fort Worthians had with racial integration at TCU.
"TCU was one of the first large institutions [in the South] to integrate, long before federal mandates," Lehr said.
The photo-rich book recounts race relations at the private university over the past several years through archival news stories, campus newspapers, and personal recollections.
"Once integration began to slowly materialize and Black students began to be able to enroll as undergrad students in 1964, their mere presence would activate a counterculture that would over time build a growing legacy," part of an early chapter reads. "Despite the shadows of exclusion, the early waves of Black faculty, staff, and students found a way to shine bright enough to light a path for future generations of Black Horned Frogs."
The publication of A History to Remember, Walton said, is part of TCU's commitment to equity and inclusion.
"Once we sign an author, we tend to stick with him or her" for future projects, Walton said, meaning many TCU Press authors are familiar to the nonprofit's loyal readers.
The editor and her team read dozens of submissions throughout the year and select around 20 to publish annually. Lehr said reminding the public about the nonprofit's mission requires continual public education.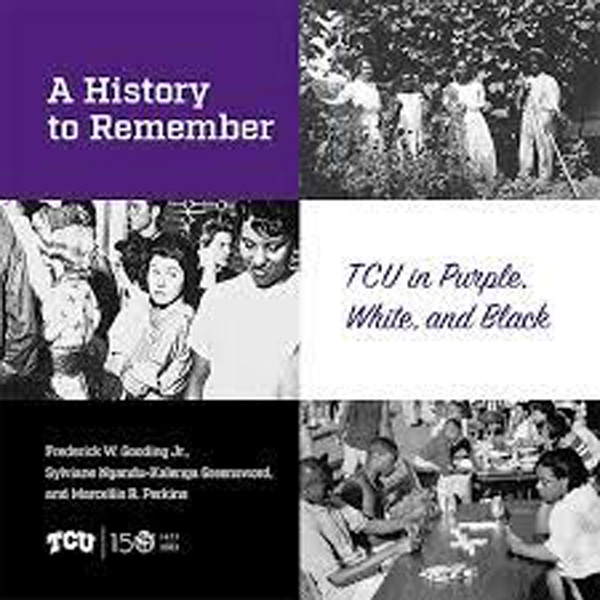 "A lot of people think we are a print shop," he said. "That's the first obstacle. Once we get past that, I'll say, 'Let me tell you what we publish.' The conversation goes from there."
TCU Press recently partnered with North Carolina-based Longleaf Services to boost TCU's sales.
"We are creating a new website that will work seamlessly with Longleaf," Lehr added. "This will mean more visibility and greater distribution. They have retail reps who contact bookstores here and internationally."
Lehr said some people might be surprised to see TCU release a book that takes such an unabashed look at its sometimes-troubled history of race relations, but TCU Press directors consider the merits of each release over potential political blowback when deciding which works to publish.
"We release stories that need to be told," Lehr said.