Pie Tap Pizza Workshop + Bar, 1301 W Magnolia Av, FW. 682-707-8888. 11am-10pm Sun-Thu, 11am-11pm Fri-Sat.
How many pizza joints does one neighborhood need? As my party of four walked into Pie Tap Pizza Workshop + Bar on West Magnolia Avenue recently, that was the question asked by the devotee of the other regional chain up the street. Pie Tap — also a regional pizza chain, also with Dallas roots (see: Cane Rosso) — was buzzing a couple of weeks after opening day. Fully staffed with a uniformed service team that functioned seamlessly, the industrial-chic space, replete with open kitchen, looked right at home on the Near Southside.
Volume in the dining area of Pie Tap's sole Tarrant County location was high –– a crowded weekend eve meant there was a lot of competing conversation in the building. A soothing lemon chill martini (heavy on the vodka, limoncello, and lemon but not much ginger flavor as advertised) served as a chill-producing balm.
Having never tried Pie Tap, we missed the memo that you can order a margherita pizza at a deep discount on Mondays or at lunch time. A build-your-own pie starts at $10, with extra toppings for $3.50 apiece. The kitchen did not skimp on either the fennel-y sausage or the spicy pepperoni on ours, but the total raised my eyebrows a bit. Maybe I've been eating too much Mr. Jim's –– paying $17 for an eight-slice pie is pretty standard here. The Meat Lover's had a thin, slightly chewy base with a bubbly, charred, pronounced crust.
The mushroom pie featured tender cremini along with shiitake, bits of bacon, well-caramelized onions, and a gorgeously melty fontina topping. The shtick here is that this pizza is made with Sicilian recipes, which are, you know, totally different from the soggy-in-the-center Neapolitan pies that come out of some ovens nearby. My knowledge is limited except to say that the Sicilian cuts I've eaten were either square or fully Americanized like in New York City, the ones with the thick crust that you can sort of fold over, the pizzas that Sicilian immigrants made because they were making do with what they had. Those Sicilians went ahead and incorporated mozzarella on top, and I guess Pie Tap is honoring that particular part of the tradition. The slightly more aged, less sweet, nutty fontina offered a lovely flavor profile, especially in combination with the onions and mushrooms. Augmenting the experience: an egg with a perfectly runny yolk on top.
And the gluten-friendly crust was texturally superior to the regular dough, especially if you like a crisp but not blackened base. If you want a little extra sauce in which to dip the rinds of your slices, for an extra dollar you can pick from goat cheese fondue, more of the delicious marinara, or ricotta ranch. I loved the tart goat cheese variety, which counterpointed the crunchy crust and slightly sweet mushroom pie and the uber-spicy sausage and pepperoni, but I was the only one at the table who loved it.
We started the meal with the chicken meatballs: three meaty, larger-than-average spheres in a refreshingly simple sugo. The dense balls were well-spiced with both red pepper and rosemary. Two of our party loved the flavor, and the other two were just happy with the unfussy red sauce and large chunks of rosemary-kissed bread to dip.
The Caesar salad pleased everyone at the table. With a dish that's largely romaine lettuce, sometimes the chewy spine is what you notice most. There was none of that ugliness here, just easy-to-eat, crisp greens along with huge pieces of shaved parmesan blanketed by an amazing, sharp, tangy housemade dressing.
There's just so much we could eat in one sitting, and sampling only two pies from so many options is not a total representation of the kitchen. Perhaps a trip back during lunch for the housemade pasta or rotisserie chicken would help — a half a pizza plus a small Caesar salad is a comparably affordable $11 during lunch.
The pie at Pie Tap doesn't have the delightfully pillowy end crust of its nearby competitor, and if you require full-on gluten-free food, this is not the place for you, nor should you expect a pizza joint to be uncontaminated with wheat flour. The gluten-friendly crust was better than average and definitely good the next day. And the service on the evening we visited was impeccable. If you like a more-crunchy-than-chewy thin-crust pizza, your heaven awaits. And I guess Magnolia can house one more pizza place.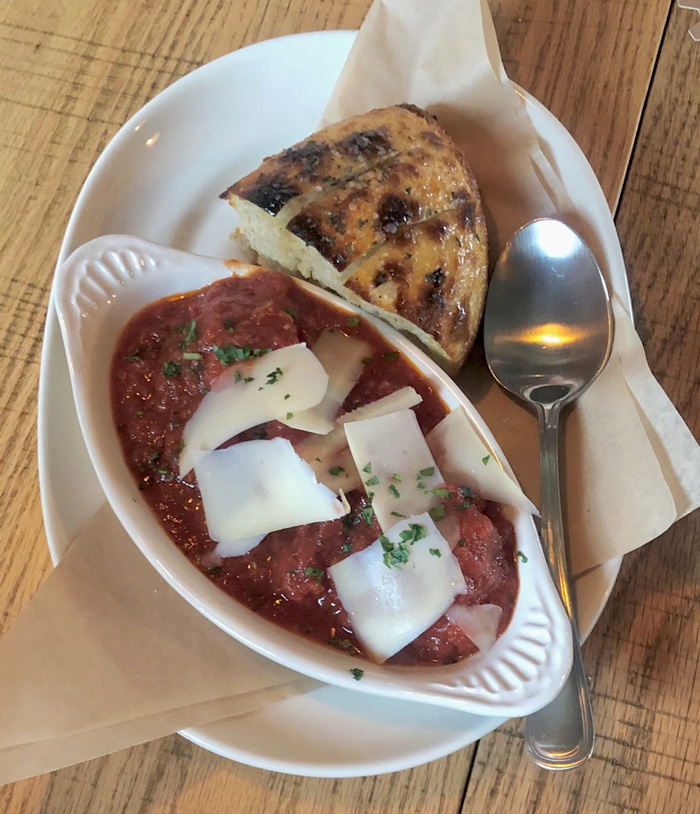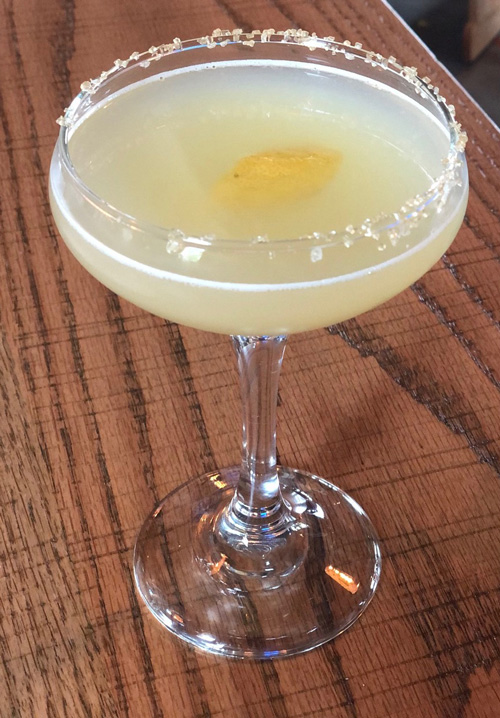 Pie Tap Pizza Workshop + Bar
Build your own pizza $10 plus $3.50 each topping
Gluten-friendly mushroom pizza $20
Goat cheese fondue dipping sauce $1
Meatballs $13
Caesar salad $12
Lemon Chill martini $13