If you're looking for your 15 minutes of fame, you could do a lot worse than audition for America's Got Talent. The show, part of the Got Talent franchise owned by notoriously testy talent assessor and record executive Simon Cowell, is a series of entertainment competitions in which the winning contestants take home a large monetary prize and a chance to headline a show on the Vegas strip. Because of the program's variety show format, contestants come from a wide swath of genres. From singers and dancers to comedians, magicians, and a bevy of burp artists, puppeteers, and sword-swallowers in between, AGT has something for everyone, and it was this spirit of inclusivity — that contestants' backgrounds were far less important than their actual talents — that inspired local singer and vocal coach Lachuné to shoot her shot. In April, she traveled to California and auditioned for the show. On Tuesday night, audiences will get to see what happens.
When this story goes to press on Wed., June 28, the world will know the outcome, but at present, Lachuné has to remain coy about it. Whether or not she advances in the competition, she'll have the chance to share her voice with a lot of people. For Lachuné, that's what matters most.
Lachuné was born and raised in South Carolina's rural Low Country. Her parents farmed tobacco, and her father was a preacher.
"I grew up singing in church," she said. "Back then, it was just something mundane that everyone did. I didn't feel like I had something special until it came time to decide what you were gonna do with your life."
After high school, she enrolled at a technical college, intending to go into the nursing field. A music appreciation class would steer her in a different direction. Her music teacher at the tech school introduced her to classical composers, and from there, her world changed.
"She opened up my world to a lot more music," Lachuné said. "From there, I got accepted to a music program at North Greenville University, and that's when I thought I could make singing a profession."
After finishing her undergraduate studies, she wanted to further develop her voice but also grow spiritually, to answer the philosophical questions that danced in her head. She enrolled in the master's program in music at Southwestern Baptist Theological Seminary in Fort Worth and moved here in 2019.
The program, she said, "made me value all the things about music I was exposed to when I was a child that I didn't pay attention to, especially the connection and the beauty people experience from music. When we experience something beautiful, it does something for people, and that philosophical [idea about beauty] gave me the courage to ask questions. I love to sing, but for people who go to concerts, I was just so interested in what they all feel. It fueled me to continue the whole musicianship thing. It gave me the courage to share my voice, and it pointed out all the things about music that I really enjoy: being able to work with all backgrounds, experiencing empathy, the things that make maneuvering in the world so much better."
For the past few years, Lachuné has divided her time between regular event performances (where she is often accompanied by a pianist) and teaching voice lessons, currently at the Dallas School of Music. In both endeavors, she works in a wide variety of genres and styles — for proof, her Instagram (@lachunek) offers a trove of clips covering the landscapes of pop, R&B, and soul, much of which came from her own musical upbringing.
"The cool thing about growing up in the South, there's so much music you're exposed to," she said. "If you're listening to early rock 'n' roll, you find yourself listening to a lot of things that came out of it. How that relates to me? Something I discovered in Fort Worth and studying in my program, I realized I had a lot of context for a lot of different styles of music. Studying the voice, how it fits in those contexts … that freed me up for working with a lot of people … rock singers, musical theater actors, gospel singers. I worked with a rapper who kept losing his voice after his shows, and I showed him techniques to take care of his voice."
Lachuné said that out of all the music she absorbs, John Coltrane and Etta James are two composers she always comes back to, as well as multi-instrumentalist and folk musician Rhiannon Giddens. "She is an amazing composer, and I love reading her interviews. She is always talking about the connection between life and art."
For Lachuné, that connection often boils down to the importance of self-expression. "Some people want voice lessons because someone told them they couldn't sing when they were 5, so they just stopped, and what I hear is that someone told a little kid they couldn't express themselves. And I want to get them back to that childlike way of expressing themselves, just making sounds. Kids don't care. People need to tap into that childlike expression into adulthood."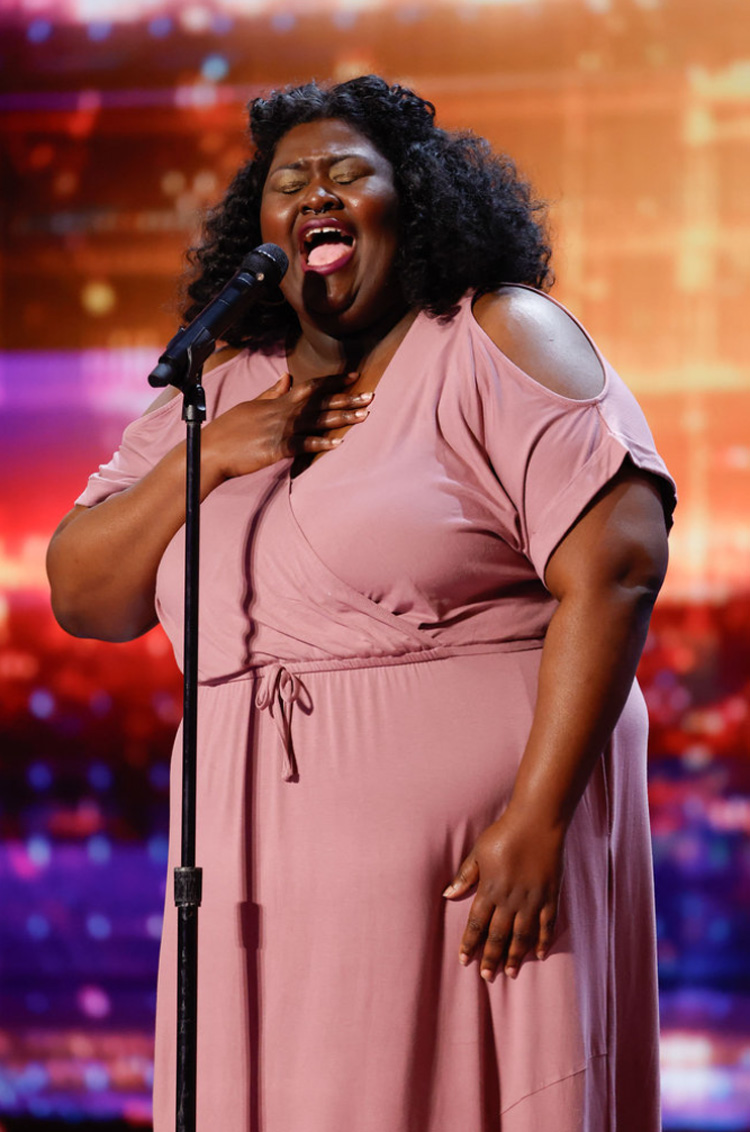 Lachuné also loves watching her students build confidence. "It's not even just singers, either. There are people who might be really good at their job, and what holds them back is that they are not confident in their speaking voice. And I show them things they can do. You have this person who is amazing at their job now feeling confident holding meetings and speaking in front of people. And that's a good feeling."
Seeing her students achieve their goals has been its own reward, but Lachuné is still a performer in her heart and soul. And being present to that truth eventually motivated her to put herself out there.
"One of the motivations to pursue the show is that I'm always telling my students to go for it," she said, "but I got relaxed and wasn't pursuing it myself, so my audition … is me taking my own advice. Oftentimes the advice we give others is something we should consider for ourselves."
Talking about the act of putting yourself out there, Lachuné mentions how she became a fan of America's Got Talent in the first place.
"It was Susan Boyle," she said. "The show was on, and I wasn't really paying attention, and then I heard her voice and saw her, and I thought she was really inspiring."
This would have been in 2009, when the Scottish singer was 48 years old.
"I'm 31 years old singing on a TV show that is open to many backgrounds," Lachuné said. "I think you just have to encourage people to just try and go for it because you don't know what is going to happen. I want to get that message out there: Music is for everyone."