The Coupe, 314 S Main St, Ste 110, FW. 817-455-9808. 11am-6pm Sun, 1pm-10pm Tue-Wed, 1pm-11pm Thu-Fri, 11am-11pm Sat.
I'm an equal-opportunity drinker. While I have my favorites, there's generally no booze I won't try at least once, so when I heard a brand-sparkling new lounge serving bubbly would soon take up residence on the Near Southside, I knew the time had come for a little pep talk with my liver.
The bar popped up in the converted warehouse strip at the corner of South Main Street and West Broadway Avenue which had long donned a "BAIL BONDS" sign — and, for a spell, constituted my view from the agency across the street where I played copywriter in my first years after college. While the remainder of the strip is still under construction, an exterior patio (sans furniture, at the moment) promises a chance to enjoy the can't-come-soon-enough fall season … or, at least, some less-than-triple-digits weather.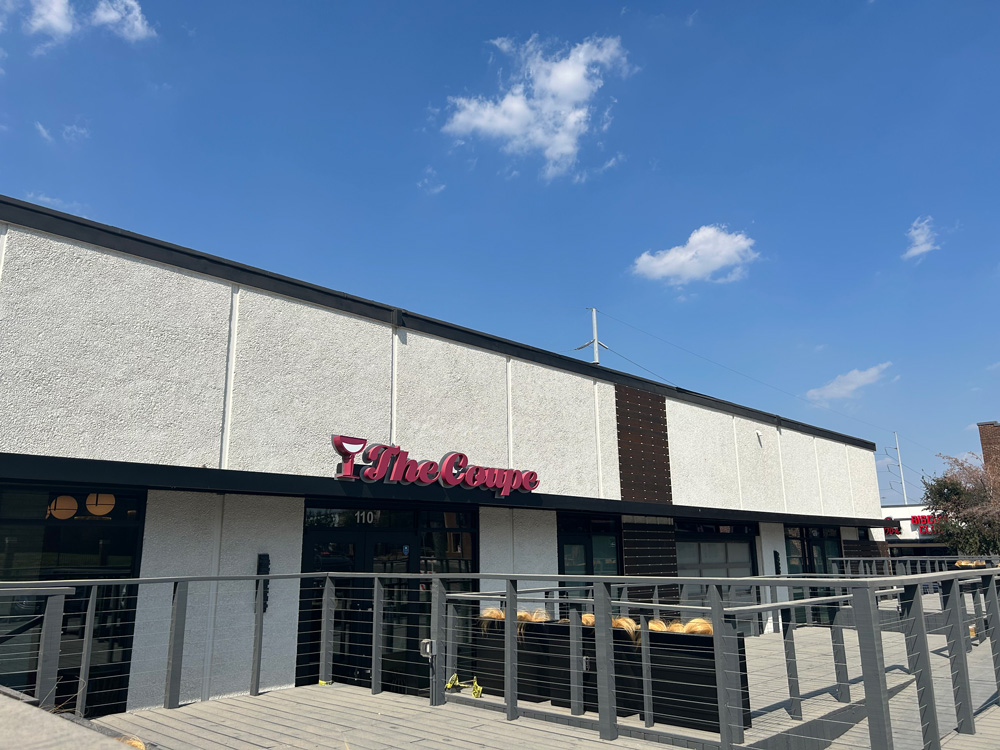 The façade may not "wow" or elicit letters home, but within, The Coupe is a full vibe. Pastel pinks and pops of yellow mix with teal blues and some chic neutral bohemian furniture, enchanting light fixtures, and leafy, tropical accents. The back wall encompasses the entire palette with large, colorful leaves and bright florals beside the place's name painted in rosy pink and its accompanying signature coupe glass. The bar area takes this to the next level with a large semicircular mirror surrounded by wallpaper covered in pink and green palm fronds and bunches of plantains.
Floor-to-ceiling windows usher in plenty of natural light, and, though the high-ceilinged interior space is a bit too large to be considered cozy, sparkling wine "lounge" aptly describes The Coupe. Comfortable seating abounds, and the service was top tier, making the whole experience relaxing and enjoyable.
Co-owners Lauren Badgett and Scott Kimble, a husband-wife duo — who, believe it or not, met in a wine bar — wanted to create a space that felt like a coffee shop and also challenged misconceptions about Champagne and sparkling wine. The Coupe embodies the couple's hope of making both beverages more approachable and accessible, and I'd say they nailed it on all counts.
Not only that, but The Coupe specifically features noncommercial wines you won't find on a shelf in your local grocery store. These bottles come from around the world, and each has a unique story — elixirs crafted by women- or minority-owned vineyards and ones with a noble mission that supports a particular cause or region. Whatever the case, the owners and their distributor make a point of following the grapevine past the larger, more obvious options to find smaller but sweeter vintners worth promoting.
Patrons can choose their own adventure by either purchasing by the glass or bottle to sip on-site among the plush pastels or snagging a few flagons to take home. The menu also offers items for munching, like mixed nuts, bread and butter, and a charcuterie spread, among others, but it's also BYOF (bring your own food) and open to local food deliveries from neighboring establishments.
A couple colleagues joined me one Friday afternoon for happy hour at The Coupe, and we kicked off our long weekend with both flight options: a selection of three Champagnes and three sparkling wines. Each flight came with cards detailing the wines' origins and ingredients and what notes one might detect. I facetiously called this "wine for dummies," referring to myself, of course.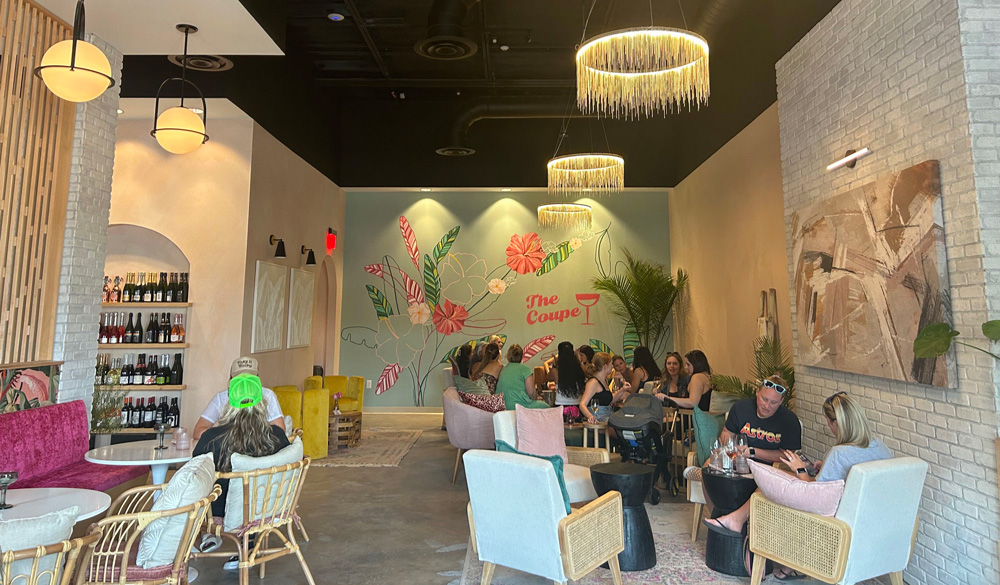 For the trio of us, drinking became a game. We took turns conducting our own versions of a tasting — comically wafting the wine's bouquet, swishing it over our tongues, and then throwing out our wildest guesses. Though often wrong on which notes we could have sworn we'd detected (sometimes only slightly), we were never without a laugh.
Of the Champagne flight, the Palmer & Co. Brut Reserve earned the highest acclaim. Light, smooth, and buttery, it contained notes of pear and apple. One co-worker proclaimed, "It's giving harvest" and, after a short pause, "like apple picking!" Can't say she wasn't right on the money.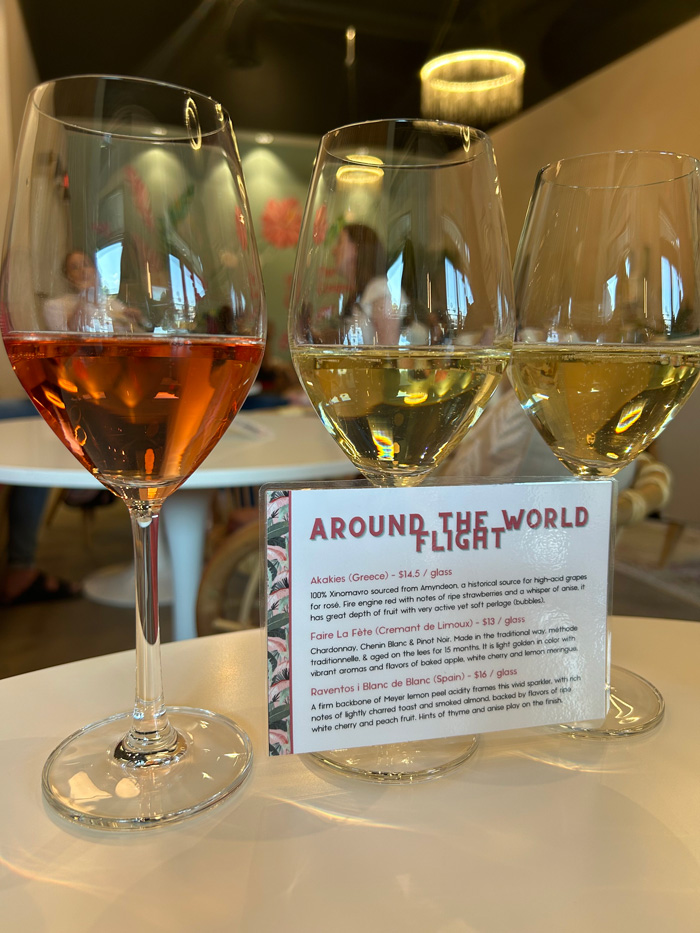 The other two, Laurent-Perrier La Cuvée Brut and Charles Ellner, were more robust with a stronger fizz factor. Can you tell I know what I'm talking about?
The second flight took us around the world to Greece, France, and Spain. The bright-red Akakies taught me that my nose apparently can't distinguish between strawberries and cherries and that a "soft perlage" means less effervescence. The delicious Faire La Fete — "let's party" in French — expressed baked apple, white cherry, and lemon meringue — none of which my "cru" ascertained during our sniff test. Better "huff" next time.
Three in our party and three cocktails on the menu equaled a perfect split. If I didn't loathe the inane "girl math" TikTok trend so much, I might purport that it was girl math done right, but I digress. The delicious Soma 75, a play on the French 75 and topped with bubbly, dialed down the acidity and dialed up the citrus and rosemary. The Italicus, what our waitress called "the underdog," turned out to be our top pick, though. Minty, citrusy, and sweet with a kick, it smelled like the moment you strut into a fancy hotel and tasted even better.
By dinnertime, the girls and I were toasted. At one point, my buzzed bud described the taste of her gimlet as "if Barney were a high-class purple lemon," and, somehow, that made perfect sense, so you could say The Coupe left us all in high spirits — in more ways than one — and I haven't come down since.