AEG to Book Ridglea?
Posted July 11, 2012 by HEARSAY in
Music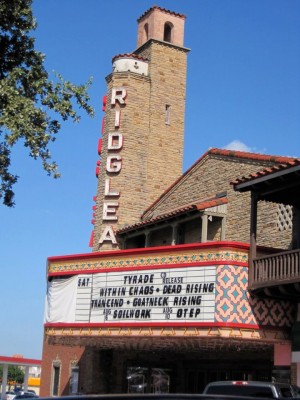 Ridglea Theater might become AEG Live's Fort Worth outpost.
Tickets go on sale Friday for the first show in the historic Ridglea Theater since 2010. New Orleans hard-rockers Down's show on Tuesday, Sept. 18, comes courtesy of AEG Live, the international production company that books several Dallas venues, including The Palladium Ballroom and Club Dada. But even bigger news about AEG may be coming soon. While the dotted line hasn't been signed yet, there's a good chance that AEG will take over booking duties for the Ridglea, marking AEG's inaugural foray into Fort Worth. Ridglea owner Jerry Shults, who also owns The Gas Pipe chain of smoke shops, said future AEG shows at the Ridglea are already in the works. "We've been in negotiations for about a year," said Shults, who saved the theater from certain demolition a couple of years ago. "My feeling is that if these [first Ridglea] shows go well, this will turn into a 10-, 20-year arrangement." Shults noted that AEG staffers have been instrumental in helping him craft his stage and sound. "I'm very, very excited," he said. All of the theater's major restoration projects are either complete or nearing completion. He's also waiting for his liquor license, though he said the Down show will go on regardless. "My main focus is keeping AEG happy and getting this first concert off the ground, making that all work," he said. "To me, the other stuff is rather minor in comparison. I'm just making sure my obligations are met with AEG." … If you're like me (and you are), every time you plan a trip out of town, something invariably cool pops up in town, such is your damned luck. Like this past weekend, for example. I'd had a small vacation planned for weeks, but then I saw that two of my all-time favorite North Texas acts –– Dove Hunter and Stumptone –– were playing Lola's. Well, vacation wasn't not going to happen, and, amazingly, the show not only proceeded without me but actually flipped a few wigs. Stumptone mastermind Chris Plavidal assured me that the show was awesome and the crowd was great. The last time I got to see his band onstage was in 2009 as part of our annual Music Awards Festival, back when the fest took place in Sundance Square. Last time anyone got to see Stumptone onstage in the Fort was two years ago. The guys in the band had gotten busy with other projects, including Telescopes and the Pitchfork-approved Mind Spiders, while laying down new Stumptone tracks. Plavidal is planning a series of Stumptone releases and "many more shows," he said. For you folks too young to remember, ask any of the old-heads in town (Forella, Ken Shimamoto, Ray Liberio), and they'll tell you: Stumptone is the real deal, pounding out hard-driving but melodic psychedelia, kind of like My Bloody Valentine meets Queens of the Stone Age. Solid, killer stuff. … Arlington doom metalists Stone Machine Electric are looking for a new bass player. Well, kinda. Not too long ago the duo of guitarist/vocalist Dub and drummer/vocalist Kitchens took on bassist Terry Horn, but Horn recently decided to focus exclusively on his other project, the sonic-art ensemble Hentai Improvising Orchestra. New bassist or not, Stone Machine is going into the studio, Crystal Clear in Dallas, with Kent Stump from Dallas stoner-rockers Wo Fat as engineer, in late August or early September. "We'll record our parts, and if we get someone on board soon we'll have them do [their bass parts]," Kitchens said. "If not, we'll lay down the bass or have a friend do it. That may be something we decide while working on it. We might just do it without bass, just depends on if the sound we want is coming across."
Contact HearSay at hearsay@fwweekly.com.