Under the Radar
Posted October 10, 2012 by HEARSAY in
Music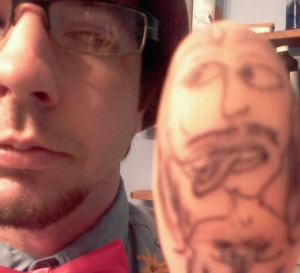 Joel Murray, a.k.a. UBoat, ain't your grandfather's Southern Gothic folkster.
Most veteran scenesters probably remember dearly departed Cadillac Fraf, a.k.a. Chad Percy, whose level-headed –– and enlightening –– response to criticisms of his lo-fi acoustic songs about love, death, and train-hoppin' was, "It may suck, but at least it's honest." Fraf's music didn't suck –– technique was never a question –– and neither does the debut album from UBoat, the nom de rock of folky Fort Worth singer-songwriter Joel Murray. But the music on The Red Bag Lady is rough around the edges –– lo-fi, monochromatic, percussion-free, acoustic Southern Gothicism –– and in its minimalist oddness can't be anything other than completely honest. Home-recorded with producer Patrick Elting and recently self-released, The Red Bag Lady is slightly repetitious but novel, marking the arrival of a true oddball talent. One of the weirdest tunes is "1958." The intro is Sugar Ray-caliber poppy: just two perfectly juxtaposed chords crunched one after the other –– BAM! bam! BAM! bam! As Murray begins to sing, his voice scratchy, loud, and distant, the song quickly fragments into a sort of unintentional dissonance. There's melody and rhythm, but discerning them is like trying to catch a fish by hand. And the bridge is pure old-timey C&W. Weird, right? Weird, yes, and also pretty creepy. On "These Windows Were Made for Stalking," a simple, unadorned ditty about, y'know, stalking your ex, Murray's voice is as close as the hairs on the back of your neck. He gets really down and dirty on the last track, the beautifully haunting "A Day at the Foot Races." Revolving around four harshly strummed chords followed by long breaks, his vocals responding to the guitar's calls, the song borders on cinematic. "There's a man in the picture," bam bam bam bam! "He's swinging an axe," bam bam bam bam! "He cut your sister into pieces," bam bam bam bam! "Then he stole his car back." Murray's darkness reaches its apotheosis on "Heaven Sun Hell." Loud, stomping, and countrified, with a little three-note descending figure attached to the end of each bar, the song finds the singer on the other end of the stalking equation. "He's holding hands with his revolver / With all eyes on me / And you say he's just a friend / He's no friend to me / And I'll watch / The fire / Burn in his eyes / As you watch / The dead moon on the rise." Kudos to Murray. You can't rightfully call yourself a folk artist if you haven't written a proper murder ballad. Or a song about hoppin' trains. UBoat's next show is Monday, Oct. 15, at The Grotto (517 University Dr., 817-882-9331) as part of Jody Jones' weekly invite-only open-mic. Darrin Kobetich, The Jim Bowies, and Steve Nichols are also on the bill. Admission is free.
Contact HearSay at hearsay@fwweekly.com.