Lola's, 1919 Fests
Posted October 17, 2012 by HEARSAY in
Music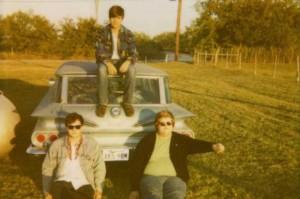 Fort Worth psycho-surf punks Fungi Girls will rock Lolaspalooza III on Friday night.
This weekend, not one but two –– count 'em, two –– underground festivals are happening, and while they mostly draw from different demographics, Lolaspalooza III and 1919 Hemphill's 10th anniversary bash will be competing for the same slice of festival-going pie. Especially on Sunday. On Friday and Saturday, most local music fans will probably find themselves at Lola's Saloon (2736 W. 6th St., 817-877-0666) for the esteemed venue's third annual festival. A bunch of bands we all know and love are playing. On Friday, Quaker City Night Hawks, Fungi Girls, Calhoun, The Hanna Barbarians, and national headliners Meat Puppets will perform. On Saturday, the lineup boasts Holy Moly, The Me-Thinks, Spoonfed Tribe, Oil Boom, and national headliners (all the way from Denton) a temporarily reunited Brutal Juice. Except for Best Fwends, The Shortest Distance, and Star Commander, I can't say I've ever seen (or heard of) any of the bands playing 1919 (817-920-9665) on those same two days. But North Texas' oldest DIY venue has a stout Sunday lineup. Fort Worth death-opera duo Pinkish Black, blistering hardcore stylists Wild//Tribe, and unhyphenated punks Raging Boner will join Grand Prairie's Electric Vengeance in opening up for Akkolyte, the noise-grindcore duo of Dallas' Gonzalez brothers: Aaron (bass, vocals) and Stefan (drums, vocals). (The brothers might be better known as two-thirds of Yells at Eels, a post-jazz outfit led by their father, trumpeter Dennis Gonzalez.) I'm not saying Lola's Sunday bill is chump change. The Longshots, Gunga Galunga, We'rewolves, Mailman, and Big Mike's Box of Rock are just a few of the bands on the docket. So what I'm saying is, Sunday is going to present a tough choice for local music lovers. Tickets to both festivals are dirt cheap: $10 per day or $20 per weekend at Lola's and $5 per day at 1919. … In a little over a month, Whiskey Girl Saloon (2413 Ellis Ave.) will open its doors –– Josh Weathers will headline the opening-night festivities. As you read first in the Weekly ("Whiskey Girl Saloon Opening Soon," Sep. 24), the Stockyards venue will specialize in mostly local, mostly original indie-rock, though touring acts and country bands will figure prominently in the mix. Whiskey Girl is now hiring experienced bartenders. E-mail whiskeygirlsaloon@yahoo.com.
Contact HearSay at hearsay@fwweekly.com.