It's the Kiddie Cliburn!
Posted January 28, 2014 by Kristian Lin in
Blotch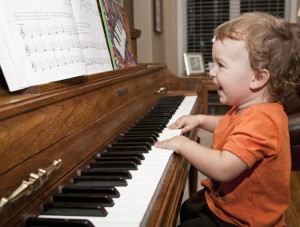 Sorry, kid, you're still too young for the Cliburn's youth competition next year.
Most of the world's great pianists start playing the instrument as small children, and most people who have been around classical music will tell you that there are kids who can tear up the keyboard. That's why the Van Cliburn Foundation announced today that they'll be holding the first Cliburn International Junior Competition and Festival in June 2015. The competition will be open to children ages 13 to 17. The application process starts this coming April. The final round will feature the Fort Worth Symphony Orchestra conducted by Mei-Ann Chen, who has won plaudits when she has taken the podium at FWSO as a guest conductor.
The Cliburn seems to be taking a page from the Olympics and from world soccer. When you have a special event that only takes place every four years, create other, smaller but similar events to occupy the space in between. True, piano history does have its share of child prodigies who flamed out, and this competition raises the possibility that the Cliburn will be responsible for launching a Lindsay Lohan of the classical music world, but then that problem is at least 20 years down the road. For now, pianophiles need to book their summer next year to see what promises to be an interesting addition to the Cliburn's portfolio.