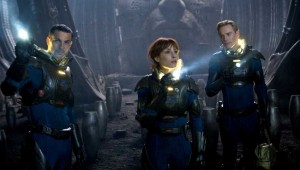 Astronauts play with fire in Ridley Scott's Alien prequel.


KRISTIAN LIN
To answer your first question about Ridley Scott's Prometheus: Yes, it is a prequel to his 1979 sci-fi classic Alien. The director has hemmed and hawed about that in public, but the final shot of his current movie leaves no d...
KRISTIAN LIN
OPENING: Bright Star (PG) Jane Campion's dramatization of the romance between the poet John Keats (Ben Whishaw) and Fanny Brawne (Abbie Cornish). Also with Paul Schneider, Thomas Sangster, Samuel Barnett, and Kerry Fox. (...