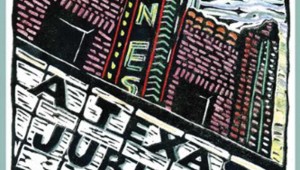 Fort Worth author James Ward Lee celebrates the good/bad ol' days.


EDWARD BROWN
The fictionalized North Texas town of Bodark Springs comes to life in James Ward Lee's most recent book, A Texas Jubilee, reminding readers that few things in life are as pleasurable as well written folklore. Fort Worthian Le...
Gallery
Ready for something spangly? JazzXpressions-Whimseez Fine Arts on the North Side continues its show of fabric and beaded art by Robert L. Berry and Colleen Schondel. It remains up through the end of the month.
Hearsay
Calhoun is getting ready to record with James Barber, who produced Ryan Adams' critically lauded Rock N Roll album and also Courtney Love's America's Sweetheart, as first reported on Blotch (Sun., Feb. 14, 201...