Calhoun is getting ready to record with James Barber, who produced Ryan Adams' critically lauded Rock N Roll album and also Courtney Love's America's Sweetheart, as first reported on Blotch (Sun., Feb. 14, 2010). The co-songwriters who make up Calhoun, frontman/lyricist Tim Locke and guitarist/multi-instrumentalist Jordan Roberts, got connected with Barber through a mutual friend. Barber, Roberts said, was attracted to Calhoun's existing material and also got the chance to hear the new work that Locke and Roberts had been working on for about the past year.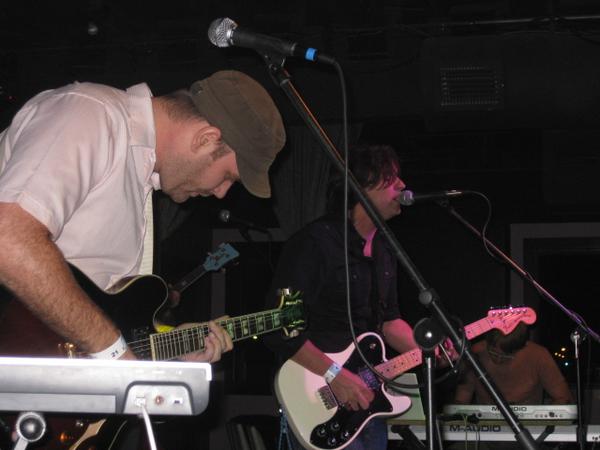 The rudiments will be laid down in March at Bass Propulsion Laboratories in Dallas. Locke and Roberts will then travel to Barber's homebase of Atlanta to finish the record. An assortment of local drummers will provide the rhythm, and Fort Worth bassist Jeremy Hull will provide the bottom end. Roberts expects the record to be released in early summer. The sound will remain Calhoun-y but also be "alt-synth," Roberts said. The band doesn't plan on doing many, if any, shows, which will influence the way in which the album is released. "We may not do a traditional pressing," Roberts said. "We just wanted to make a record to make a record. … It's more for [Locke] and me than anyone else. We're not trying to sell a million records." Lyrically, there'll still be some "quality Tim Locke venom" but not as much as on previous recordings, Roberts said. Visit www.myspace.com/calhoun.
Dove Hunter is also getting ready to record. The Fort Worth-Dallas experimental roots-rock trio has several of the nine or 10 songs slated to appear on the album already written and arranged. The band began working on new material at a Stockyards space — but then got "run off," said bassist/multi-instrumentalist Chad DeAtley. He, frontman Jayson Wortham, and drummer Quincy Holloway relocated to a Fort Worth warehouse, where they started hitting their stride, according to DeAtley — but then got "run off" again. DeAtley and company then moved into a formerly abandoned studio in Dallas, where they've been happily throwing themselves into full songwriting mode ever since. "Now we're paying for something, and we can't get kicked out," DeAtley said. "It's been the best environment." The band's moody though occasionally bombastic sound will be intact but, to some listeners, might come off as "a lot different," DeAtley said. "We've been a band a lot longer. We've been refining." The band will incorporate some new material in live settings. "Live is where we get to flesh out our songs," he said. The band has several dates lined up, including in Denton on Saturday at Dan's Silverleaf (103 Industrial St., 940-320-2000). "We were getting tired of playing and not writing," DeAtley said. "There's a new fire under our butts with the new studio. We're anxious to try out new stuff." Visit www.myspace.com/dovehuntermusiccom.
The Theater Fire's James Talambas did some work in Fort Worth last fall with an artist from Copenhagen called The Migrant, who has posted some rough mixes of his and Talambas' startlingly beautiful, often haunting, often spiritual acoustic-based tuneage on www.myspace.com/themigrantmusic. The Migrant is also putting the finishing touches on another album, one recorded with "some hippie Copenhageners in a summerhouse in Lolland." He plans to release his handiwork with Talambas in a few weeks. Stay tuned.
Contact HearSay at hearsay@fwweekly.com.