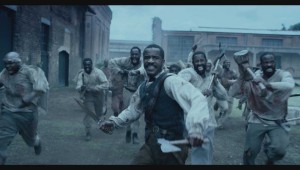 I have lots of thoughts. Some of them are about the movie.


Kristian Lin
It was going so well for The Birth of a Nation this past winter. Debuting just after the Oscars had nominated yet another slate of all-white actors and directors, this epic about a real-life African-American slave revolt (cheek...
With Crowns, Jubilee traces the history of African-American headwear wonderfully, if a little hastily.


Stage
For Jubilee Theatre's current gospel musical, Crowns, set designer Judd Vermillion has turned the back wall of the stage into what looks like a lady's hat store in the 1930s Deep South.
In The Willie Lynch Letters, The Butterfly Connection examines the whip's reach through time.


Stage
If you skipped the Rose Marine Theatre last Friday night, you missed one of the more, um, unique moments to occur in Fort Worth theater in quite a while: a sock-puppet play in which 19th-century methods of slave punishment were...