For Jubilee Theatre's current gospel musical, Crowns, set designer Judd Vermillion has turned the back wall of the stage into what looks like a lady's hat store in the 1930s Deep South.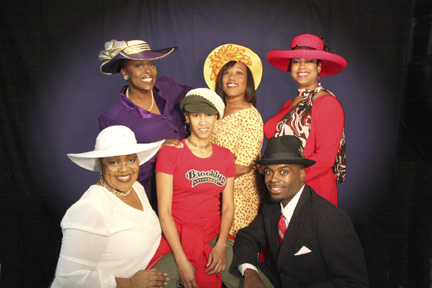 Headpieces of all shapes, sizes, and colors are on display – sequined, plumed, polka-dotted, beaded, ribboned, you name it. The six actor-singers take down, pass around, and model these hats throughout this anecdotal journey into the origins and cultural minutiae of women's headwear in the 20th-century African-American church. Actor Regina Taylor, a Dallas native, adapted Crowns from a book-length photo essay by Michael Cunningham and Craig Marberry. Her ambitions for the show are clearly larger than exploring the "hattitude" of which the female cast members so joyously speak.
Taylor wants to place the black church experience on a cultural continuum that includes slavery, segregation, and the 21st-century urban hip-hop scene. At last Friday night's preview performance, director Ed Smith guided his voluminously talented cast through vignettes both poignant and hilarious, but no amount of bravura stage effort can disguise the fact that Crowns tackles too many topics in too short a time.
The piece begins with African-influenced percussion and choreography and then segues into a rap by a young Brooklynite named Yolanda (Dee Smith). Wearing a backward baseball cap and a hip-hop grimace, she opines that she's been sent to live with her grandmother in North Carolina after her brother has been killed in a New York gang shooting. Yolanda's story becomes our entry into what is for her (and many of the audience members) a shimmering alternate universe: the black half of "the most segregated day of the week," a.k.a. Sunday Christian church services, where the older women (portrayed by Sheran G. Keyton, Michele Rene, Dawn Miller, Carmen Jones, and Carol Markes) are the implied queens sporting their "crowns" in camaraderie and informal competition.
Crowns doesn't have a plot as such, other than the gradual bending of the street cynic Yolanda toward an appreciation of the finer points of her Southern family's church life. We get lessons on the proper way to administer a greeting hug between women wearing huge crowns, the fine line between fabulous hats and gaudy hats, the unspoken taboo of asking a woman to lend one of her best hats ("I'd sooner lend my children," one of the performers remarks – "They know their way back home"), and the exhilaration, after the fall of Jim Crow laws, of a black woman buying a hat she can barely afford at a shop that used to be whites-only. Between these sketches are snippets of old-time hymnal standards such as "Just A Closer Walk," "Mary Don't You Weep," and "His Eye is on the Sparrow."
By now it is self-evident that a Jubilee musical will contain enough lung power to shatter the street lamps in Sundance Square, and Smith's cast certainly doesn't disappoint there. The high comic moments get their due, too, thanks in large part to Cedric Neal, the only male cast member and a man who can wring gales of laughter playing multiple roles, including an overzealous preacher condemning the fashion show before him and an exasperated husband who wants to know why his wife collects so many hats. "You've only got one head!" he reasons. This is the multi-talented Neal's first Jubilee show, and he deserves immediate placement in the informal company.
Still, the cast seems stretched thin by the source material. There are so many important personal, political, cultural, social, and historical subjects addressed in Crowns that you can't help but feel most of them are getting shortchanged. It's as if author Taylor thinks that if she just throws in a few references to the importance of communal hairdressing in pre-slavery Africa, she has drawn a clear and thorough thematic line across continents and centuries. It's certainly true that these traditions have been bequeathed and adapted by black women down through the ages. Taylor's DELETE isn't inaccurate or exaggerated, but it does feel hasty and even a little clumsy. Like the women of Jubilee's Crowns, she dons and doffs a lot of impressive pieces but doesn't always seem to know the best way to display them.
Crowns
Thru Apr 20 at Jubilee Theatre, 506 Main St, FW. $23-25. 817-338-4204.