In the year's best fiction film, Marcel the Shell With Shoes On describes a documentary to his grandmother: "It's like a movie, but nobody has any lines and no one even knows what it is while they're making it." Our favorite talking mollusk is right, as usual. This year produced a bumper crop of great nonfiction movies from all over the world, ranging from hard looks at America's racial history to one with a penis and testicles destroying a city. As has become my practice, I've given docs their own list so that I can honor more of the previous year's films as the calendar turns. Let's get to it.
1.) 2nd Chance. What kind of man shoots himself 192 times to demonstrate his bulletproof vests? Ramin Bahrani's profile holds the answer: Richard Davis is a narcissistic, deeply paranoid compulsive liar whose need to be seen as a hero led him to sell defective body armor to thousands of cops, soldiers, and President George W. Bush. Before that, he was an actual pioneer in the field of bulletproof materials, but Bahrani's interviews with the man capture his fabrications, filmmaking career, and entrenched fears about dark-skinned criminals. Davis embodies America's gun culture, and spending two hours with him is horrible and fascinating.
2.) Descendant.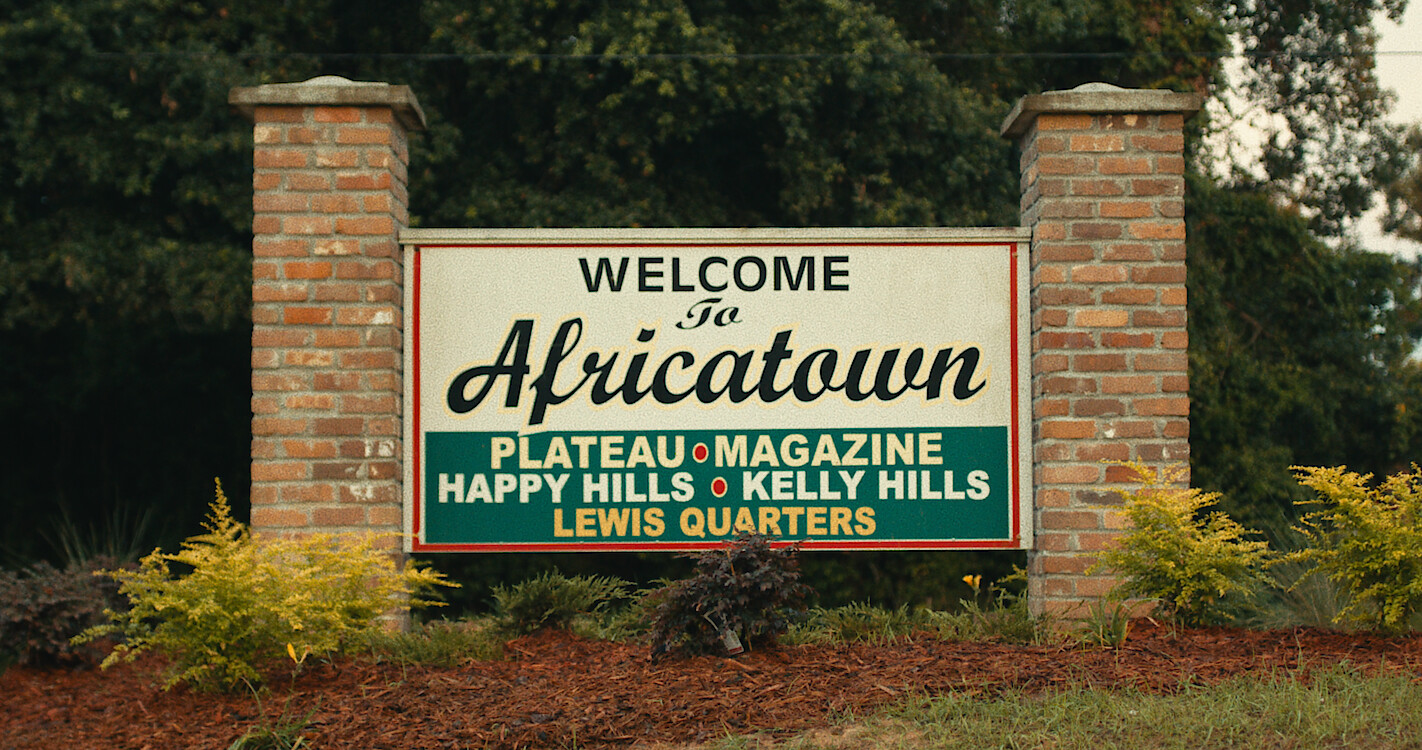 An archaeological search for the last slave ship to deliver human cargo to America becomes something much more in Margaret Brown's hands. The white people behind that shipment turn out to be the forebears of the richest family around the Mobile River today, and they have kept up their fortune by building chemical plants on their land that poison the descendants of those slaves. This effervescent Netflix film shows that slavery's legacy is not in the distant past as it chronicles the efforts of the citizens of Africatown, Ala., to reclaim their past, their present, and the very air that they breathe.
3.) Fire of Love.


What possesses people to stand in front of a stream of molten lava, knowing that taking one step forward will vaporize them instantly? Maurice and Katia Krafft shared that love of proximity to death, which is why this French couple married and traveled the world as volcanologists, aware that their jobs would likely kill them (as it did in Japan in 1991). Sara Dosa's film is entirely made up of footage that the Kraffts shot themselves while studying eruptions from Iceland to Indonesia, while Miranda July's affectless narration lays out the ineffable mystery that bonded this couple and resulted in their greatest work as well as their deaths.
4.) All the Beauty and the Bloodshed.


Nan Goldin's career as an art photographer would be worth a documentary in itself, but Laura Poitras' film takes in much more besides. Goldin outlines her tortured childhood in Washington, with unloving parents and a sister who committed suicide. (The title comes from a note in a journal that Barbara Goldin kept while staying in a mental asylum.) Nan never confronted her parents about their callous treatment of Barbara, but she did displace her anger onto a worthy target: the Sackler family, which used art museums and galleries to whitewash their opioid fortune. Her legal battle against them, complete with publicity stunts at art venues, is thrilling cinema.
5.) All That Breathes.


Amid the religious strife of Narendra Modi's India, two Muslim brothers in Delhi have devoted themselves to nursing injured black kites and figuring out why the birds are suddenly dying off in large numbers in the city. Shaunak Sen captures some amazing shots in this urban nature documentary, from the birds circling overhead while Nadeem Shehzad and Mohammad Saud look up at the sky to a snail crawling unperturbed on a tree branch while an angry mob of Modi-supporting Hindus demonstrates in front of a bonfire. In this setting, the brothers' devotion to all forms of life around them in this heavily polluted metropolis is true heroism.
6.) Jackass Forever.


Twenty-one years ago, I saw these guys hitting themselves in the crotch and thought, "They're so stupid." Last January, with all of us having grown older, I saw them doing the same thing and thought, "They're so brave." I might have teared up, too. The biggest box-office hit on this list by a wide margin gave audiences a badly needed dose of laughter as we were coming out of the pandemic hell, but Johnny Knoxville and his crew also had some apt reflections about aging just like everybody else. (Some of them have even produced children, despite all the damage done to their genitals.) For a movie with so much vomit, it runs deep.
7.) Bad Axe.


The Wolverine State figures prominently on this list, as Richard Davis (see: Number 1 on this list) is a native as is David Siev. The maker of this movie was studying film in New York City when the pandemic hit, so he returned to Bad Axe, Mich., to film his Cambodian-Mexican family as their restaurant is targeted by honest-to-goodness white supremacists who invade their establishment maskless, the better to pepper them with racial slurs. David's father Chun fled the Khmer Rouge as a boy, so it takes more than a few Proud Boys to intimidate him and his four kids, who have largely inherited his combative streak and his considerable gun collection. As the 2020 election looms, Siev captures his family and their white friends sticking together amid the rising hate.
8.) Wildcat.


Deforestation of the Amazon is removing the habitat of ocelots, so British ex-soldier Harry Turner and his American girlfriend Samantha Zwicker are living on the river's banks in Peru trying to nurse injured and abandoned pups back to health and re-introduce them to the wild. That's dramatic enough, but even more dramatic is Harry, who talks openly about killing himself and always seems to be in tears. (In fairness, if you were an Afghanistan veteran who saw children murdered in the street, you might be in a similar state.) Many PTSD sufferers have found it therapeutic to take care of animals, and this story brings together one man's struggle to reintegrate into society and humanity's efforts to rewild the world.
9.) Framing Agnes.


In the 1950s, UCLA's medical school conducted a landmark study of transgender people, though they weren't called that back then. A trans woman named Agnes lied about being intersex in order to receive gender reassignment surgery that she had no other way of obtaining. This vitiated the study's scientific value, but the stories that the subjects told the researchers form the basis of Chase Joynt's extremely meta documentary, in which trans actors portray the subjects and tell those people's stories in scenes shot to look like TV talk shows of the time, while also telling their own stories. It's a fascinating look at what has and hasn't changed for the trans community in the 70 or so years since.
10.) The Story of Film: A New Generation.


The last pillar of the French New Wave, Jean-Luc Godard, passed away this year. The movie critic-turned-filmmaker once said that the best way to criticize a film is to make another film. Irish film scholar Mark Cousins produced this 162-minute opus as a supplement to his 15-hour TV series The Story of Film: An Odyssey, taking in developments in world cinema from the past decade. He's a man after my own heart, a guy who's as enthralled by Aleksei German's Hard to Be a God as he is by Deadpool. Anyone who thinks film is dead should watch this soberly analytical but ebullient celebration of the art.
Honorable mention: Jason Loftus' Eternal Spring … Jonah Hill's Stutz … Dan Geller and Dayna Goldfine's Hallelujah: Leonard Cohen, a Journey, a Song … Billy Corben's God Forbid: The Sex Scandal That Brought Down a Dynasty … Marco Bellochio's Marx Can Wait … Reid Davenport's I Didn't See You There … Brett Morgen's Moonage Daydream … Kathlyn Horan's The Return of Tanya Tucker: Featuring Brandi Carlile … Ben Masters' Deep in the Heart: A Texas Wildlife Story … Alek Keshishian's Selena Gomez: My Mind & Me … Kristin Atwell's Riders of the Purple Sage: The Making of a Western Opera … Eva Vitija's Loving Highsmith … Elvis Mitchell's Is That Black Enough for You?!? … Ryan White's Good Night Oppy … Jared Callahan's Clean Slate … Andrea Arnold's Cow.