Some guys never learn.
Most chicks don't care how much money you make or how nice your car is or how often you work out. To them, especially the ones who hang out at rock clubs, the thing that matters most is coolness. Need we have to point out that in our scene, the coolest dudes are musicians, and the ones who don't give a shit about anything except staying in tune (or close enough) are the coolest-est.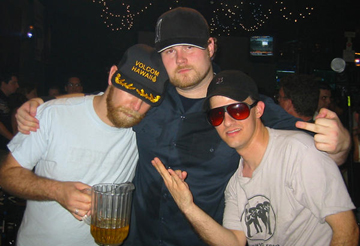 Now, Darth Vato bassist and Weekly scribe Steve Steward doesn't make a ton of money, he doesn't drive a loaded Benz, and no one would mistake his body for an Olympic swimmer's. Still, when Steward and his bandmates, frontman/guitarist Kerry Dean and drummer Eric Dodson, are onstage pumping out their brand of white-boy reggae-rock-pop and Steward doffs his sweaty t-shirt, the ladies may not be overcome by lust, but damn if they — and the rest of the normally sizable crowd — don't let their inhibitions down. Thus, the par-tay begins.
On the bill along with DV are The Me-Thinks, three Haltom City fuzz-rockers whose desire to not be taken seriously is betrayed by their solid musicianship. Like DV, The Me-Thinks are all about good-timin'. Steward and Me-Thinks frontman Ray Liberio, according to Steward, claim they want to make the show "the social event of the season … for boozer fat-asses, anyway."
In addition to the Riverside Ramblers (a satire of Denton's legendary Riverboat Gamblers?), the night also includes what may be the inaugural Wreck Room performance from local newcomers The Red Herrings. Along with Burning Hotels bassist Coby Queen, the other Herrings, Joe Hill and Matt Lombard, smoothly traverse the rarely visited crossroads where punk, rockabilly, and glam usually wreck into one another.
All three Herrings are young, good-looking hipsters, so for gals for whom coolness just isn't enough, there ya go.
Fri w/The Me-Thinks, The Red Herrings, and The Riverside Ramblers at The Wreck Room, 3208 W 7th St, FW. 817-348-8303.